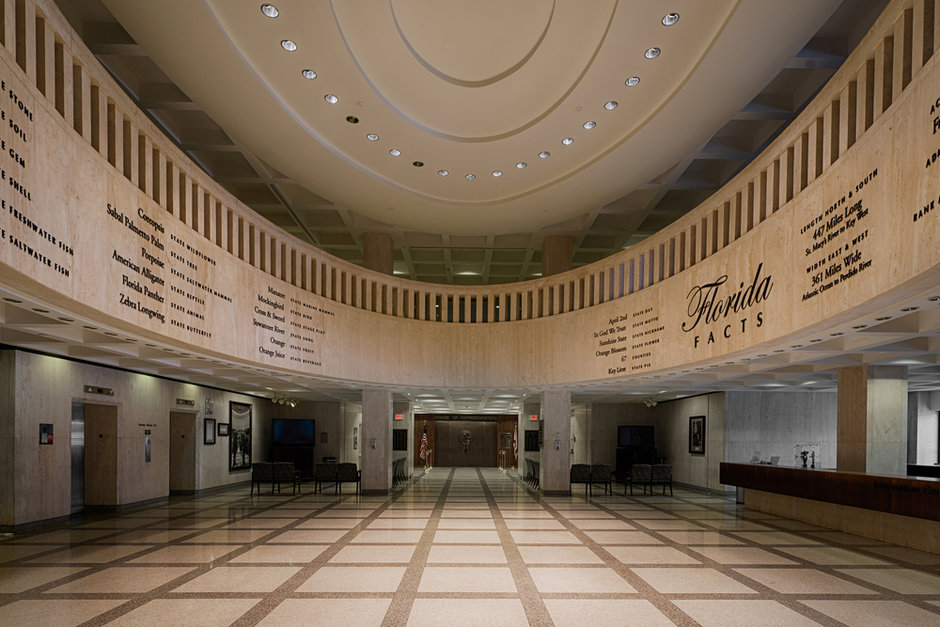 The official portrait of Senate President Joe Negron was unveiled last week, but not without some observers asking: "What the heck is that in the background?"
As senators and his wife Rebecca applauded and cheered when the work was revealed, some curious onlookers in the chamber's galleries were left guessing what the three images looming behind Negron were.
But then Senate spokeswoman Katie Betta explained.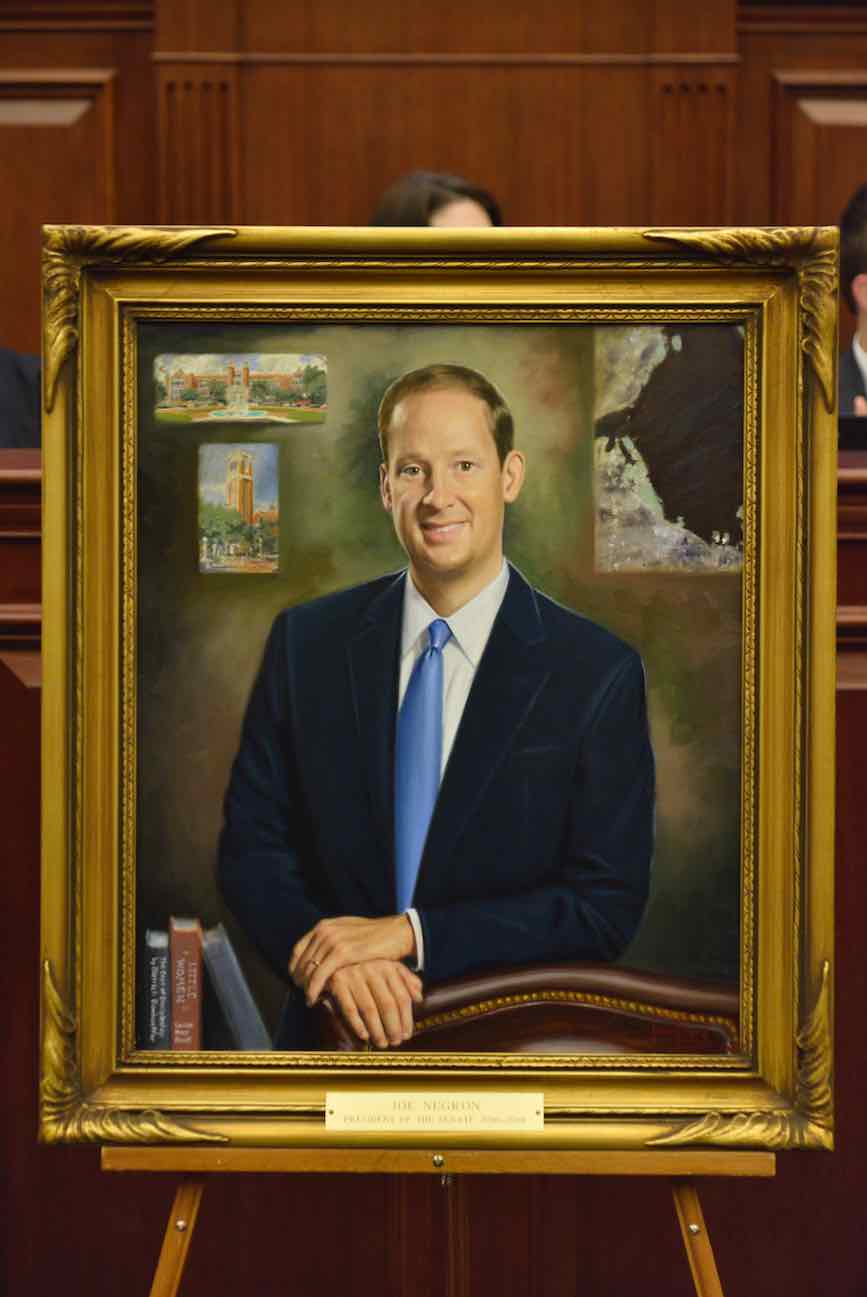 Let's start with the books in the bottom left corner. "Little Women" by Louisa May Alcott and "The Cost of Discipleship" by Dietrich Bonhoeffer. Why those? Because those books were read to Negron and his brothers by his parents when they were growing up.
The blob on the top right corner? That's Lake Okeechobee. And it is meant to represent his commitment to reducing harmful discharges into communities east and west of the lake. That includes his home community.
Last but not least, the two images standing by the Stuart Republican are meant to show his vision for the Florida state university system. The top image is Florida State University, which one of his sons attended, and the bottom is the University of Florida, where his daughter went.
So there you have it. Mystery solved.
Coming up, the usual assortment of tidbits, leftovers and not-ready-for-prime-time moments by Ana Ceballos, Jim Rosica, Danny McAuliffe, Andrew Wilson, and Peter Schorsch.
But first, the "Takeaway 5" — the Top 5 stories from the week that was:
Rick Scott signs budget, sans line-item vetoes—Gov. Scott signed his final state budget Friday, two days after the Legislature sent it to him to review. The $88.7 billion fiscal plan – the largest in state history – landed on Scott's desk Wednesday, but the governor did not approve it all Friday. He vetoed $64 million worth of line items, the smallest being a $25,000 trust fund appropriation to the Florida Housing Finance Corp. for "affordable housing programs." The budget approved by lawmakers included the $400 million school safety plan crafted after the Parkland mass shooting with $67 million for a controversial program that would arm school staff and train them for active shooter situations. No funding in that plan was chopped from the 2018-19 blueprint for state spending.
Scott tours the Sunshine State—Gov. Scott is touring the state of Florida and touting a tax cut package that was recently approved. The package includes $10.5 million in tax cuts to the 2018 property tax assessments that will benefit the hard-hit citrus industry after Hurricane Irma, an increase in corporate income tax credit that businesses wanted and a .1 percent tax reduction on the commercial rent sales tax.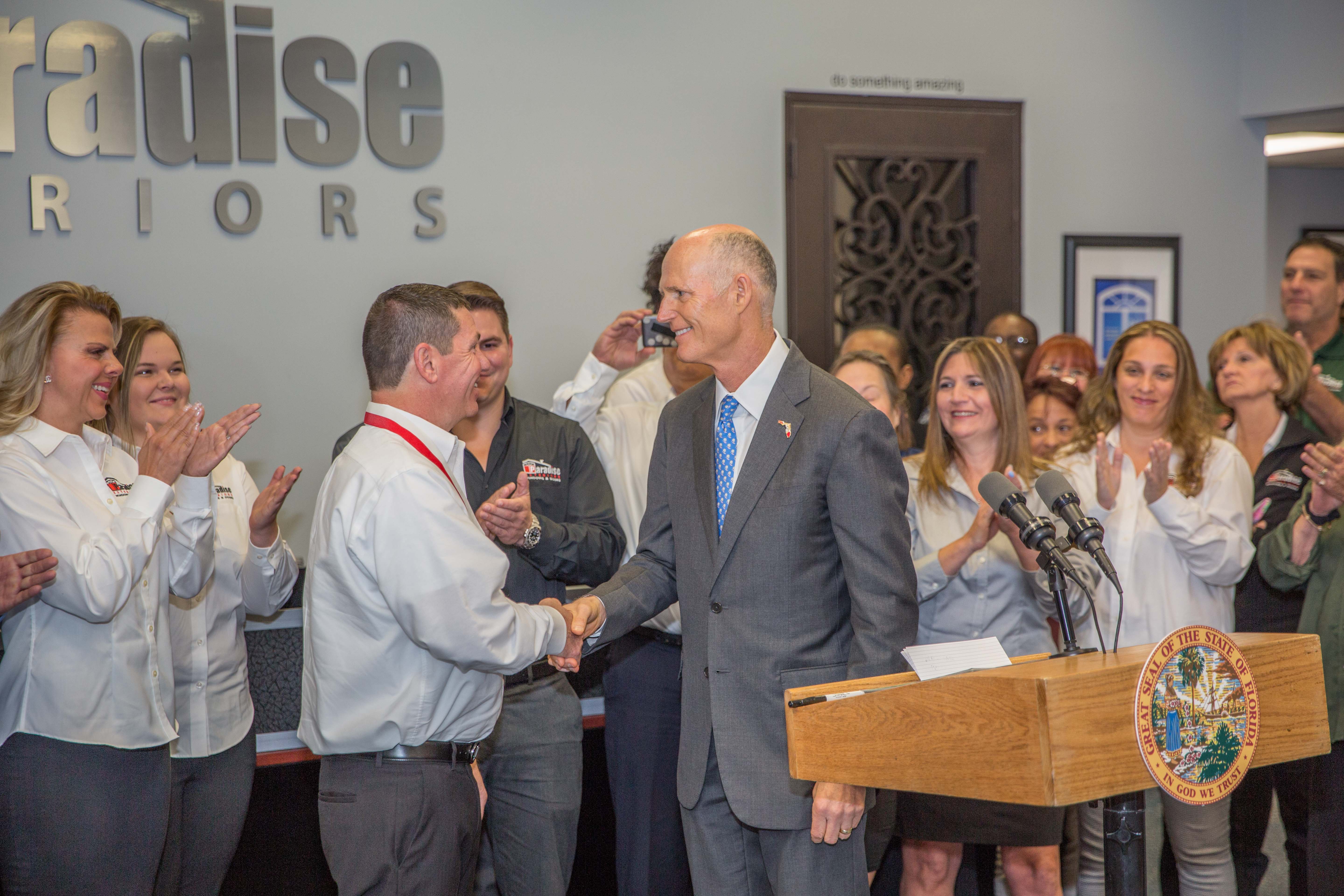 Governor signs education bills—Before session concluded Sunday, Gov. Scott signed two big priorities of Senate President Joe Negron (Senate Bill 4) and House Speaker Richard Corcoran (House Bill 7055). The Legislature's sweeping education bills will reform the K-12 and higher education systems in the state. This includes changes that will strip the University of South Florida St. Petersburg of its accreditation and will decertify teachers' unions that do not have 50 percent of their membership paying union dues.
CRC to consider assault weapon ban—A new effort to ban assault weapons is heading to the Constitution Revision Commission, which meets every 20 years to consider changes to the state constitution. If the proposal were to be adopted by the CRC panel and voted favorably by 60 percent of Florida voters, it would ban the sale or transfer of tactical semi-automatic rifles, something the Legislature could not do. If the amendment is rejected, the intent is to draft a new proposal for the November 2020 ballot.
Reverberations from Parkland—Exactly a month after the worst school mass shooting in the state took place, students across the country demanded action on gun control by walking out of class. The mass protest was held at 10 a.m. in each time zone and lasted 17 minutes, symbolizing the 17 students and teachers who were murdered at Marjory Stoneman Douglas High School on Valentine's Day. Organizers said the purpose of the protest was to highlight Congress' inaction to prevent school mass shootings.
—
Adam Putnam priorities get Scott's signature
Commissioner of Agriculture Adam Putnam thanked Gov. Scott for supporting his priorities in the state budget, which was signed into law Friday afternoon.
"I thank Governor Scott for continuing to cut taxes for Florida's families and businesses and for supporting our budget priorities, including increasing pay for our first responders. The department's first responders are the best of the best and keep Floridians and visitors safe when lives and property are on the line. They've earned this," Putnam said in a prepared statement.
The budget includes a 7 percent pay bump for all law enforcement officers at the Fish and Wildlife Conservation Commission, or 10 percent if they've been in the job for at least a decade. It also includes a $2,500 pay raise for state firefighters, effective next year.
"With the Governor's support, this budget also helps our department protect Florida from wildfire, promote Florida's agricultural products, support our citrus industry, preserve our natural resources, and much more."
—
The week in appointments
Ryan Estevez to the Florida State Boxing Commission —Estevez is a 44-year-old physician with Tampa Bay Neurobehavioral. He will succeed Wayne Kearney for a term ending Sept. 30, 2019.
His appointment is subject to confirmation by the Senate.
—
JoAnn Rooney to the Florida Real Estate Appraisal Board — Rooney, is a 60-year-old Palm Harbor resident and branch manager for NFM Lending, Inc.
Rooney will succeed Joshua Harris to serve a term ending Oct. 31, 2021. Her appointment is subject to confirmation by the Senate.
—
Larry Metz to the Fifth Judicial Circuit Court—Metz, is a state representative for District 25 and is currently in solo practice.
The 62-year-old is a veteran of the U.S. Marine Corps. He received his bachelor's degree from the University of Florida and his law degree from Florida State University.
Metz will fill the vacancy created by the resignation of Judge William G. Law.
—
Chad K. Alvaro to the Ninth Judicial Circuit Court—Alvaro is board-certified in construction law and is a shareholder with Mateer & Harbert, P.A.
The 41-year-old received his bachelor's degree from Rollins College and his law degree from Capital Law School. He will fill the vacancy created by the resignation of Judge Christi L. Underwood.
—
James "Lee" Marsh to the Second Judicial Circuit Court—Marsh currently serves as chief assistant attorney general in the Office of the Attorney General. He previously served as a Judge Advocate in the U.S. Navy.
He received his bachelor's degree from the U.S. Naval Academy and his law degree from the University of Florida.
He will fill the vacancy created by the resignation of Judge Charles A. Francis.
—
Tarlika Nunez Navarro to the Seventeenth Judicial Circuit Court—Navarro is a 35-year-old Fort Lauderdale attorney who serves as managing partner at Tarlika Nunez Navarro PLLC.
She previously served as an assistant state attorney for the Seventeenth Judicial Circuit. Navarro fills the vacancy created by the resignation of Judge Alfred J. Horowitz.
—
Nursing homes on the up and up
The Agency for Health Care Administration said this week that quality of life for Florida nursing homes residents is improving.
National data shows that since 2011, nursing homes in the state have seen gains in a number of categories affecting residents lives.
"Our Agency's top priority is providing the highest level of quality for patients in Florida. Florida nursing home residents today are less likely to fall, less likely to wander, less likely to suffer infections, less likely to exhibit unhealed pressure ulcers, and less likely to be chemically restrained than they were at the beginning of the decade," AHCA Secretary Justin Senior said.
"Florida tends to do well compared to national averages on these measures as well. This achievement is the product of high standards, consistent regulation, and the hard work of dedicated nursing home employees in the state. It is also the product of swift enforcement action whenever a nursing facility fails to meet Florida's high standards."
—
James Madison Institute chimes in on Session results
The James Madison Institute was pleased to see some measures pass the Legislature this session that covered criminal justice reforms and eliminated free speech zones on public university campuses.
"The policy team at The James Madison Institute worked overtime in Tallahassee and beyond to inform state policymakers on efforts to advance limited government, free markets, and economic freedom," said J. Robert McClure, the president and CEO of the James Madison Institute.
McClure said JMI was glad to see the Legislature expand school choice through the Hope Scholarship, reforming the state's criminal justice system by passing a new data-collection system and expanding pre-arrest diversion programs.
"We thank Governor Scott, Senate President Negron and House Speaker Corcoran for their continued leadership and commitment to the Sunshine State's future," McClure added.
—
Dana Young gives measured defense of school safety package
Tampa Republican Sen. Dana Young admits the school safety package passed by lawmakers isn't perfect, but at least it's something.
"My office received hundreds of emails and phone calls from constituents and concerned Floridians.  Many think the school safety bill did not go far enough, while just as many believe that it went too far," Young said in an email to her constituents. "However, the consensus across the State from constituents, families, parents, and students alike was simple: we must not let a tragedy like this happen again."
Young said she thinks the bill, which has already been signed into law by Gov. Scott, "will make a significant difference in preventing the senseless violence that took place in Parkland from happening again."
She pointed to $69 million in mental health funding, $400 million for school security, upping the age for gun purchases, the bump stock ban and the 3-day waiting period for all guns as positive things accomplished by the bi-partisan bill.
"Quite simply, without this legislation we would have done nothing to prevent the violence that occurred in Parkland from happening again," Young said.
"Whether you believe the legislation went too far, or not far enough, I urge you to carefully consider all that would have been lost had we not acted decisively. We could not let the perfect be the enemy of the good."
—
Randy Fine wants to mandate lagoon repairs in Brevard County
After the Brevard County government dumped 22 million gallons of raw sewage in a lagoon in a span of a little over a month, state Rep. Randy Fine worked to craft a consent order mandating reports to the Lagoon.
"These illegal releases are no longer uncommon, and in order to get the local politicians to take their responsibility to protect the Lagoon seriously, I asked the [Department of Environmental Protection to take the strongest possible action to compel them to do what is necessary and right," Fine said in a statement.
The proposed Consent order would requires the county commission to complete three projects by the end of 2020. That includes a $1.9 million clay pipe rehabilitation project in seven collection basins in the South Beaches and completing smoke testing of sewage pipes in Satellite Beach.
Fine said he worked with the DEP for more than six month to craft the consent order. If the county commission votes to accept the order, the county will further have to report to the state on its progress and actions moving forward.
—
Appeals court strikes down gun convictions
A Sarasota man who was convicted of illegally carrying a concealed firearm and possession of a firearm by a convicted felon got his convictions thrown out this week by the 2nd District Court of Appeal.
Lamarcus Slydell was charged and later convicted of the crimes after police approached and searched him based on a tip they had received from a confidential informant.
Slydell's legal team argued that the tip alone shouldn't have been enough to stop him, and the court agreed.
"No matter how reliable the confidential informant or how detailed the description of Slydell and the guns, the tip did not allege any criminal activity, and in particular it did not reveal Slydell's status as a felon nor did it say whether he had a concealed weapons permit," the ruling said.
—
St. Pete CRC hearing draws 1,200
More than 1,200 Floridians showed up at the USF St. Petersburg campus this week for a public hearing held by the Constitution Revision Commission.
The Tampa Bay area stop marked the sixth and final hearing slated for the CRC's 2018 "Road to the Ballot" tour. Past stops on the 2018 tour included Cape Coral, Pensacola, Jacksonville, Melbourne and Fort Lauderdale.
The CRC said 430 attendees filled out speaker cards to give commissioners their opinion on some of the proposals being considered for the 2018 ballot. Everyone who filled out a card had the chance to speak, and it took more than 10 hours to make it through the list.
Recordings of CRC hearings are available to watch online via The Florida Channel.
—
Priests pan CRC props
A long list of faith leaders signed on to a letter this week urging the Florida Constitution Revision commission to drop proposals they say would cripple religious freedom in the Sunshine State.
At issue are a proposal that would allow state money to be used to fund religion, and another that would allow public money to be funneled to private and religious schools.
"As leaders in our faith communities in the State of Florida, we believe taxpayer dollars should never be used to support private religious organizations or schools—not even our own. Therefore, we urge the members of the Constitution Revision Commission to reject Proposals 4 and 45, which would allow public funds to benefit certain faith communities over others," the clergy group said in the letter.
"Together, these two proposals would strip away fundamental and longstanding religious freedom protections and threaten the integrity and autonomy of our houses of worship and religious schools."
The CRC is meeting Monday to begin deliberating all of the proposals it is still considering for the 2018 ballot.
—
Florida Dental Association does $1.9M of pro bono work
The Florida Dental Association Foundation hosted its fourth "Florida Mission of Mercy" event on last week at the Lee County Civic Center, and provided more than 1,900 Floridians with free dental care valued at over $1.7 million.
"We are honored to have the opportunity to serve Floridians who may have otherwise had to seek temporary care at hospital emergency departments," said Bob Payne, DDS and president of the FDA Foundation. "The Florida Mission of Mercy brings together over 1,500 dentists, dental professionals and other volunteers from across the state to help relieve pain and restore smiles, while promoting oral health awareness and education."
FLA-MOM is a two-day event aimed at treating patients who lack access to dental care. Past iterations have been held in Tampa, Jacksonville and Pensacola.
In all, 6,200 patients have been served since FLA-MOM got its start in 2014.
"Everyone should have the opportunity to have good oral health," said Michael Eggnatz, DDS and president of the Florida Dental Association. "We need to collaborate and work for solutions to leverage Florida's robust dental workforce to provide oral health education, prevention and comprehensive care to Florida's underserved and rural communities."
—
Hurricane heroes honored
The Florida Municipal Electric Association handed out awards last weekend to each of its member utilities in honor of their work helping Floridians – as well Puerto Ricans and Virgin Islanders – get their power back on during the 2017 hurricane season.
"This past season's Hurricane Irma was a powerful and massive Category 4 hurricane when it made landfall in the Keys. The second strongest Atlantic hurricane ever recorded, Irma was wider than the Florida peninsula leaving few parts of the Sunshine State spared," said FMEA President Chip Merriam.
The public utility group said 827,000 of its member utilities' customers lost power in the wake of Irma, and their crews were able to pull together to get the lights back on to more than half of them within 48 hours, and to 98 percent within a week.
"We are incredibly grateful to all of the out-of-state and even out-of-country utility crews who came to our aid after Hurricane Irma. We're also incredibly proud of our members who sent their crews to other communities in Florida to help out the areas most affected by Irma, as well as the linemen who left Florida to help our neighbors in Puerto Rico and the U.S. Virgin Islands, many of whom left their families and homes during Thanksgiving and Christmas," said Amy Zubaly, FMEA Executive Director.
—
Florida history gets 3D treatment
Secretary of State Ken Detzner announced this week the launch of a new online museum exhibit showcasing Florida archaeology, history and innovation in 3D.
"'Florida History in 3D' allows worldwide access to some of the most significant and interesting artifacts in Florida's Archaeology collection. Using state of the art three-dimensional photogrammetry techniques, users can discover and examine artifacts from their computers or mobile devices normally only seen in museums," Detzner said.
"The artifacts in the State of Florida's archaeological collection belong to the citizens of our state. FloridaHistoryin3D.com allows us to share these unique, historical artifacts and their stories to students, educators, the public and interested individuals around the world."
The site launch is part of the "Florida Archaeology Month" and "March of Museums" events, and the first set of museum collection to get digitized in three dimensions were artifacts from the  Spanish Plate Fleets lost off the coast of Florida in 1715 and 1733.
Artifacts from the "Plate Fleets," so named for the plata (silver) coins they carried, are presented within three themes: arms and armor, daily life, and trade.
—
Gators and Noles compete on education scholarships
The education colleges at the University of Florida and Florida State University have schemed up a new way for the two flagships to compete – scholarships.
"The Duel of the Schools" competition will pit the two rivals in a two-week competition starting Monday to see which can get wrangle the most alumni support for student scholarships at their education colleges.
For the past two years, FSU's College of Education has awarded more scholarships than any other college at FSU and more than any other public College of Education in Florida. FSU said it aims to keep that momentum going.
"When our students graduate, we want them to be able to focus on their careers, not worrying about how they will pay back student loans," said Kevin Derryberry, assistant dean for development at FSU's College of Education.
"Nationwide, we see declining enrollment in education programs, low teacher pay and young people who leave the field after only a few years. In response, Florida State's education alumni and friends have taken action and created the most robust education scholarship program in Florida."
Those looking to chip in toward either school's fund – or both funds – can drop by dueloftheschools.com.
—
Cascades Park, FIU bridges designed by same company
After a Florida International University pedestrian bridge collapsed, the Tallahassee-based company that designed it—and the local Cascades Park bridge—said it was "stunned," the Tallahassee Democrat reported.
"We will fully cooperate with every appropriate authority in reviewing what happened and why," officials with Figg Bridge Engineers said in a statement.
"In our 40-year history, nothing like this has ever happened before," they added. "Our entire team mourns the loss of life and injuries associated with this devastating tragedy, and our prayers go out to all involved."
The span of the $14.2 million pedestrian bridge, still under construction, was installed at the Miami university Saturday morning.
FIU officials said the bridge was uniquely constructed along the side of the road using so-called Accelerated Bridge Construction methods. It was mounted atop the eight-late road during a six-hour operation on Saturday. It collapsed Thursday afternoon.
—
City seeks input on Urban Tree Forest plan
The city of Tallahassee is gathering citizen input as it develops its Urban Forest Master Plan, which will establish an action plan to ensure there is proper tree managements citywide.
"There are many elements to consider when looking at the overall vitality of a community's trees from species diversity to human impact and so much more," said Mindy Mohrman, the city's urban forester.
Tallahassee is covered with iconic canopy, which has grown significantly over the years. The plan is to make sure the urban forest is healthy and properly managed for future generations by including efforts to preserve, plant, remove and maintain trees.
To gather input, the city will hold two public meetings later this month. The first will be March 27 at Jack McLean Community Center from 6-8pm and the second will be on March 28 at the Frenchtown Renaissance Center from 6-8pm. Citizens can also complete a online survey until mid-April available at Talgov.com/TallyTrees.
—
Long-time Tallahassee airport employee honored
Tallahassee city officials and staff at the Tallahassee International Airport on Friday hosted a ceremony in honor of longtime airport employee Ervin "Mr. J" Johnson.
Johnson, who will soon celebrate his 80th birthday, has worked as a skycap at the airport since 1991. Johnson is described by colleagues as someone who has an "infectious smile, friendly demeanor, incredible work ethic and outstanding customer service."
Despite recent health scares, Johnson has continued to work and remain engaged in his career. In honor of his years of dedication, the city will proclaim March 17, which is his birthday, as "Ervin Johnson Day" in Tallahassee.
—
Now for this week's edition of Capitol Directions: