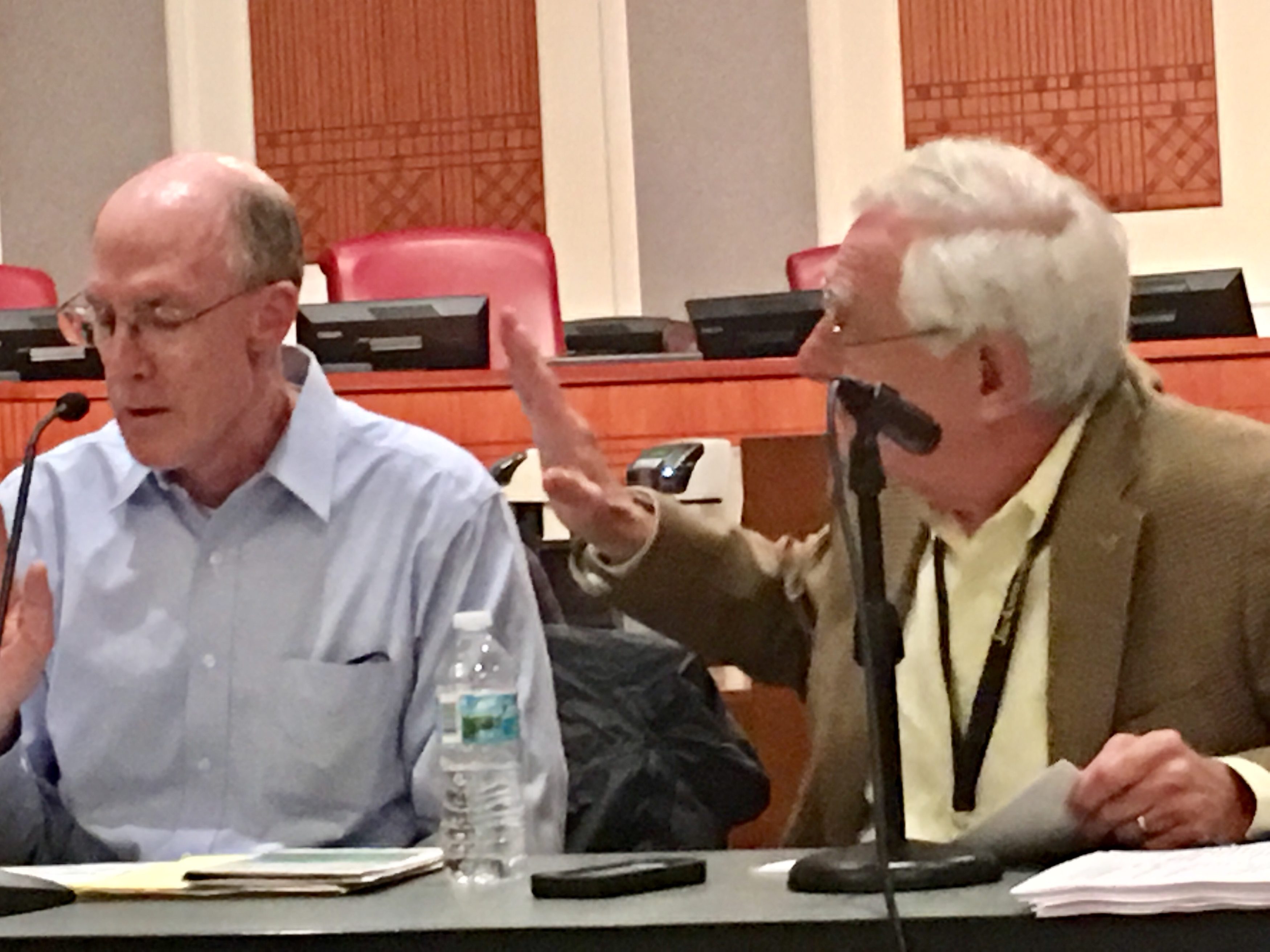 Lost in all the drama and metadiscourse regarding Jacksonville's potential sale of local utility JEA: whether the sale is good for the city or not.
A meeting at 1 p.m. at Jacksonville City Hall between City Council members moved to resolve that question.
Councilman Matt Schellenberg (the Council liaison to JEA, who is as open to the concept of privatizing the city's utility as anyone) met with colleague Bill Gulliford, an ally of the Lenny Curry administration that has been politically battered throughout the now months long discussion of the viability of selling the utility.
Also in the house: Councilmen Danny Becton, Aaron Bowman, Greg Anderson, Tommy Hazouri and John Crescimbeni.
Crescimbeni and Becton serve with administration critics Anna Brosche and Garrett Dennis on a special committee that has pushed back hard against a sales push.
The process of exploring a sale kicked off in November, when exiting JEA Board member and Curry backer Tom Petway suggested that perhaps the time has come for the municipal utility to move into a "private sector marketplace" model.
Net proceeds, asserted a valuation report commissioned by JEA, could be between $2.9 billion and $6.4 billion after the retirement of debt.  Values range from $7.9 billion up to $10.1 billion, based on cash flow, price/earnings ratios, and other metrics.
Gulliford noted that a minimum net he'd consider selling for is $5 billion, with money going to general fund debt ($824 million), Better Jacksonville Plan debt ($1.173 billion), sewer and water improvement ($500 million), affordable housing ($100 million), out of $2.758 billion. Another $2.241 billion would go to future capital improvement.
"From my starting point, that's the number that would really excite me," Gulliford said.
Gulliford noted that he'd be flexible, shifting revenue to unfunded pension liability (now $3.2 billion).
Gulliford noted also that there would be savings: $158 million in taxes, which would make up for the JEA revenue loss and even pay for property tax rollback.
Sewer and water would be kept by the city under the Gulliford plan. Rates would have to be at the same level of Florida customers the private buyer would have. Fired JEA workers would get a one year severance. And Gulliford said that, if this goes through, it would be possible that Jacksonville would be among the most stable and sound cities  — financial at least — in this country.
"What this is telling us is we have a fiduciary responsibility for our citizens … as such, I want to see that looked at objectively," Gulliford said, rather than in a "politically motivated" way.
Gulliford noted that if less money came in, it might be palatable also.
Becton appreciated the level of analysis in the Gulliford proposal, adding that there may be "pros and cons if we consider JEA priceless."
"If I was Council President right now," Gulliford said, "I would have set up a committee of the whole so every council member could participate in the process. I'm a little disappointed that wasn't done."
Councilman Bowman, the next President of the body, said the Gulliford proposal was serious, and that he had concerns about the future of electricity.
"I'm convinced that the next 15 to 20 years you're going to have communities built on solar farms," Bowman said, with cities like Jacksonville "stuck with the utility," as people begin to have solar batteries built into their homes.
Bowman also noted that interest rate hikes would further cut the profit margin, adding that there isn't even consensus on what to ask the public should there be a sale.
"If we made the decision to do it, we could protect jobs and protect rates," Bowman said. "But I'm not ready to make that decision today."
Schellenberg, who has pushed to explore value since he got on Council, said "there's a lot of things going on under the surface at JEA that have concerned me for some time."
"The economy and the world is moving fast," Schellenberg said, with changes in retail and corporate structures favoring companies like Amazon over local governments in terms of readily available capital.
Big commercial vendors will move away from JEA, Schellenberg predicted, with the onus of costs shifted to poorer, residential customers.
Schellenberg noted, malapropistically, that JEA is a "one horse pony," describing a utility that struggled over the years to keep up with changes in power sources, with bad bets on coal and nuclear plants and natural gas futures along the way.
Councilman Greg Anderson noted that a sale would be "conditional," and that with more conditions, value is inexorably drained from the transaction.
"We find ourselves pinned down by politics right now … the longer this goes on, the more we weaken JEA and its employees. We need to figure this out and figure it out quickly," Anderson said.
Crescimbeni was more dismissive, saying the Gulliford scheme was "pie in the sky" given the fact that water and sewer are more profitable and valuable than electric, and that the profit was speculative.
"Stay tuned to our special committee,"  Crescimbeni said, as the Council Auditor will offer a report that will push back on Gulliford's "irresponsible" numbers.
The committee meets Thursday as well, and reasonable expectations are that administration critics on the panel, including Jacksonville City Council President Anna Brosche and Finance Chair Garrett Dennis, will again have their say.
Dissatisfied with an unwillingness to answer questions under oath, the committee will subpoena JEA CEO Paul McElroy next week.
Meanwhile, the JEA Board looks poised for its own deep dive into a potential sale, almost four months after Petway's pitch.