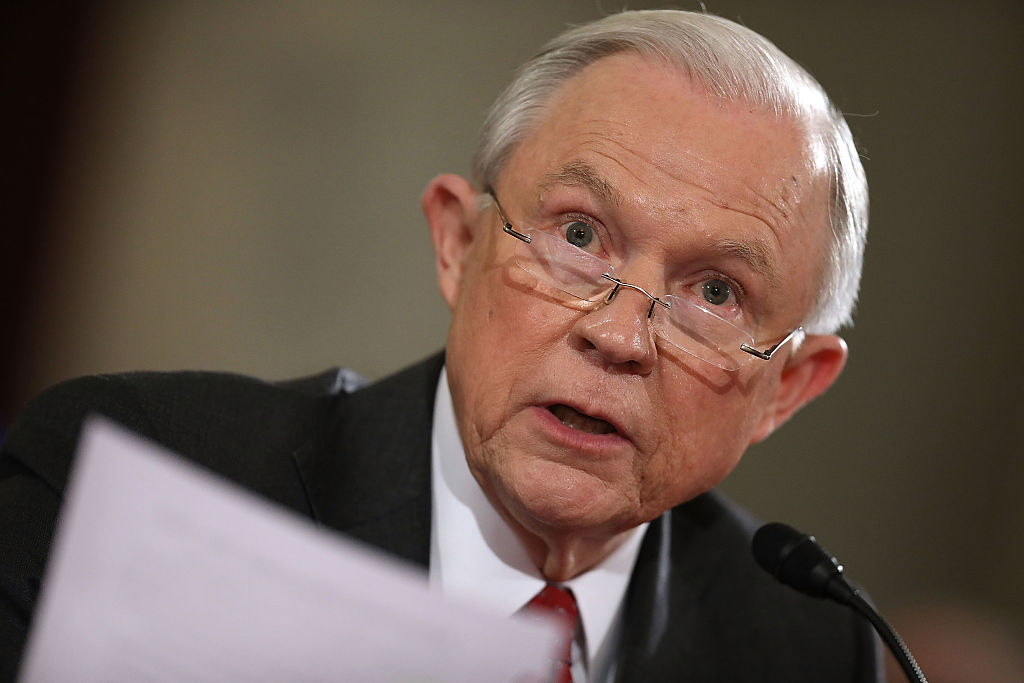 Announcing a surge of 250 Drug Enforcement Agency task force officers to "places across America where the opioid crisis is at its worst," U.S. Attorney General Jeff Sessions promised "to put drug traffickers right where they belong — the slammer," and in extreme cases go as far as sentencing kingpins to death. 
Sessions, a former U.S. senator and assistant U.S. attorney, made the announcement at  Tallahassee's federal courthouse Thursday afternoon in what was framed as an event highlighting the Donald Trump administration's response to the opioid crisis.
The administration's action, according to Sessions, involves addressing the nation's opioid epidemic through a multi-faceted approach — one that targets physicians and manufacturers but will come down especially hard on drug traffickers.
The top cop said drug peddling is an "inherently violent and deadly business." 
"If you want to collect a drug debt, you can't file a lawsuit in court; you collect it with the barrel of a gun," Sessions said.
And, tailing off a memo released yesterday from the Department of Justice, Sessions said he expects capital punishment to be pursued for traffickers.
"We will not hesitate to bring the death penalty when it's appropriate," Sessions said. "Under Florida law, drug dealers can be accountable for the death penalty also — our federal kingpin statutes actually provides for it."
Sessions justified sentencing traffickers to death by citing extreme violence associated with drug activity.
"These gangs murder people on whims sometimes," Sessions said. "They're deliberately providing drugs that result in deaths."
He said DOJ will be "careful" handling each case, but "will not hesitate to bring a death penalty when it's appropriate."
Added Sessions: "As surely as night follows day, violence and death follow drug trafficking."
Sessions' high-profile cameo was met with a bit of political criticism. Before he even spoke, Democratic gubernatorial candidates Chris King and Gwen Graham released statements attacking President Trump's handling of the opioid crisis and GOP leadership in Florida. 
Graham said Gov. Rick Scott and the Trump administration are following a "failed playbook that focuses on punishing addicts and arresting middlemen." Though Scott signed legislation on Monday aimed at stemming the practice of physicians overprescribing opioids. It limits prescriptions to a three-day supply, and, when deemed "medically necessary," a seven-day supply. The bill also requires physicians to use the prescription drug monitoring program, a statewide patient database, when prescribing addictive substances. 
King criticized Sessions for statements made last month in Tampa, when the Attorney General suggested opioid addicts "tough it out" and "take aspirin." 
The Orlando businessman also called Scott's opioid signing a political move for a potential U.S. Senate bid and said expanding full Medicaid coverage to the state would help curb the crisis.
"We've got to expand Medicaid to lift up Floridians suffering from addiction and bring them out of the shadows," King said.