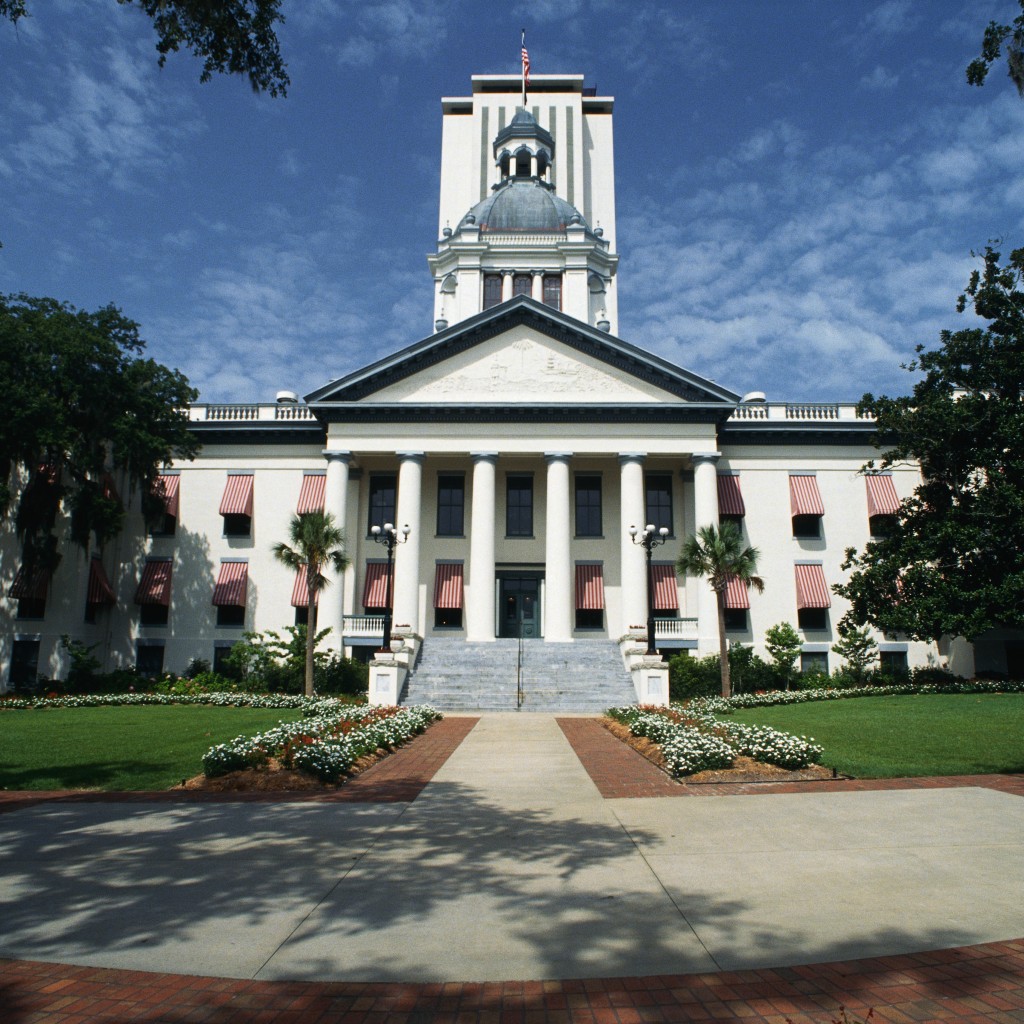 Sunburn – The morning read of what's hot in Florida politics.
By Peter Schorsch, Phil Ammann, Daniel McAuliffe, Jim Rosica, and Drew Wilson.
Welcome to your Friday oppo dump, provided by a Democratic source:
"At the Polo Republican Club in Delray Beach on Monday, Ron DeSantis got a question about restoring voting rights for felons and answered it.
"It's a question he has continually avoided – saying nothing when asked at his campaign kick off and avoiding comment to the Tampa Bay Times.
"He stakes a pretty clear position: He's flatly against automatic restoration. That position even puts him slightly to the right of (Adam) Putnam, who has said he would consider automatic restoration for non-violent criminals."
In a seemingly surreptitiously-recorded video of the event, a woman asks DeSantis: "…As our governor, what will you do for the multitude of felons, who have served their time … who are waiting to become active participants in our state again?"
DeSantis responds, "Well, in terms of felonies, my priority is not going to be on convicted felons, it's going to be on law-abiding citizens. [Applause.] Now, I'm not opposed to a felon who shows that they can reintegrate into society and have turned over a new leaf.
"I think there should be a pathway that you can restore, but I don't support automatic restoration for felons … If you look at the number of people who get convicted of a felony, there's a high percentage of those folks who within three or four years are back into the system having committed another offense.
"So if you leave the jail and they say, 'OK you get restored,' well you haven't proven that you can reintegrate yet into society. So I do think there should be a pathway, but it should be case by case, and it should be based on certain benchmarks being met."
Here's a link to the video.
— SITUATIONAL AWARENESS —
— @AP: BREAKING: The number of women running for seats in the U.S. House of Representatives sets a record with 309 women filing candidacy papers, AP review finds.
— @RepDeSantis: When Congress reconvenes, I will chair a Nat'l Security subcommittee hearing on the "caravan" of foreign nationals currently heading to our southern border. We must enforce our sovereignty & that means a secure border & supporting efforts of POTUS to protect the American people.
— @RepWilson: @JaredEMoskowitz said, "What's changed since Pulse? It's the parents who came up one by one, two by two. And the kids who came up like an army. They are the difference makers. They started a movement." #Enough
— @FCN2go: Fla. Congressman's son arrested, accused of trying to run clerk over after asking about chicken
— @VoteSeminole: The longer the ballot, the longer the lines. Plan ahead now & avoid waiting in line while others read/vote on potentially 17 state constitutional amendments in November.
— @SShawFL: Incredibly excited to be recognized as the top consumer advocate & fighter for workers this year by the Florida Chamber of Commerce!
— @DuvalDEC: For those who think we not unified, think again. Tonight we met for 4 hours and developed a Grievance policy because we are committed to healing and reconciliation.
— @Torch437: In attempting to adapt to his departure, I take a page from @StevePersall, who reacts with humor and heart. The effort only reminds me I am not him, that there is only one. Someone else's readers will benefit.
— DAYS UNTIL —
Days until: Gov. Scott's 'big announcement' — 3; Reporting deadline for Q1 fundraising — 9; NFL Draft begins — 20; Avengers: Infinity War opens — 21; Close of candidate qualifying for federal office — 27; Mother's Day — 37; Solo: A Star Wars Story premier — 49; Memorial Day — 52; Father's Day — 72; Close of candidate qualifying for statewide office — 77; Deadline for filing claim bills — 117; Start of the U.S. Open — 143; Primary Election Day — 144; College Football opening weekend — 148; 'Before You Vote' Florida U.S. Senate debate — 200; 'Before You Vote' Florida Governor debate — 201; General Election Day — 214; 'Hamilton' comes to the Straz Center — 314; 2019 Legislative Session starts — 333.
***Today's SUNBURN is brought to you by Spectrum Reach, the marketing platform of choice, connecting you to your target audience on TV, digital and mobile. With access to our powerful data and insights, solutions for every screen, and the best programming content on the top 50+ networks, we'll help you reach the right customers for your business. SpectrumReach.com #NeverStopReaching***
— TOP STORY —
"Pam Bondi vows to go to 'highest court' in clemency fight" via the News Service of Florida — U.S. District Judge Mark Walker last month gave Gov. Scott and the Florida Cabinet until April 26 to revamp the process, which Walker ruled violates First Amendment and equal-protection rights under the U.S. Constitution. Bondi's office filed a notice of appeal at the Atlanta-based 11th U.S. Circuit Court of Appeals and asked for a stay of the order requiring a new process by April 26. But Walker, in a sharply worded decision, quickly rejected the request for a stay, though he said the state can also take that issue to the appeals court. Bondi criticized Walker's rulings and defended the state's authority to decide how to handle restoration of rights. "We have been following the law," she said. "We firmly believe that it is the law in the state of Florida. We plan on enforcing the laws. That's what I do as the chief legal officer of the state of Florida. So, yes, we are appealing it. We will appeal it to the highest court."
— NOTES FROM THE CAMPAIGN TRAIL —
"Liberal billionaire Tom Steyer targets Florida millennials with $3.5 million voter outreach" via Alex Leary of the Tampa Bay Times — "This is a fight for the soul of America," he declares from a booth at a luxury hotel down the street from the White House. "Really." A billionaire former hedge fund executive from San Francisco, Steyer isn't talking about Trump but the great untapped resource of American politics: millennials. The group now matches baby boomers for the largest slice of the electorate but has woefully underperformed at the polls. Steyer, 60, is pouring $30 million into what he calls the largest youth organizing program in American history ahead of the 2018 midterm elections. Florida is a primary focus, with dozens of people already working on college campuses to register voters and maintain their interest. Steyer's NextGen America will spend at least $3.5 million in the state and has plans to double the current 50 staffers to cover 40 college campuses, including 10 community colleges and four historically black colleges.
"In post-Trump GOP, Florida's governor hopefuls veer far right on immigration – and away from bygone era" via Emily Mahoney of the Tampa Bay Times – A given in this year's Republican primary for governor is that the probable frontrunners need to emphasize how tough they are on immigration to lock up the nomination in August. But the voting records of all three likely candidates — Richard Corcoran, Ron DeSantis and Adam Putnam — reveal exceptions to their current hardline stances, a reminder of how Florida's Republicans have been transformed by the "BUILD THE WALL!" orthodoxy of President Donald Trump's nationalist movement. One Republican who has witnessed this metamorphosis over the past few years, former House Speaker Will Weatherford, said the lurch to the right on immigration is troubling. While Republicans have always been conservative on immigration issues, the messaging has changed, he said.
"Andrew Gillum raises $336K in March" via Florida Politics – The campaign brought in $125,366 of the new money while the committee, Forward Florida, raised $210,750. The total beats February's haul by more than $90,000 and goes down as one of his best fundraising months since he entered the race early last year. The fundraising announcement didn't include spending for the month or the ending cash on hand for either account, though Gillum had about $800,000 between the two accounts at the end of last month. Despite the solid month, Gillum still lags behind his primary challengers with about $2.6 million in total fundraising.
"Gwen Graham adds more than $600K in March" via Florida Politics — Graham's campaign didn't give exact figures, though it said the March haul brings her total fundraising past the $6.4 million mark with about $3.9 million in the bank. The campaign account and political committee, Gwen Graham for Florida, brought in over $300,000 each during the reporting period. The former congresswoman also pointed out a $50,000 contribution she received from progressive women's group EMILY's List in the announcement.
Philip Levine expands outreach in Central Florida with billboards – "Central Florida is a key region in our state and as we build our campaign and expand our outreach, bringing our message to the voters of Orlando is a top priority," shared Christian Ulvert, Senior Advisor to the campaign. "With just 144 days left until Floridians go to the polls and vote in the primary, the Levine campaign is committed to continue taking our message directly to the people."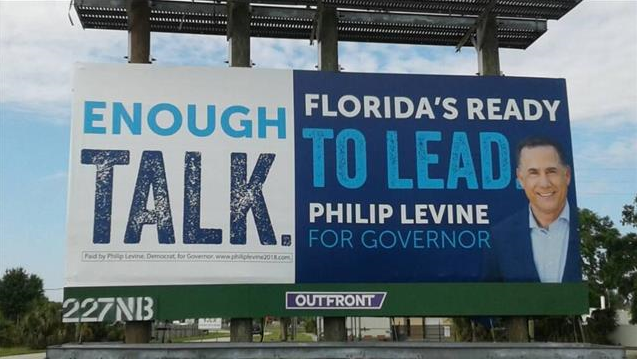 "Adam Putnam suggests Ron DeSantis doesn't know the state" via Scott Powers of Florida Politics — Putnam is turning his "I know Florida" message into a bit of a stick, suggesting that his opponent for the Republican gubernatorial primary U.S. Rep. DeSantis knows Florida not-so-much. "Floridians want a governor who knows Florida best, who's always going to put Florida first and is running a grassroots campaign," Putnam told reporters, responding to a question about what he thinks of DeSantis getting President Trump's endorsement. "I do see a lot of MAGA hats at my rallies," Putnam added, referencing Trump's themed hats, "Make America Great Again."
Assignment editors — Putnam will speak at the weekly Café con Tampa meeting beginning 8 a.m. upstairs at the Oxford Exchange, 420 W. Kennedy Blvd. Cost is $12, breakfast buffet included. He will make a tax-related announcement at 10 a.m., Kimmins Contractors, 1501 E. Second St. in Tampa.
"Another GOP candidate for Attorney General. Another mysterious windfall in campaign cash." via William March of the Tampa Bay Times – State Rep. Jay Fant won't say where he got $750,000 he loaned his campaign last fall. Financial disclosures the Jacksonville Republican has been required to file through 2016 don't appear to show where that much cash could have come from. Nonetheless, Fant has declined through a campaign spokeswoman to say where he obtained the money, saying only that it was "a personal loan." Fant's assets, particularly his home, could have grown in value since his last financial disclosure, which covered 2016, possibly providing more equity he could have borrowed against to obtain the money he loaned his campaign. However, there is no record on the Duval County Clerk of Court's website of Fant having borrowed recently against any real estate he owns, and the campaign said he hasn't done so. Fant's financial disclosures don't show many large, liquid assets other than an IRA.
Sean Shaw announces communications director, South Florida finance director – Shaw, a Tampa House Democrat running for attorney general, on Thursday named Anders Croy as Communications Director and Makeda McLune as his South Florida finance director. Croy previously was spokesman for the Florida House Democratic Caucus and worked on Al Lawson's 2012 campaign for Congress. McLune has an "extensive background as an organizer and finance professional for progressive campaigns and causes throughout the country." During the 2016 election cycle, she served as Deputy Finance Director for the Annette Taddeo for Congress Campaign. "Anders and Makeda are the right people to ensure we achieve our goals and add to the incredible momentum that's been building as I've traveled the state," Shaw said.
"Milton Democrat hopes to run against Matt Gaetz" via Jennie McKeon of NWFDailyNews.com – Dr. Jennifer Zimmerman, a pediatrician based in Milton, has been campaigning across Northwest Florida since February. While she may have fallen short of collecting the 5,303 signatures needed to appear on the Aug. 28 primary ballot, she is not discouraged. Plan B is to raise $10,440 by May 4. Zimmerman — or Dr. Z as she is known to her patients — was born in the Philippines. Her father, James, was a Filipino guerilla fighter against the Japanese occupation during World War II before becoming a POW. Her mother, Corazon, was not allowed to go to school but managed to complete high school and then college while caring for six children. Zimmerman arrived in the United States in 1993 and later moved to Northwest Florida. She practiced medicine in Crestview before starting her own practice in Milton.
"Abortion rights group backs Stephanie Murphy in CD 7 race" via Scott Powers of Florida Politics – "Congresswoman Murphy is a fighter for Florida women and families, and we are proud to endorse her re-election to Congress," Ilyse Hogue, president of NARAL Pro-Choice America, stated in a news release. "We need members of Congress like Congresswoman Murphy who will stand up to the extreme anti-choice agenda of the Trump Administration." The endorsement allows Murphy to get her abortion rights credentials established heading into the primary, in a purple district that includes Seminole County and north-central Orange County. NARAL is the oldest abortion rights advocacy group in the United States and claims 1.2 million "member activists."
"Rene Garcia running for Miami-Dade County Commission in 2020" via Doug Hanks of the Miami Herald – Garcia, a Republican former member of the Hialeah City Council is forced to retire from the Senate this year due to term-limit rules, has filed for the 2020 election to replace Esteban "Steve" Bovo in the county district representing Hialeah. Bovo is forced to leave his District 13 seat in 2020 through Miami-Dade's own set of term-limit rules.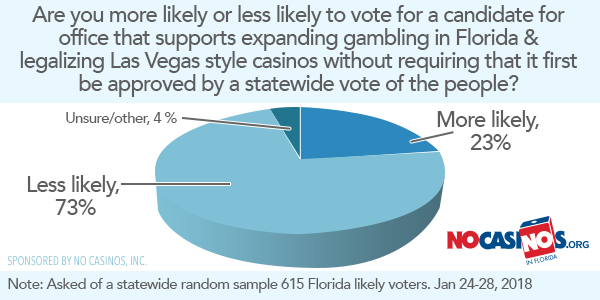 — STATEWIDE —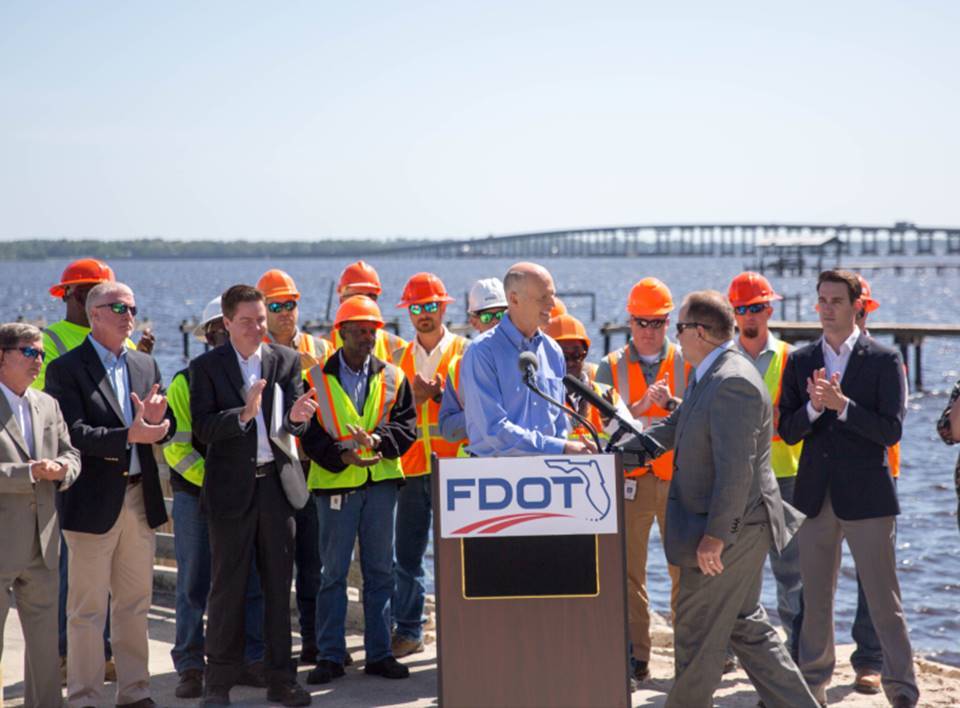 "New law Scott signed makes public access to beaches harder to establish" via Craig Pittman of the Tampa Bay Times – The bill, HB 163, blocks local governments from adopting ordinances to allow public access to beaches above the mean high-water line. Instead, any city or county that wants to do that has to get a judge's approval first — by suing any private landowners claiming beach property as their own. "This is very bad for local governments," said Alison Fluornoy, a University of Florida law professor. "Suing coastal landowners as the only avenue to establish access is not an attractive option." She also pointed out that this adds to the workload of the state's courts without providing additional funding. All such beach access ordinances are based on a legal principle called "customary use," which is generally defined as the traditional use of dry beach sand for recreation by the public, even if it's supposed to be private property. Sometimes beach property owners become upset about the behavior of visitors and try to block access to their land.
Assignment editors — Florida Chamber of Commerce CEO Mark Wilson will join Chamber Chief Economist Dr. Jerry Parrish and other thought leaders for the 'Lay of the Land/Florida Land Conference' beginning 8 a.m. at the Omni Orlando Resort, 1500 Masters Blvd. in ChampionsGate.
"Justices toss out death sentence in Carlie Brucia murder" via Jim Saunders of the News Service of Florida — A divided Florida Supreme Court ordered resentencing for a Death Row inmate who was convicted in the 2004 sexual assault and murder of 11-year-old Brucia — a Sarasota County case that drew national attention. The 4-3 decision vacating the death sentence of Joseph P. Smith came in one of dozens of appeals filed by Death Row inmates after a January 2016 U.S. Supreme Court decision that found Florida's death-penalty process was unconstitutional because it gave too much authority to judges, instead of juries. That U.S. Supreme Court decision and subsequent Florida Supreme Court rulings have led to requirements that juries must unanimously agree on critical findings before judges can impose death sentences and must unanimously recommend the death penalty. A jury recommended in a 10-2 vote that Smith be sentenced to death.
"Constitutional review panel's 'style' committee wraps up work" via Florida Politics – Barring any last minute turbulence, get ready for a long ballot in November. The Constitution Revision Commission's Style and Drafting Committee on Thursday OK'd 12 proposed amendments to the state's governing document. They would be in addition to five amendments, either from the Legislature or citizen initiatives, already set for the November statewide ballot. The committee's work now goes to the full CRC for consideration. It's slated to meet again starting April 1
"Gambling lobbyist to No Casinos head: You're a 'bully' " via Florida Politics – Gambling lobbyist Marc Dunbar is telling anti-gambling activist John Sowinski to lay his cards on the table. In an open letter released Thursday, Dunbar says Sowinski – president of No Casinos – has "declared war on (the gambling) industry, and in turn our economy, with a proposed constitutional amendment which you now have finally and publicly disclosed is intended to ban retroactively many forms of legal gambling in the state." Sowinski also chairs Voters In Charge, the political committee behind the proposed "Voter Control of Gambling" constitutional amendment, also known as "Amendment 3," on the November ballot … "It is clearly time to meet in the public square and have a candid and truthful dialogue about Amendment 3 and your group's desired impacts," Dunbar wrote.
Assignment editors — Democratic state Rep. Kionne McGhee will host a town hall on gun violence and the need for improved school safety. The town hall begins 7 p.m. at the Cutler Bay Town Center Council Chambers, 10720 Caribbean Blvd. in Cutler Bay.
"Black farmer drops lawsuit over pot license" via the News Service of Florida – After Gov. Scott signed a bill last week that resolved the case, a Panama City farmer has dropped a constitutional challenge to a 2017 law that included criteria for awarding a potentially lucrative medical-marijuana license to a black farmer. Attorneys for Columbus Smith filed a notice in Leon County circuit court that they were dismissing the lawsuit. The 2017 law required one medical-marijuana license to go to a black farmer who had been part of settled lawsuits, known as "Pigford" cases, about discrimination against black farmers by the federal government. The measure also required the black farmer who received a license to be a member of the Black Farmers and Agriculturalists Association-Florida Chapter. Smith met the qualification of being part of the Pigford litigation, but he was not allowed to join the black farmers association, effectively preventing him from receiving a license. The Florida Constitution bars "special" laws, in part, that relate to "grant of privilege to a private corporation."
"Leon County judge rules against school districts' challenge of HB 7069" via Jeffrey Solochek of the Tampa Bay Times – After a nearly five-hour hearing, Leon County Judge John Cooper wasted little time throwing out several school districts' challenge of HB 7069, the controversial 2017 education legislation that created a new class of charter schools, among several other measures. Cooper found the law constitutional. He issued his ruling of summary judgment for the defendants — the Florida Board of Education, Department of Education, and intervening parents and charter schools — from the bench without boiling it down to writing. Lawyers for the two sides will submit suggestions for a written order within a week.
"Scott Maddox campaign contributors OK with covering legal bills" via Florida Politics – Are Scott Maddox's financial supporters mad that he spent $125,000 in political donations on legal fees arising from the federal investigation into Tallahassee's City Hall? Not especially, judging from conversations with some of those supporters. "I don't blame him for using it for that. It doesn't bother me," said Kevin Collins, a Tallahassee real estate agent who contributed $500. Added Karen Koelemij, president of Orange State Construction Inc., "Whenever you give money to a politician, you don't know how they're going to spend it."
"First Brightline train arrives at Miami station during final stage of construction" via  Jennifer Sorentrue of the Palm Beach Post – Brightline said it plans to launch service to downtown Miami in "the coming weeks." The company's fleet of trains will soon begin testing on the stretch of rail that runs between Ft. Lauderdale and Miami, officials said. "BrightPink climbed the newly constructed viaduct and pulled into the 50' elevated station, overlooking downtown Miami and the expansive multimodal hub," the company said. "Soon, Brightline trains will begin testing between downtown Fort Lauderdale and Miami in anticipation of extending service in the coming weeks. The start of testing will coincide with additional safety outreach throughout the South Florida region." Since starting service in January, Brightline has run as many as 22 trains a day between downtown West Palm Beach and downtown Fort Lauderdale.
— STORM OF CONTROVERSY? —
How does Florida go from the gold standard in disaster response to creating a man-made disaster when it comes to dealing with the aftermath of major storms?
– First, the state Division of Emergency Management (DEM) was revealed to be changing the rules in a way that makes storm-ravaged cities across Florida wait … and wait … and wait for (already approved) federal reimbursement for damages suffered in Hurricanes Hermine and Matthew.
– DEM's interpretation of the rules forced projects to go through a lengthy (and questionable) federal review before any funds were delivered, which eventually caused a $3.6 billion backlog.
– Now, a different state agency issued an Invitation to Negotiate (ITN) for recovery services related to Hurricane Irma, causing concerns of favoritism for winning contracts.
– Curious language within the ITN suggest the winning bidder must have held a similar contract for a minimum of five consecutive years, a longer than usual period for such an agreement.
– These recent issues raise questions of transparency and confidence in the DEM, an agency that set a benchmark for public safety and disaster response during relentless hurricane seasons of 2004 and 2005.
— D.C. MATTERS —
"Putnam backs Donald Trump on revamping NAFTA" via the News Service of Florida – Putnam sent a letter to U.S. Trade Representative Robert Lighthizer that backed President Donald Trump's push for a "more equitable North American Free Trade Agreement" with Canada and Mexico. "As you are aware, producers of perishable and seasonal agricultural products in Florida and other regions have been decimated by unfair trading practices resulting in a strong and unprecedented growth in imports from Mexico," Putnam wrote. "Family farms in Florida and other states have found no relief from these unfair practices in our current trade laws or the current NAFTA agreement."
"Gus Bilirakis, Kathy Castor target 'zombie campaigns' loophole with new restrictions" via Christopher O'Donnell and Noah Pransky for the Tampa Bay Times — Bilirakis and Castor are co-sponsoring the "Honest Elections and Campaign, No Gain Act." The bipartisan bill requires outgoing lawmakers to close their campaign accounts within two years and also bans payments to family members once they leave office. The veteran lawmakers said the bill is in direct response to an investigation that turned up about 100 so-called zombie campaigns, kept open by former politicians to finance their lifestyles, advance new careers and pay family members. Bilirakis said Castor and he will advocate support for the bill with their respective parties. But he expects some opposition. "You're going to get some resistance," Bilirakis said. "Probably some former members of Congress will lobby against this bill."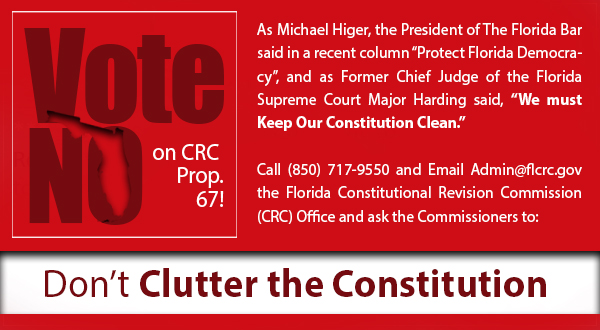 — MOVEMENTS —
"José Oliva named to national GOP panel" via the News Service of Florida — Oliva will serve on the executive committee of the Republican State Leadership Committee's Future Majority Project initiative … "We started the Future Majority Project in 2011 to support Republican candidates who better reflect the growing diversity of the American electorate," Matt Walter, president of the Republican State Leadership Committee, said in a prepared statement. Oliva was one of 22 officials from 18 states named to the Future Majority Project executive committee and the only one from Florida.
"Personnel note: Josh Weierbach leaving Senate Victory for Emily's List" via Florida Politics – Weierbach has been on the ground for the Florida Democrats for a while. His most recent was the special election in Senate District 40 last fall, which saw Annette Taddeo flip the seat against Jose Felix Diaz. The victory helped elevate him to the executive political director spot in October. He'd played a prominent role in prior elections, too, and Emily's List has no shortage of Florida campaigns it's looking to boost in the 2018 cycle. The organization, dedicated to electing pro-choice Democratic women to office, is backing Lori Berman in her surefire bid to move from the House to the Senate in a special election next week.
Personnel note: Hard Rock names Todd Hricko as Sr. VP, head of Global Hotel Development – The casino and hotel group, controlled by the Seminole Tribe of Florida, tapped Hricko to "oversee the development of hotels for the entire brand," according to a Thursday press release. He joined Hard Rock in 2014, first serving as vice president of business development for Hard Rock Hotels, where he "spearheaded the development of the Hard Rock Hotels portfolio throughout the United States and Canada."  Before that, Hricko was vice president of development for Wyndham Hotel Group. The brand is currently pursuing expansions in the Maldives, New Orleans, London, and China.
— LOBBYING REGISTRATIONS —
New and renewed lobbying registrations:
Ellyn Bogdanoff, Nicholas Matthews, Becker & Poliakof: City of Cape Coral
Lawrence Curtin, Holland & Knight: Helena Agri-Enterprises
Jessica Janasiewicz, Corinne Mixon, Rutledge Ecenia: S.A.F.E. Consulting
Ron Silver, Ron Silver and Associates: International College of Health Sciences
— WEEKEND TV —
Facing South Florida with Jim DeFede on CBS 4 in Miami: The Sunday show provides viewers with an in-depth look at politics in South Florida, along with other issues that affect the area's citizens.
Florida This Week on Tampa Bay's WEDU: Panelists include political reporter William March, Tampa Bay Times reporter Caitlin Johnson, Gee-Abate Strategic Partners founder Connie Gee-Abate, and political commentator/consultant Barry Edwards.
In Focus with Allison Walker-Torres on Bay News 9: A discussion of the legislation designed to combat and minimize the growing opioid epidemic. Joining Walker-Torres are state Sen. Darryl Rouson; state Rep. Mike Miller; Dr. Jay Faulk, chief academic medical officer, Orlando Health; Dr. Mike Lozano, EMS medical director, Hillsborough County; and Natalie Kelly, Florida Association of Managing Entities.
Political Connections on CF 13 in Orlando and Bay News 9 in Tampa/St. Pete: Democratic gubernatorial candidate Gwen Graham.
The Usual Suspects on WCTV-Tallahassee/Thomasville (CBS) and WJHG-Panama City (NBC): Host Gary Yordon speaks with cartoonist Bill Day.
This Week in Jacksonville with Kent Justice on Channel 4 WJXT: This week's guests: Jacksonville Mayor Lenny Curry and Attorney General candidate Frank White.
This Week in South Florida on WPLG-Local10 News (ABC): Co-hosts Michael Putney and Glenna Milberg talk current events and host a weekly roundtable with newsmakers.
— ALOE —
"Above normal hurricane season forecast" via Kim Miller of the Palm Beach Post – A leading hurricane forecast is calling for a slightly above average storm season with 14 named storms, 7 hurricanes and 3 major hurricanes. The prediction from Colorado State University's Tropical Meteorology Project was released this morning at the National Tropical Weather Conference in San Antonio. It follows at least two other forecasts made this month calling for a near average to above average hurricane season. An average season has 12 named storms, 6 hurricanes and 3 major hurricanes. The hyperactive 2017 hurricane season had 17 named storms, 10 hurricanes and 6 major hurricanes.
"Gap closes between Grapefruit and Cactus Spring Training leagues" via Sam Newlon of WUSF –Arizona's Cactus League offers a clear advantage in the proximity of all the baseball stadiums. The ballparks are within an hour of each other. Conversely, Florida's 15-team Grapefruit League is spread out from Dunedin to West Palm Beach. Fans would have to drive over four-and-a-half hours to watch a game at every venue. Despite this disadvantage, Florida holds a trump card over Arizona – the state offers more to do. Figures show that people are taking advantage of that variety. When it comes to spring training, online travel community Airbnb reported 23,000 guests made reservations between Feb. 21 and March 27 in Tampa alone. That's a 92 percent increase over the number of reservations in the five weeks before Feb. 21.
"Homebuilder Lennar's stock jumps after company posts better first-quarter profits than expected" via David Lyons of the South Florida Sun-Sentinel — Lennar Corp. of Miami beat Wall Street's expectations by reporting better-than-expected first quarter profits and revenues after selling more homes at higher prices and gaining a boost from its purchase of onetime rival CalAtlantic. The company's stock price jumped the $60 mark on the New York Stock Exchange, recording a 10 percent gain of $5.73 to $62.82. Lennar CEO Stuart Miller issued an upbeat forecast for the immediate future, saying "we remain enthusiastic about both our current results as well as our future projections under the Lennar platform." He said that in the first quarter of 2018, new home orders and deliveries were 10,910 and 9,994, respectively, "which exceeded the expectations" of both Lennar and CalAtlantic. The acquisition of CalAtlantic was completed on Feb. 12.
Happy birthday to two wonderful women in The Process, Carolyn Johnson and Chelsea Murphy. Celebrating this weekend is Sen. Annette Taddeo.