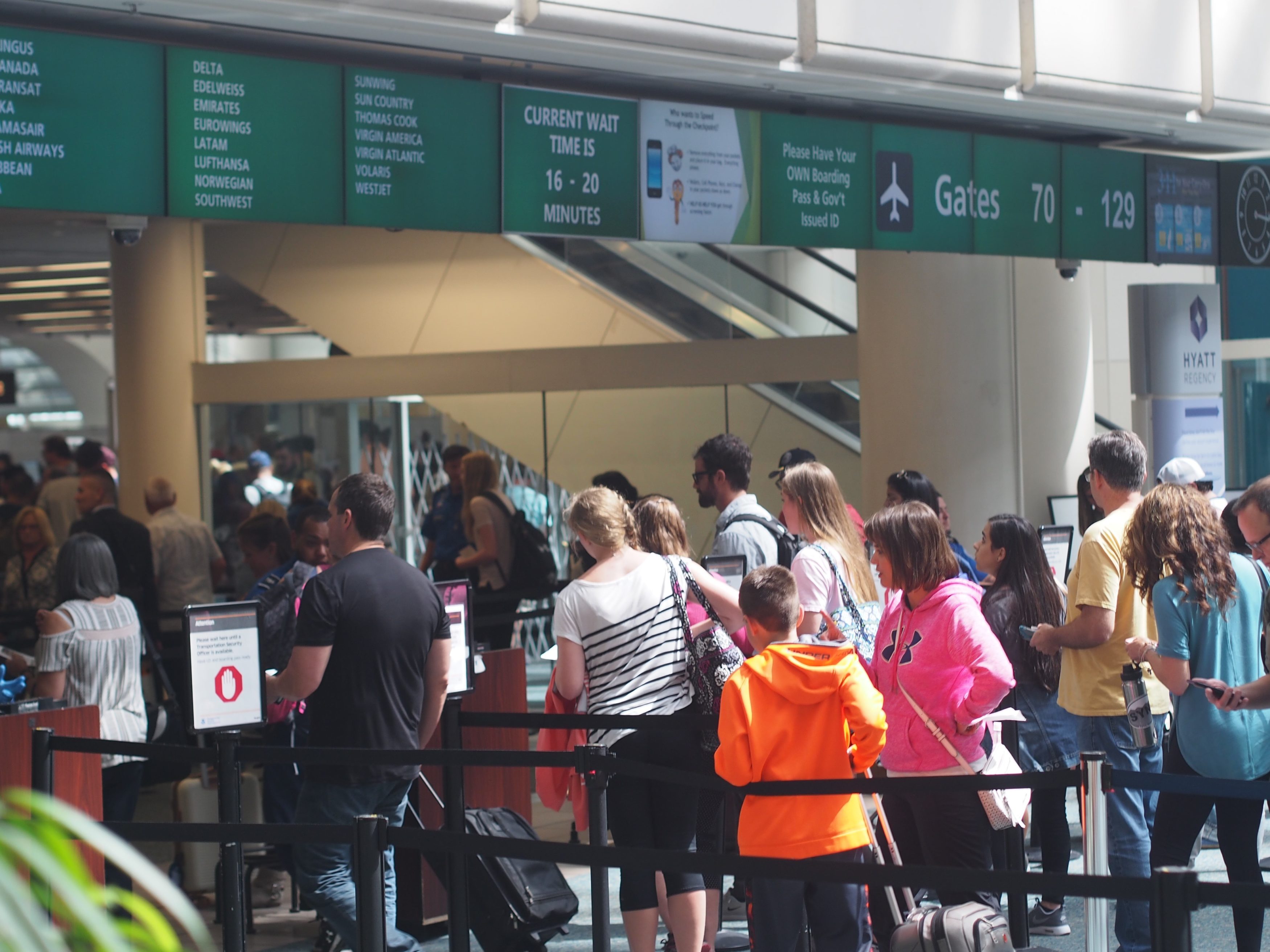 The Orlando International Airport may have been stopped from the prospect of privatizing security checkpoints now that the U.S. Transportation Security Administration is rushing to make improvements.
Swift changes coming to expand TSA staff, add more screening dogs, and bring in new state-of-the-art equipment have happened in a matter of less than seven weeks, and more are on the way.
And it all appears to be the direct result of a showdown, of the airport's board's vote in February to begin the process of dumping TSA in favor of a private security screening company.
Yet the congressional delegation from the area, notably U.S. Rep. Val Demings, U.S. Rep. Darren Soto, and U.S. Sen. Bill Nelson all opposed privatization of the screening force and got involved to get the communications with and changes from TSA that Orlando airport officials had complained they weren't getting.
On Friday Demings chaired a meeting at the airport with Soto, Nelson, Orlando Mayor Buddy Dyer, and airport officials, with a representative from U.S. Sen. Marco Rubio as well, during which a TSA official laid out plans to essentially provide everything the Greater Orlando Aviation Authority wanted. And in record time – about 36 days.
"Assuming everything continues the way it is, it is my intention that the [Greater Orlando Aviation Authority] board at our April meeting rescind the authority given to the executive director to move forward to explore privatization and instead focus on continuing to build a great partnership," Frank Kruppenbacher, chairman of the GOAA board, said afterwards.
The changes will mainly focus on the western checkpoint area of Orlando's central passenger terminal. Jerry Henderson, TSA's federal security director for Orlando, told Demings and the others that in days after a she and the rest of the delegation began brokering talks between the TSA and GOAA the federal agency drew up and approved plans to rework the area to add three new lanes. The TSA also authorized 75 new transportation security officers for Orlando, and delivery of some new, state-of-the-art screening equipment. More dogs at coming too.
That's the temporary fix. Meanwhile GOAA Director Phil Brown and his staff are working to relocate two major stores by that security checkpoint, run by Disney and Universal Orlando. Brown hopes to get at least one of them relocated in time to build out a bigger checkpoint area for a permanent upgrade by next Christmas.
This has all been happening as Orlando's airport has been seeing record numbers of passengers – even in the past seven weeks, Henderson said.
In February the board had reacted to what had been more than a year of frustration, as airport officials were convinced that TSA security services were not sufficient and passenger reactions were getting more and more negative. The board essentially issued an ultimatum: The TSA needed to change things fast, and in the meantime, Orlando was officially moving toward kicking TSA out.
It comes at an airport that strives for what officials call an "Orlando Experience," an extension of customer service level goals maintained at Walt Disney World and some of the other tourist resorts and hotels.
With Dyer voting no, on Feb. 21 the GOAA board voted to open what likely would be a year-long process that could have led to the federal agency's security functions being contracted out to private security companies. That option is used in more than 20 airports nationally, though the vast majority of them, excepting San Francisco and Kansas City, are small.
Privatization had been pursued before in Orlando, when U.S. Rep. John Mica urged it a few years ago, in part because of his frustration with the unions involved, but the GOAA board never accepted the idea until February.
This time Mica's successor, Democratic U.S. Rep. Stephanie Murphy opposed privatization, as do Demings, Nelson and Soto. Murphy did not attend Friday.
Demings sounded relieved Friday, but cautioned Kruppenbacher, Brown, Henderson and the others that if the GOAA board does indeed reverse its February vote, that the pressure must be kept up to keep GOAA and the TSA working together, and that she wants the congressional delegation informed immediately if there are any problems.
"When people get of the planes in Orlando, their vacations start the minute they arrive. And their vacations end the minute they get back on that plane," she said. "We set that bar for ourselves very high but I have no doubt that we can achieve it."