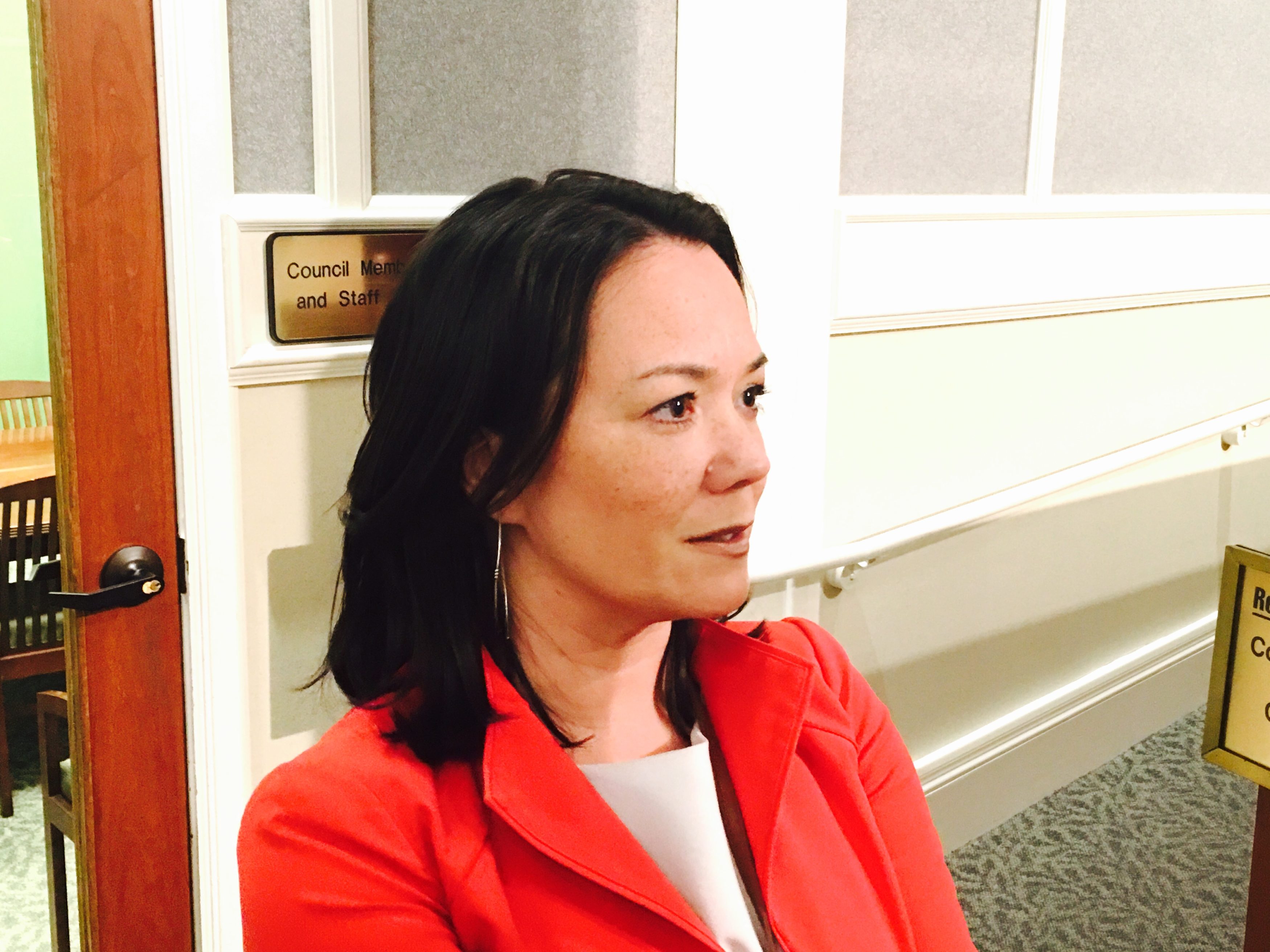 After Thursday's explosive meeting of the Jacksonville City Council's special committee on JEA, which saw Council President Anna Brosche and Finance Chair Garrett Dennis pillory CEO Paul McElroy over numerous inconsistencies in his testimony, what's certain is that, at least for Brosche, the questions have only begun.
In a 20-minute-plus gaggle Thursday evening, Brosche went into great detail about how she saw the process leading up to the introduction of the JEA privatization concept to the City Council. She said other officials of both the Lenny Curry administration and JEA management, such as Chief of Staff Brian Hughes and JEA CFO Melissa Dykes, may be expected to explain their roles in the exploration of privatization.
Brosche reasserted a revelation from Thursday's meeting to kick off the gaggle: contrary to Curry's office saying that they had no role in setting up a special meeting on Feb. 14 on JEA privatization, McElroy noted that Curry's chief administrative officer Sam Mousa, in fact, reached out to Brosche to set up the meeting.
"That was my understanding," Brosche said, explaining that she didn't recognize Curry to speak at that meeting because on the agenda the Mayor's Office prepared, Curry wasn't listed as a speaker, and so his speaking would have violated Council rules.
"When they moved into calling the JEA board chair up to speak," Brosche recounted, "that was already outside of what was requested and posted, and so I had had enough … especially in light of the fact that I didn't request the meeting."
Brosche outlined a very detailed timeline of the days leading up to the Feb. 14 meeting.
"We were starting to hear that the [JEA valuation] report would come out. In the last week of January," Brosche said, a noticed meeting was scheduled by city councilors "to discuss the potential sale of JEA."
"As soon as that happened," Brosche continued, "I had gotten an urgent request to meet with Mr. Hughes."
On Feb. 5, Brosche met with Hughes and Ali Korman Shelton of the Curry administration.
"We had that meeting early afternoon Monday, which was about 30 minutes long, and they were suggesting that the report would be out soon," Brosche said.
The Curry team asked if Brosche "would be open to having a joint meeting with the JEA Board. I was asking why."
The case: so the media and the board and the Council could have access to the information in the valuation report at the same time.
"The suggestion was made that, if at the end of that presentation that the 20 of us — the 19-person City Council and the Mayor — were interested in moving forward with next steps of issuing an RFP to request … to really understand the market value," Brosche said, "we could do so at that meeting."
"I said that the only way I understand the Council could vote is through legislation," Brosche said, at which point the Curry administration brought up pension reform legislation "to remind me that the Council had previously passed in and out legislation."
Brosche couldn't support emergency legislation, she told them. And then Hughes told Brosche that he "couldn't understand why anybody wouldn't want to know the value, he didn't understand why we couldn't move forward in that meeting."
Hughes told Brosche that there were "resources," such as "investment bankers, other attorneys, and consultants," being "pulled by others who are aware of this transaction and didn't want to leave the city out of the necessary resources to make sure we were appropriately evaluating."
On Feb. 8, Brosche met with Shelton, who said "let's talk about my favorite topic … JEA."
The ask was made again for a joint meeting.
"I was a little more expressive of saying 'why,'" Brosche said, "we didn't ask for this."
Brosche then said she was "open" to a joint meeting, but wouldn't request it.
The meeting wrapped at 3:30; before the end of the day, there was movement. Shelton told Brosche that McElroy called the Curry administration and "asked for a joint meeting."
Feb. 9 saw an "urgent" hand-delivered letter from McElroy requesting the meeting.
Brosche, again, wanted to know "why."
"He went through the same messaging [used by the Curry administration]," Brosche related. "Everybody receives [the information] at the same time."
Brosche wanted to know if the JEA Board intended to take action at that meeting; McElroy said no.
"Well, we're not either," Brosche said, at which point McElroy said: "I think you're going to want to choose the kind of meeting where you can take action."
"Paul," Brosche replied, "let me make things really clear. We have not heard from our Council Auditor. We have not gotten the process from the General Counsel. And I am not going to put my colleagues in the position of having to take action at the end of a meeting in which we're given a report."
McElroy said he understood. From there, Brosche said, the Curry administration tried to get seven Council members to call the meeting.
"They had four, but not [the necessary] seven," Brosche said, forcing the Curry administration to call the meeting.
Brosche, when asked about what she learned Thursday, said that she "learned that McElroy was asked to call [her] about a joint meeting" and that McElroy "had had meetings with the Curry administration about privatization and to call a joint meeting."
"I just laid out a lot of what was my experience," the Council president continued, "that has been refuted repeatedly, and so I've been living with the fact that this has been happening all along."
McElroy "said he did not recall … I got a letter [from him] February 9," Brosche said, saying that she had written a letter to McElroy referencing the very conversation McElroy couldn't recall.
"Your recommendation comes on the heels of meetings with the Mayor's staff," Brosche wrote.
"While he may not remember that he said that, I remember vividly what he said to me on the phone," Brosche continued, "enough to put it in my communication back to him."
Brosche also expressed inconsistencies between the Finance Department sending emails that they were staying out of the JEA sale and CFO Mike Weinstein telling subordinates, about the JEA sale, to "work on it at your own risk."
"If we're not going to get answers to our questions, it's a signal that we're not willing to work together on this particular question," Brosche said. "If that's the case, why are we here?"
Brosche said she wants to hear more, in a committee setting, from Dykes, Hughes, and others whose public assertions are at odds with the paper trail.
"Clearly, we don't have [subpoena] authority. As we continue to move and we don't get people to come up to the podium, that's a statement in itself," Brosche said.
Brosche also advanced the possibility that the committee may end before June, given a stonewalling of information.
"The committee needs to decide whether or not our inquiry is limited in such a fashion that it doesn't make sense," Brosche said.
Speaking earlier Thursday in his own extended gaggle, Curry said he wanted a "mature conversation" about the value of the JEA asset and maligned Council critics as "having no ideas."
What is clear: Curry and Brosche, as this process goes on, are finding less common ground on this issue with each news cycle.
And given what Brosche sees as significant inconsistencies between public assertions from JEA and the administration about the process, and what happened, the possibility of them finding common ground is remote at best.