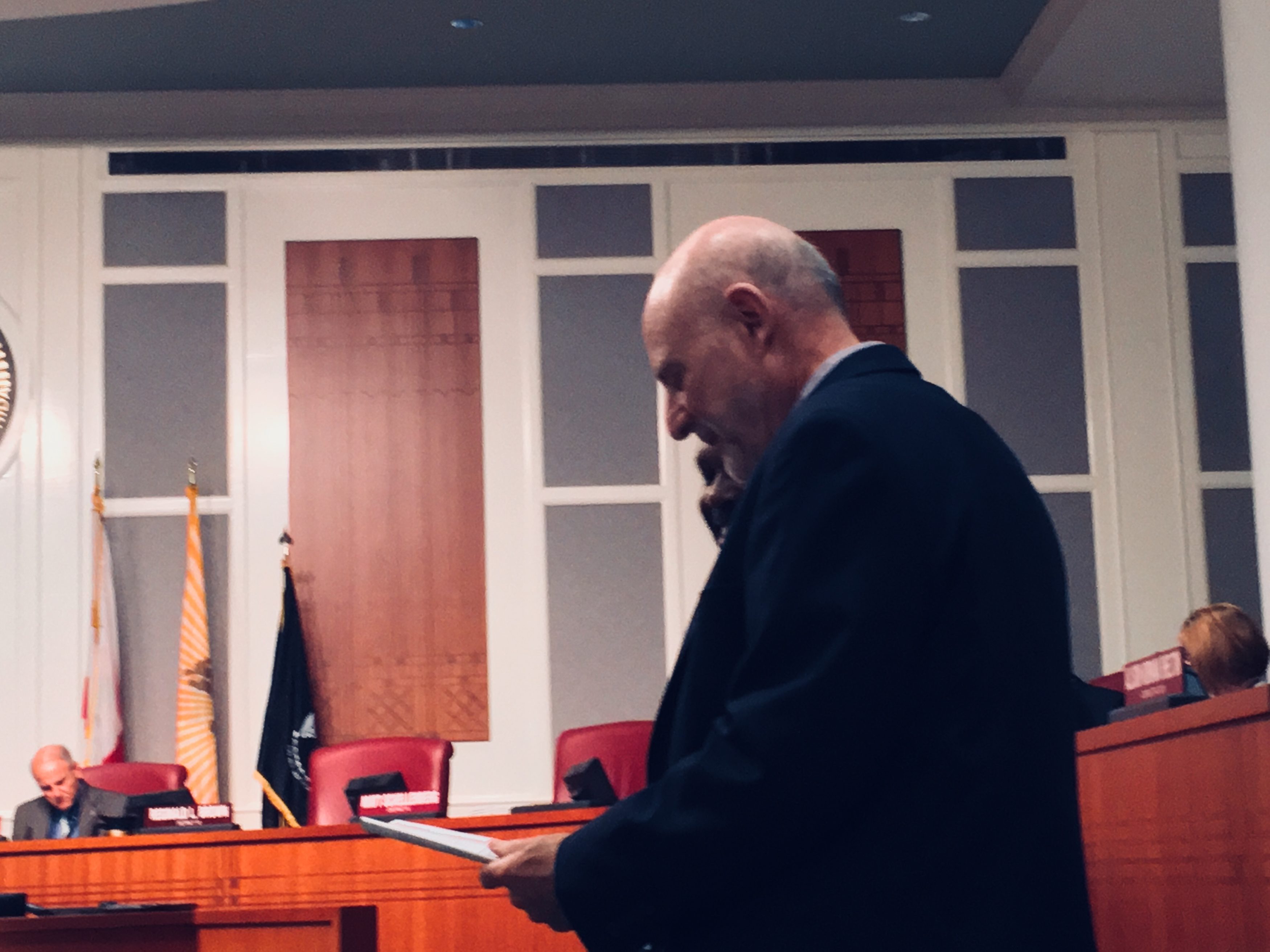 The scene was set for Tuesday morning's Jacksonville City Council Finance Committee the day before in a different committee.
Finance Chair Garrett Dennis attempted to pepper city CFO Mike Weinstein with questions about the Kids Hope Alliance, the children's program reforms of which Dennis has been a staunch critic.
Dennis was shut down by that committee chair as his questions were not on bill 2018-168, but vowed that his questions about board management, especially during a CEO search that some say has gone sideways, would recur in Finance when an appropriations bill was discussed.
So they did.
—
The bill appropriates $5.919 million for children's services, summer learning, and youth summer job programs.
But that wasn't the drama. The drama, per Dennis, was Thursday's selection of the first CEO of the Kids Hope Alliance by the KHA board.
"I've been following this quite closely because a lot of the kids who will be served are from my district," Dennis said, posing questions about "the whole selection process" to Diane Moser of Employee Services.
Four candidates are slated for consideration, Moser said.
"The one who has given me pause is Joseph Peppers. [The former board member, who was still on the board at that point] turned in his application Feb. 22 and [emerged the next day from] 138 applications," Dennis said, with Peppers getting through.
Dennis continued to pepper Moser with questions and veiled criticisms of Peppers, noting that on criterion after criterion, "he checked no on the major questions and still made the short list [of four]."
Moser said that the "application as a whole" was approved.
"That's a preferred qualification of working with children," Moser said, in response to Dennis' questions about Peppers' alleged lack of qualifications.
Dennis also noted that of all the candidates, Peppers wanted the most money: $185,000.
"I'm having a little heartburn about this process," Dennis said.
Dennis then called Jacksonville CFO Mike Weinstein to the stand, heedless of a point of order objection from Matt Schellenberg, a stout ally of the Mayor's Office.
Dennis noted that the board was not able to discuss the applicants during a KHA meeting involving Skype interviews of candidates.
"There's been a cloud over the process … it appears it's not transparent," Dennis said, noting that "public discussion" is restricted to "an hour of vetting" on Thursday.
Weinstein said the board was "very very capable and strong," and it's their "process and decision."
Dennis pressed Weinstein on how the pool of 130 candidates was vetted; Weinstein said it was a scoring matrix. Dennis wasn't happy with that answer.
"The employee services department," said Weinstein, "did their process to get down to the 13."
Dennis held to his "concerns about the appearance over the selection of the CEO … Peppers needs to step away and remove himself from consideration … clearly, he's not the most qualified."
"The thing that really bothered me was when he spoke against Ribault and Raines and perpetuated stereotypes … I encourage our Mayor and Mr. Peppers to step aside," Dennis said.
Schellenberg said he was "impressed" with Peppers.
"You can meet the bare minimum and still be an effective leader of an organization," Schellenberg said, citing Peppers' "dynamism."
"If he gets picked," Schellenberg said, "he will make this organization better … He is wonderful, [with] great passion."
Dennis will be in attendance Wednesday at a meeting of the Kids Hope Alliance, where CEO selection is one of a number of topics.
—
That would have been enough drama.
But add to that a bill (2018-141) that would set a straw ballot referendum on the November ballot to test the voters' mood on a JEA sale, a bill sponsored by Dennis and JEA Special Committee Chair John Crescimbeni, and what was clear was that drama would rule the day in Jacksonville's keystone council committee.
Councilman Matt Schellenberg, an ally of the Mayor's Office, said citizens have heard a "one-sided" narrative against it, saying that "citizens don't have all the information available to them" to make an informed decision.
"I think it's unreasonable," Schellenberg said, to put this up to a vote — even one in November. "I'm not willing to vote for this at this point in time [and] allow the citizens to vote on something they know nothing about."
Crescimbeni noted that the straw ballot would simply call for a referendum to vote on the sale, and that such a vote doesn't require esoteric knowledge.
In the end, Schellenberg voted for it.
The bill now has cleared two committees without a no vote; once it clears Rules, it is headed for the full City Council's consent agenda, which means it almost certainly will become ordinance.