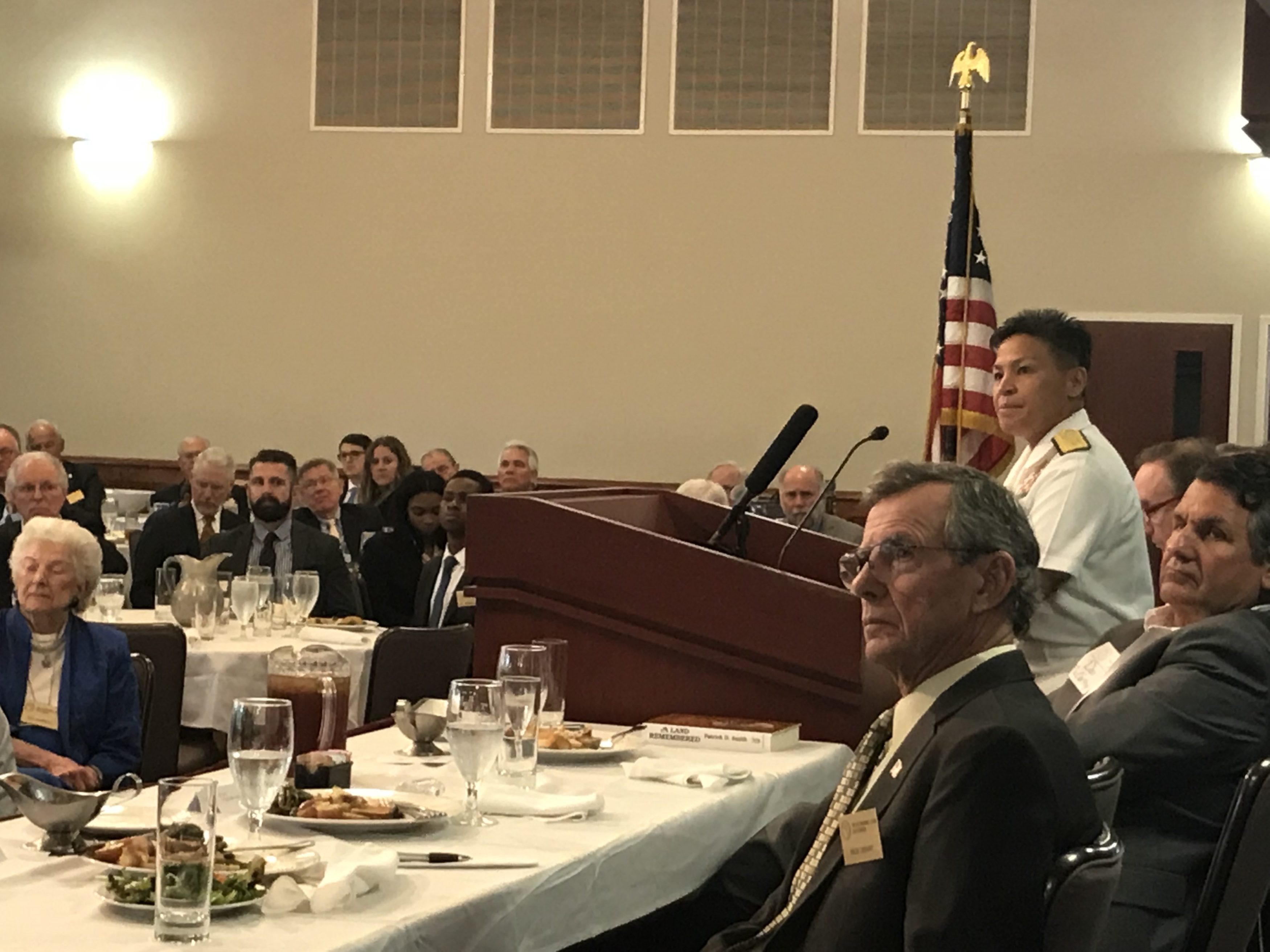 The Sunshine State is a hotbed of military activity and in turn, defense spending takes up a decent-sized portion of the state's economic tally, according to one of the Navy's top-ranking members.
Rear Admiral Babette "Bette" Bolivar, commander of Navy Region Southeast, spoke to the Economic Club of Florida Monday in Tallahassee. She's one of two female regional commanders overseeing the 11-unit shore-based organizational structure. 
As expected, much of her discussion focused on economics.
Citing figures from an Enterprise Florida-conducted study of defense spending, Bolivar said that military activity was responsible for $84.9 billion of Florida's Gross State Product, a little more than 9 percent of all economic activity in 2016. 
The figure factored in procurement, salaries, and pensions or transfer payments "for all those retired veterans who come to settle in the state," Bolivar said.
Defense spending, Bolivar said, "increased jobs in every Florida county."
"Most of those jobs are high-wage positions," she added.
Bolivar, who oversees 18 installations spanning locales in Texas to Guantanamo Bay, said the Navy, specifically, is an economic driver in Florida. Seven installations are peppered across the state, the largest of which, Naval Air Station Pensacola, employs more than 22,000 military and civilian personnel. 
"The real heart of the naval air station is the training," added Bolivar. She said more than 59,000 members of the military and foreign allies graduate from training programs each year in Pensacola.
Combined with Naval Air Station Whiting Field in Milton, Bolivar said, the two Panhandle installations are the "backbone of the naval aviation training pipeline."
At Whiting Field, 60 percent of all primary and fixed-wing naval aviators receive their training. Every helicopter pilot in the Navy, Marine Corps and Coast Guard also is trained at the base.
Another Panhandle base, Naval Support Activity Panama City, has an estimated economic impact of $673 million. It's the second-largest employer in Bay County, ranked right after Tyndall Air Force Base.
During a brief question and answer session, Bolivar was asked by a member what "the future of Florida bases" looks like, given potential future cutbacks.
Responded Bolivar: "I would say that we're pretty safe."
She then gave a nod to Gov. Rick Scott, along with Florida's U.S. Sens. Marco Rubio and Bill Nelson.
"Between Gov. Scott and our senators, we have so much support in this state — it's amazing," Bolivar said. Her last regional operation was headquartered in Guam, where she said the culture was different. There is support there for the military, but it's coupled with some opposition.
Since she's taken over the Southeast headquarters in Jacksonville, "it's been nothing but great support from the community and the state."