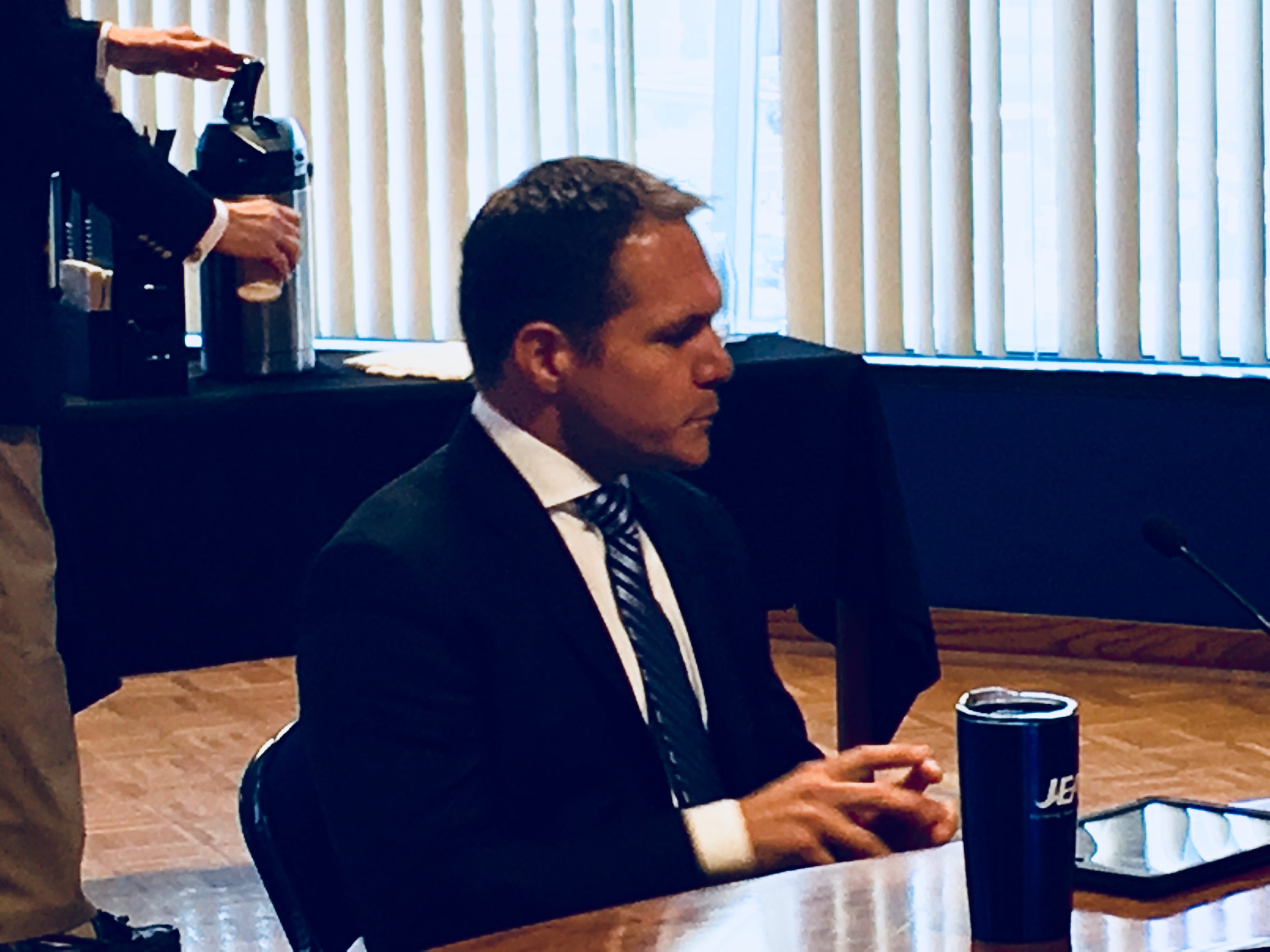 On Tuesday, the board of Jacksonville's public utility JEA picked former board member Aaron Zahn as its new interim CEO to serve for the next year.
Meanwhile, CFO Melissa Dykes was elevated to a role beyond CFO, in a role that the org chart has yet to define. Also undefined: compensation and how the two might work together.
There are those close to the process who believe Dykes' tenure will be short-lived in this role, with other opportunities opening for her elsewhere.
This was not a move many forecasted before recent weeks, and was presaged with a game of musical chairs, in which Zahn resigned his position to pursue the interim CEO position, one filled by Dykes for the last week, since longtime JEA CEO Paul McElroy stepped down ten days ago.
Dykes and Zahn both lobbied board members for the position in the past week, said chair Alan Howard. And both addressed the room Tuesday.
Dykes stressed her two decades in the utility industry, working in many roles at JEA and elsewhere. Dykes noted that she already was in charge of 215 employees in her CFO role, demonstrating her characteristic encyclopedic knowledge of the utility.
That wouldn't make the sale. The board sought a change agent.
Zahn, stressing his own CEO experience and experience with "billion dollar portfolios," described his pursuit of the position as a "dramatic departure" for him in terms of career path, before discussing the "toxic" discourse around JEA and the need for the JEA Board to take a "leadership position" and "focus on building consensus" rather than the "sell or don't sell" discussion.
"The public discourse … has instilled fear and confusion," said Zahn, urging "thoughtful analysis" and "a plan to navigate a changing marketplace."
"Currently," Zahn said, "I don't believe we have one."
Zahn wanted a halt to the privatization discussion, to "return customers and employees to an environment of stability." He also offered a plan for the next six to twelve months to engage stakeholder buy in, including from the City Council and the Mayor.
JEA is seeking an executive search firm to look for a permanent CEO, said JEA's chief human resource officer Angela Hiers. Concerns among executive search firms include getting quality candidates in light of the scrutiny around the privatization debate, and questions about whether the CEO would be a transitional or a long-term figure. The search, said Hiers, could extend for 6 to 8 months.
Board chair Alan Howard wanted a long-term CEO with a "strategic vision," given the "speculative" debate on privatization.
"I don't know what kind of quality candidate you can get to drive a ship that we're going to run into the ground," Howard remarked.
Board member Husein Cumber alluded to the privatization debate, noting the board hasn't weighed in on the matter, and related discussions to what the future of JEA will look like.
"Are we rushing into something that we don't have clarity on? We find ourselves sitting here today because we have rushed into certain discussions," Cumber said.
JEA Board Chair Alan Howard told reporters after the meeting that there should be a "pause" on the privatization discussion, given "the current political environment."
"Mr. Zahn publicly stated today that he'd like to take the question off the table at this point," Howard said. "I support that."
Whether that pause will extend beyond the City Council Presidency of Anna Brosche, a skeptic on the matter of privatization, remains to be seen.
The privatization discussion has elicited interest from major utilities, which have lobbied up.
Florida Power and Light has engaged Paul Harden, best known locally as the representative for the Jacksonville Jaguars and owner Shad Khan's interests.
Emera, a Nova Scotia-based utility company that acquired TECO and otherwise has assets ranging from New Mexico to the Caribbean, has also lobbied up.
Emera has retained principals from Fiorentino Group, Southern Strategy Group, and Rogers Towers.
Estimates vary on what JEA could fetch on the sale market, with the most optimistic one being provided by JEA's contracted Public Financial Management — a sale that could net the city anywhere from $3 to $6 million. The Jacksonville Council auditor says that $1.7 million to $5.2 million would be the range.
 However, at least for now, those potential revenues are on the shelf.