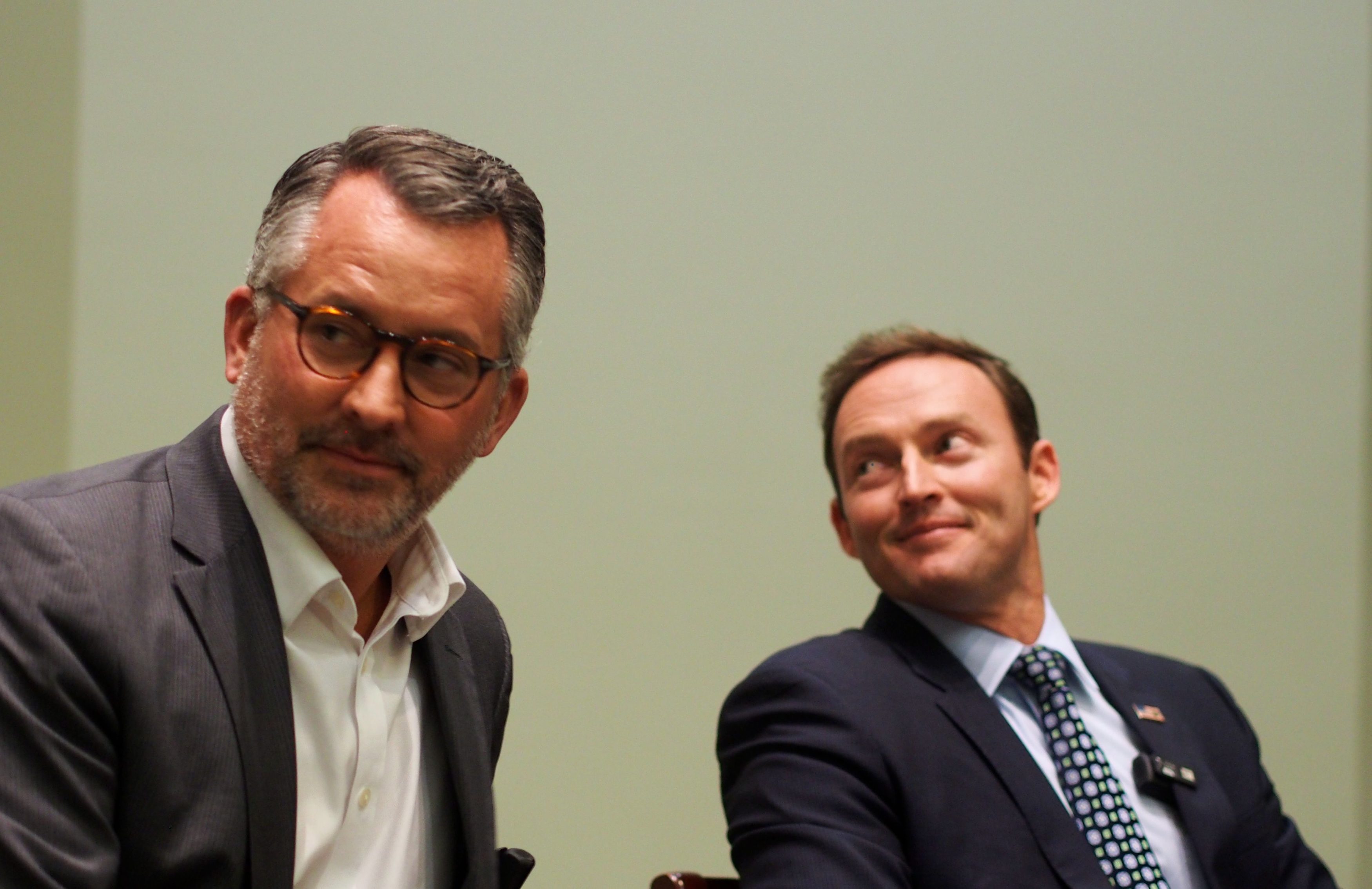 Former U.S. Rep. Patrick Murphy seems to be under the mistaken impression that because he was his party's standard-bearer in the 2016 U.S. Senate race, that he is the party's leader.
So when the Democrat watched last week's televised debate among the four announced gubernatorial candidates, Murphy, according to a source very familiar with his thinking about what he may be planning, sized up the field and said, 'Hey, I can do better than that.'
While there's no arguing with Murphy's concept that Andrew Gillum, Gwen Graham, Philip Levine and Chris King looked like, as the Tampa Bay Times' Tim Nickens observed, they are not ready for prime time or with his conceit that he may be able to do better than that quartet, the possibility of a Patrick Murphy-David Jolly gubernatorial ticket isn't the dumbest idea I've ever heard, but it's not only implausible, it's practically insulting.
After putting down Alan Grayson in the Democratic primary in 2016, Murphy ran a lackluster campaign against Marco Rubio, losing worse than he should have.
After redistricting shaded his congressional district more blue than red, Jolly lost a quixotic bid to hang on to a seat that had become decidedly Democratic.
Since those campaigns, Murphy and Jolly have fostered a friendship and have traveled across the U.S. on their tour "Why gridlock rules Washington and how we can solve the crisis."
The duo has become the toast of editorial boards everywhere.
Politicos who yearn for a "third way" in American politics would love to see a Murphy-Jolly ticket, just as they wanted to see a John Kerry-John McCain unity ticket in 2004.
You know who is not clamoring for a Murphy-Jolly ticket? Florida voters, especially Democratic ones. And Murphy will quickly find that out in the polling he has commissioned to gauge his statewide viability.
Oh sure, when asking voters generically about, say, 'two centrist leaders with experience in government,' the numbers will be through the roof, but when you ballot-test Murphy-Jolly vs. the field, reality will set in.
What Murphy wants Democratic primary voters to do is pick him, a two-term congressman (hey, that's twice as long as Graham's time in D.C.) with a bent for moderation over a field of tried-and-true progressives. Part of his plan is a commitment to name as his running mate a former Republican lawmaker and lobbyist who agrees with very little in the Democratic platform other than Donald Trump is no bueno.
If this weren't Florida politics, I'd say you were making this all up.
Unfortunately, this is reality and here's where my words get serious. For one, Murphy's plan to name Jolly as his running mate should be taken as an insult by true Democrats. They've been in the wilderness for more than twenty years, and now, with their first genuine shot of winning back the Governor's Mansion, Murphy (a former Republican himself) wants to enlist the help of his while male buddy to get the job done. Neither of whom has worked day one in state government.
Democrats should tell him thanks, but no thanks. They should tell Murphy he's more than welcome to join the Democratic primary, as candidate qualifying doesn't close for a month. But they should insist he commit to not naming any Republican — be it Jolly or someone else — to the ticket.
I may be down on a Murphy-Jolly ticket, but I do have to give Murphy credit for something. Like John Morgan, he's helped expose the weaknesses of this Democratic field — that Gillum is too radical, that Graham is over-emotive on the stump and underwhelming on fundraising calls, that Levine is from that foreign land known as Miami-Dade, and that King begins his day reading the Sayfie Review.
All four of these candidates continue to plead to party activists and the media that they are the real deal.
One of the four may eventually become something like the real deal, but because they're not now, the door is open for one of the most interesting political partnerships since Matt Santos named Arnold Vinik his Secretary of State.