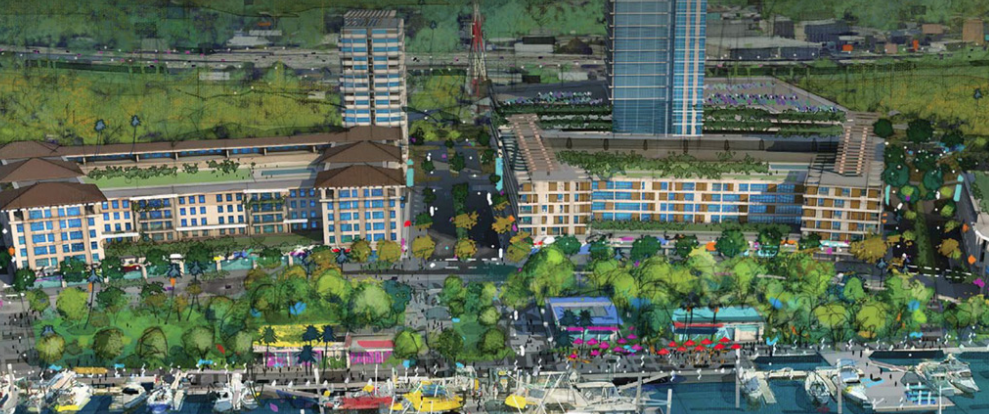 Jacksonville City Councilwoman Lori Boyer has been pushing The District development in recent weeks, and another stakeholder meeting occurred Wednesday with fellow Councilman and former Council President Greg Anderson.
Anderson had questions for Boyer on the proposed development, four years in the making, with construction proposed to wrap by the end of 2022.
Politically connected developers Peter Rummell and Michael Munz have a deal, as of January, to buy the land for $18.6 million from the JEA Board.
While the Downtown Investment Authority backs the proposal that would remedy a longstanding dead zone, there are a number of stumbling blocks to the deal, not the least of which is City Council approval of what amounts to a public-private partnership.
Legislation is to be introduced early May, with June consideration in council.
Among the incentives for developers: a $30 million capital improvement plan and a Rev Grant (75 percent for up to 22 years capped at $56 million).
The total post-construction-assessed value is expected to be just shy of $216 million.
Capital improvements would include $25 million of infrastructure work, per Aundra Wallace of the DIA. As part of the deal, there would be three riverfront parks and a marshfront park on the south of the property ($4.469 million total, and these would be city lands).
Other project costs would include $6.361 million for a riverfront bulkhead, a $3.488 million Riverwalk extension, $1.597 million for a boardwalk, $1.035 for an overland trail. As well, a $1.025 million extension of Prudential Drive, $405,600 for Broadcast Place, and $1,158 million for Riverside Drive are in the mix.
Design costs of $2.931 million and a contingency allowance of $3.371 million are also included.
The Rev Grant extends to 2040, when the Southbank CRA sunsets, per Boyer. And the length of the grant is predicated on a structure being built, incentivizing the developers. If value comes in ahead of conservative estimates, the developers will get their max grant — "but we will have a tremendous downtown asset," Boyer said.
"Every year that goes by that they don't get a building, they lose REV Grant capability," Boyer said.
That money encompasses construction and other costs, Boyer said, and doesn't necessarily max out at $56 million.
Anderson noted that more interest carry and soft costs are borne by the maximum REV Grant than the $25 million estimated construction cost.
Boyer noted that it's cheaper for the city to borrow money than the private sector, but the developers are on the hook for financing construction.
"If something doesn't get built, we don't pay the REV Grant, and we don't have obligation on the bond," Boyer said.
While "expensive," it protects the city from liability. And currently, asserted Boyer, taxes aren't coming in from the property.
Anderson pressed Boyer on the workforce housing component, with Boyer noting that the Downtown Investment Authority has "been working very hard" bringing workforce housing downtown.
The District, which has hotel and retail in its planning, may or may not have workforce housing, Boyer said, but the goal is having workforce housing in the area more generally.
As well, there is a direct correlation between the amount of low-margin workforce housing and the need for public subsidy, Boyer said.
Anderson still had qualms despite that explanation.
Anderson also had concerns about expanded service capacity from the buildout once complete.
"The numbers, while they're big, they're not that big," Boyer said. "They're doing all of their drainage, all of their sewer, a lift station … all part of that REV Grant investment. They're putting it in from scratch, and that's part of their costing."
Boyer acknowledged worries expressed by others about a public park becoming a "developer's amenity," cautioning against giving a developer control over a park, and ceding public access as a result.
"I want the Riverwalk and other public parks in the area to be under the control of the Parks Department," Boyer said, with a "friends of the park" agreement with the developer (analogous to what Hemming Park has).
That allows specific programming, but not exclusive to District residents.
By the end of the discussion, Anderson was closer to comfort, expressing faith that Rummell could get the job done on this project.
But he was not completely sold.
Anderson lamented that this project is happening while areas on the Northbank, such as Berkman Plaza and the Landing, are effectively blighted.
"We're going to invest a lot of the public's money, over a long period of time," Anderson said, with other projects going neglected.