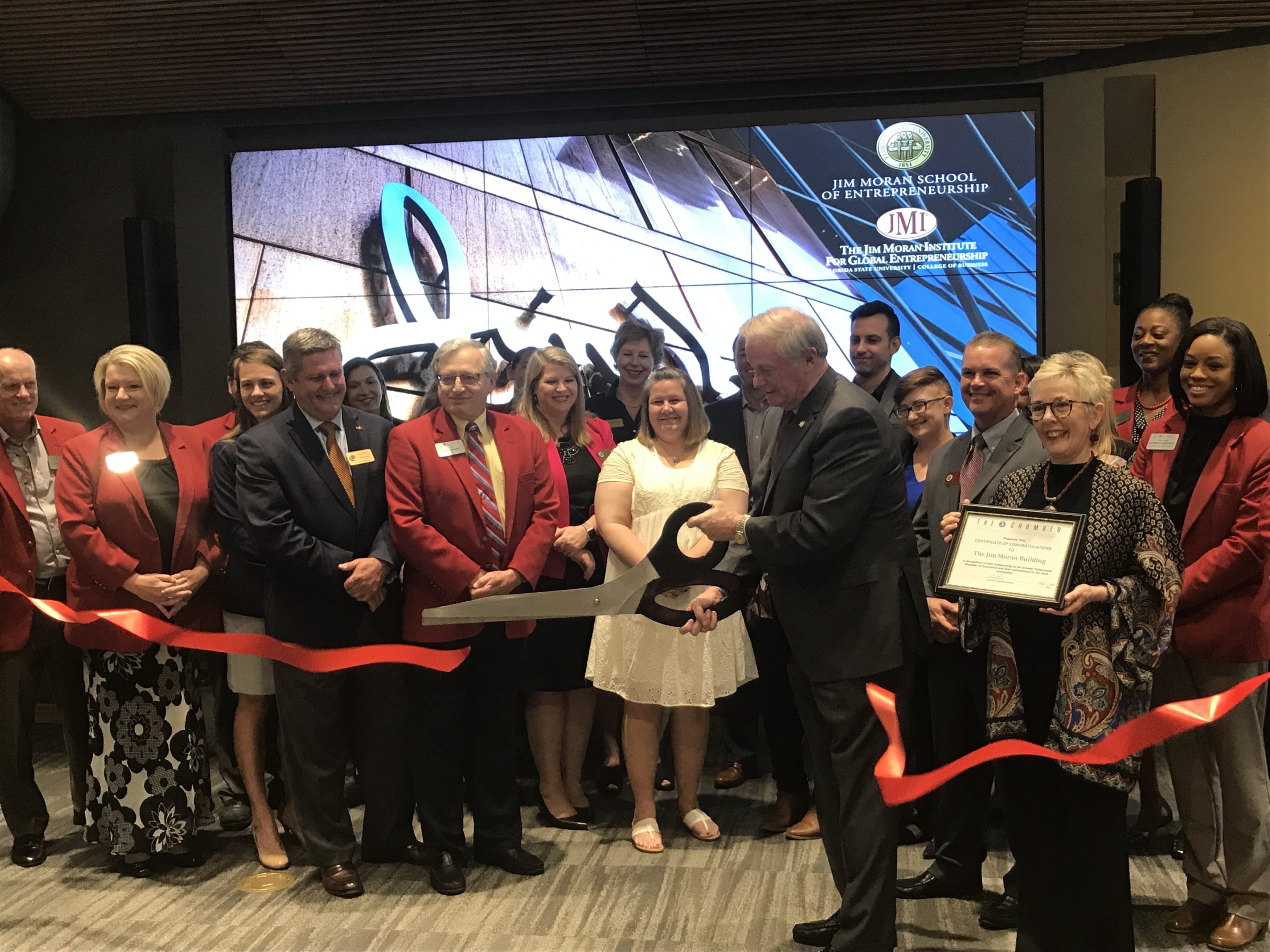 Florida State University's campus has officially expanded to Monroe Street.
On Tuesday, FSU President John Thrasher cut a large red ribbon, marking the official opening of the Jim Moran Building built to honor the late automotive entrepreneur and philanthropist Jim Moran.
The three-story, 20,000-square-foot, 19th-century structure is tucked inside the small Tallahassee cityscape, barely noticeable to the hustlers and bustlers of the capital's main corridor.
But the completed project reflects several milestones. The building itself is a product of a $100 million donation via  Jim Moran's wife Jan Moran and the Jim Moran Foundation. It's the "largest, single gift to a public university in the history of the state of Florida," according to Thrasher.
The building, which will house the Global Entrepreneurship program and serve as the headquarters of the Jim Moran School of Entrepreneurship, also represents FSU's continued interest in teaching students entrepreneurial skills to better prepare them for an ever-evolving workforce. And it marks the university's insertion into the local area's fast-paced business and government sector.
Tuesday morning's event was ceremonious; Thrasher said the building has been open for awhile, and the university gave Jan Moran a private celebration.
The ribbon-cutting event was "for our friends here, downtown in Tallahassee, who are really so responsive and so helpful to Florida State University," Thrasher said.
A former Florida House Speaker and state Senator, Thrasher also gave a shout-out to longtime lobbyist Brian Ballard and wife Kathryn Ballard, who sits on the FSU Board of Trustees. The couple donated the building to the school. The location, Thrasher said, should help the college serve as a "bridge" between FSU and the community.
He elaborated: "Small businesses, entrepreneurs, nonprofits, trade associations and government leaders will have easy access to networking opportunities and the valuable resources of the Jim Moran Institute.
"Entrepreneurial students will find it easier to connect with businesses and business leaders who want to serve as mentors and lecturers."
M. Hays Layerd, of Lewis + Whitlock, the architecture firm behind the building, said the interior exhibits design narratives of connectivity, transparency and inspiration.
Connections, deemed fundamental by Layerd and others to fuel entrepreneurship, is fostered through open-lounge spaces and informal meeting areas. Transparency is evidenced by the large, see-through glass panes bordering classroom walls.
Inspiration, perhaps the most prominent and widespread element, is found in the telling of Jim Moran's wildly successful life story. The first floor exhibits a vintage gas pump, emblematic of one of Jim Moran's first business endeavors. Walls along the main staircase display a chronological timeline of the automotive legend's life, beginning on the first flight with him selling "soda pop" as a young boy in Chicago and ending on the third-floor landing with his eventual induction into the Automotive Hall of Fame in 2005.