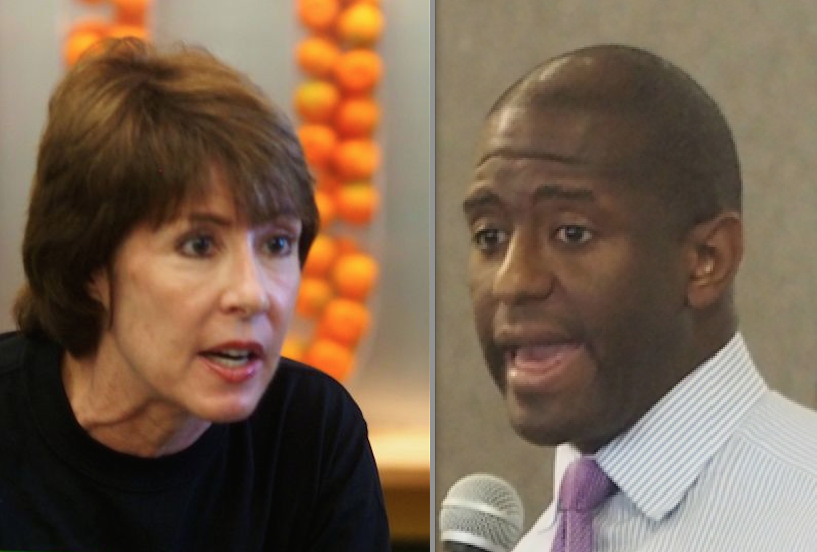 The campaign between Andrew Gillum and Gwen Graham is starting to get ugly, and "dark money" is helping it along.
An attack on Graham comes from The Collective Super PAC, a group reportedly related to Collective Future, which had donated $235,000 to Gillum's independent political committee, Forward Florida, through April.
The Collective Super PAC is spending $782,000 in Florida, starting with a commercial attacking Graham as a fake progressive, according to POLITICO reports.
The ad says Graham voted against Obamacare and for the Keystone Pipeline, essentially stooging for Republicans at the expense of President Barack Obama as a fake progressive.
Predictably, Graham is "disgusted that Andrew Gillum would allow a secret-money group to run a false attack against a fellow Democrat," and Gillum's side disclaimed responsibility for the ad.
Local Graham surrogates in Jacksonville have their thoughts — and they aren't favorable to Gillum.
Two Jacksonville Democrats on the City Council, Tommy Hazouri and Garrett Dennis, don't think that Gillum has done enough to distance his campaign from what are being called by the Graham campaign "secret money attacks."
"Andrew Gillum isn't telling the truth about Gwen Graham's record and he knows it. Gwen never trashed Obamacare — she is the only candidate in this race who voted to save it from Republican attacks," Dennis said. "Andrew Gillum supported her campaign for Congress and stood by her side — until deciding he wanted to advance his own political career. Now he's selling out progressives and endorsing secret-money super PACs to attack another Democrat. Florida Democrats expect better than this."
"Democrats in Jacksonville, Democrats in Florida, and Democrats across the country are tired of secret money silencing voters," Hazouri said. "We deserve a leader with integrity. We want a candidate who stands up for progressive values, like LGBT and civil rights, fights to protect our environment, and will restore public education. That candidate is Gwen Graham, and that's why I am proud to support her. Andrew Gillum should take responsibility for this disgusting attack and demand that it be taken off the air."
Gillum, of course, can't make such demands on an independent political committee.
Duval County School Board member Warren Jones, best known for decades on the Jacksonville City Council, was likewise umbraged.
"Gwen Graham leads by example. She is running a positive campaign, based off of her progressive record, and I am proud to support her. I know that when she's governor, Gwen will restore public school funding and bring learning back into our classrooms again," Jones said. "That's what this election should be about: how to make Florida better for everyone and listening to the people of Florida. That's what Gwen did in Congress, and that's what she'll do as governor."
Graham and Gillum have spent much of the campaign avoiding personal attacks. However, with Miami Beach Mayor Philip Levine surging in polls and cash on hand, it's clear that the two realize that their only path forward involves taking the other one out.
Material from Florida Politics' Scott Powers was used in this post.