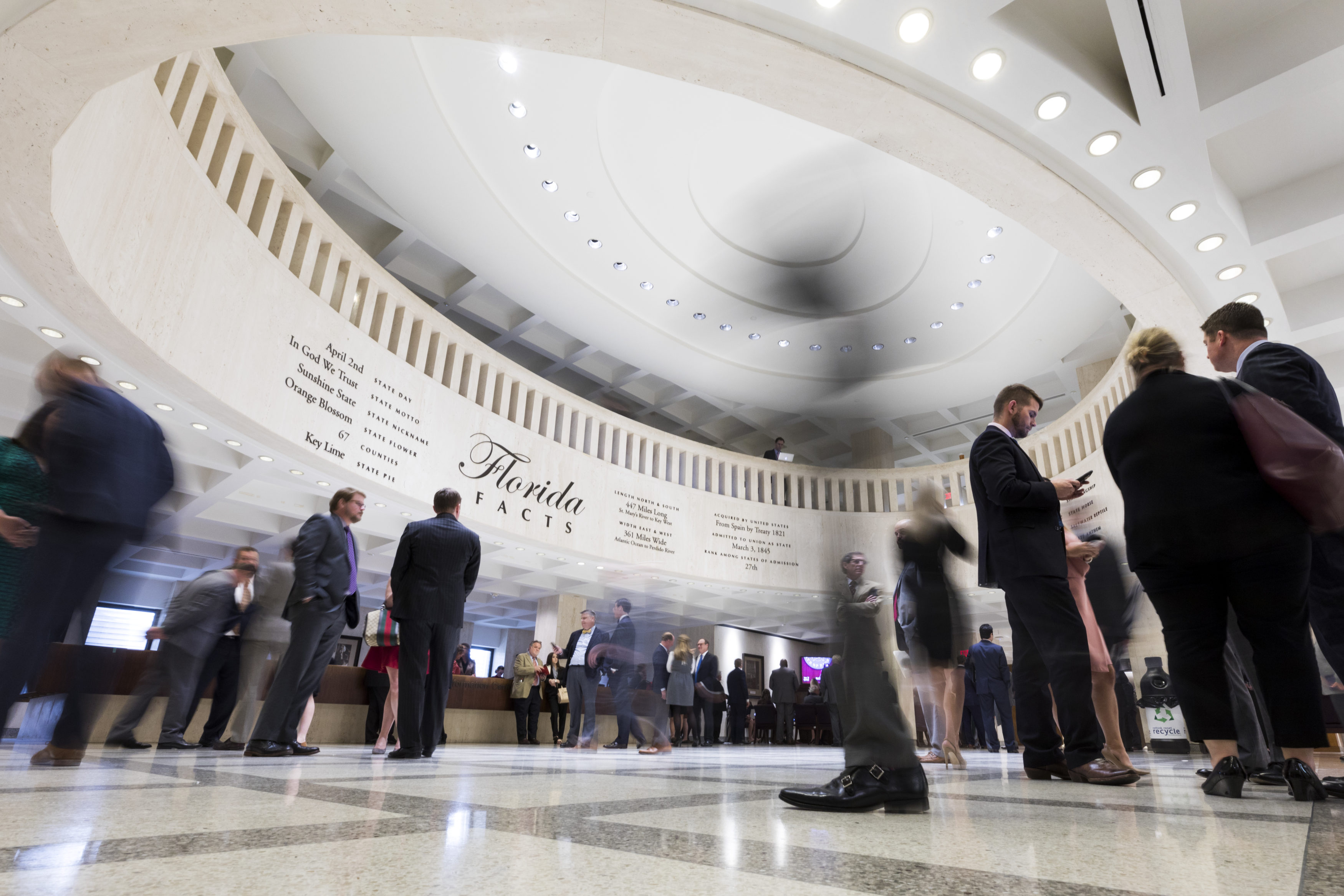 First quarter reports are in for Florida's lobby firms, and Ballard Partners again topped the list with an estimated $2.5 million in compensation for legislative lobbying during the first three months of the year.
Ballard, which topped all firms in 2017 compensation, was one of six outfits reporting at least $1 million in legislative lobbying compensation for the reporting period.
Taking the No. 2 spot was Southern Strategy Group followed by Ronald L. Book, P.A., Capital City Consulting, Greenberg Traurig and GrayRobinson.
Florida lobbyists report their pay in ranges for each client, except those that pay more than $50,000 a quarter. Those ranges show Ballard Partners brought in between $1.7 million and $3.3 million for the quarter, with $2.5 million falling in the middle of the two extremes.
Their first-quarter effort is a bump up from Q4, which saw the firm bring in $2.3 million. Ballard's 20-person team had dozens of clients on its roster during the 2018 Legislative Session, including three dozen that paid $20,000 or more for representation.
Shands Teaching Hospital topped their list with $84,000 paid, followed by Automated Healthcare Solutions at $60,000, Resorts World Miami at $53,000, and Tampa General Hospital at an estimated $45,000.
With 215 principals Southern Strategy Group had the longer client sheet, with 33 of those handled pro-bono. Its report was topped by Vestcor Companies, which paid them $57,000, followed by FCCI Insurance Group at $53,000 and a pair of clients showing up in the $40,000 to $50,000 range.
Their range for the quarter went from $1.4 million to $3.2 million, with $2.3 million being the average.
If the list were based on earnings per lobbyist, Ron Book's shop would be atop the list yet again. He, Rana Brown and Kelly Mallette took in between $1.8 million and $2.6 million for estimated earnings of $2.2 million. That tighter spread is the result of 10 clients breaking through the $50,000 cap on reporting in ranges.
Four of those principals paid more than $100,000 in Q1: Ashbritt, K.A.S. & Associates, Performance Title Services and Title Clerk Consulting Company. Also at the $50,000-plus level were the Florida High School Athletic Association, the Miami Project/Buoniconti Fund to Cure Paralysis, the Rosemary Beach Property Owners Association, and The SEED Foundation.
Coming in behind Book was Capital City Consulting, which received an estimated $1.7 million from its 128 principals. Tying for the top spot were three clients showing up in the $40,000 to $50,000 range: Aetna, Creative Core Group and Swisher International.
The 11-member firm had another nine clients pay at least $30,000, while 17 fell into the $20,000 to $30,000 range.
The No. 5 earner was Greenberg Traurig. The international law firm's nine-person Tallahassee team handled the needs of more than 100 clients in Q1 and brought in an estimated $1.2 million.
GT's top-paying client was UMB Bank, which payed $66,000 for legislative lobbying, followed by Bankers Life Insurance Company, Heritage Property & Casualty Insurance Company and The Nemours Foundation, all three of which fell in the $40,000 to $50,000 range.
Another eight clients paid somewhere between $30,000 and $40,000.
Rounding out the $1 million-per-quarter club was GrayRobinson, which scored somewhere between $420,000 and $1.65 million from its extensive client sheet.
The top-paying client was FMSbonds, which paid the 22-member firm between $30,000 and $40,000 between New Year's and March 31. Of its 151 other principals, 87 paid an estimated $5,000 apiece, while 31 showed paid around $15,000 each, and four showed up in the $20,000 to $30,000 range.