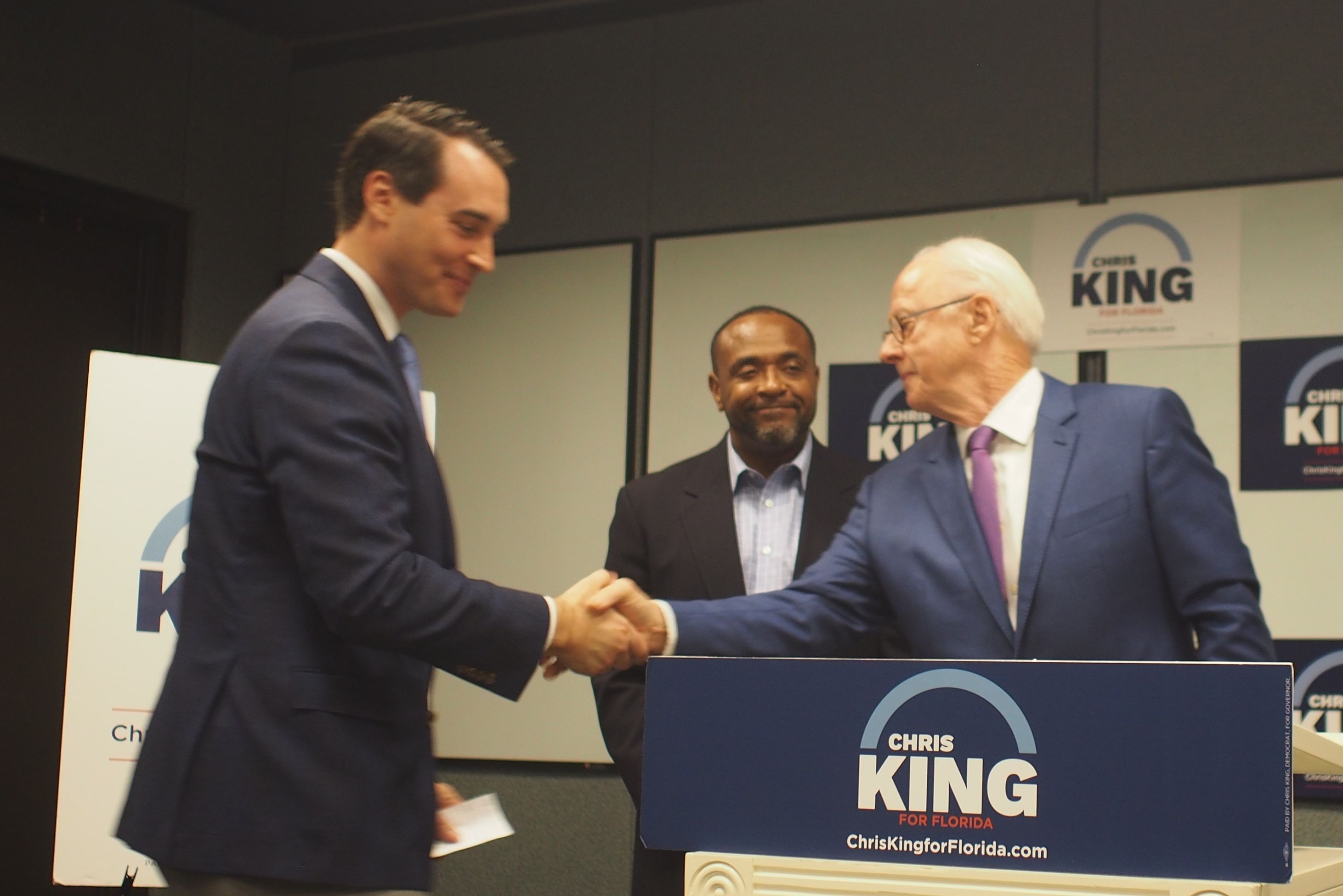 Democratic gubernatorial candidate and Winter Park entrepreneur Chris King weighed in on an Orange County local issue, saying the push for a children's trust fund fits in for his call for sweeping criminal justice reform in Florida.
A coalition of children's advocates is pushing this year to get a children's services independent taxing authority, like those found in other Florida metropolitan cities, created through a ballot initiative this November.
However, the effort all but stalled when they took it to the Orange County Commission last month; Mayor Teresa Jacobs is no fan of the idea of creating a new taxing entity. She put the county's efforts on the children's trust proposal into study gear.
On Wednesday, King joined former state Rep. Dick Batchelor, chairman of The Children's Trust of Orange County committee, former Orange County chair Linda Chapin, businessman Harold Mills, and the Rev. Derrick McRae of the Experience Christian Center to argue that the initiative is a criminal justice reform issue.
"I am on day three of a massive trip around the state talking about criminal justice reform. It is deeply, as Dick said, deeply interconnected to the issues of the children's trust," King said.
"What I have been arguing is the next governor of Florida needs to be someone who can bring these issues together. I have thrown up a North Star that over the next 10 years I see a Florida where we can reduce mass incarceration of nonviolent offenders by 50 percent through a series of policies," King said. "And when we do that, we are able to invest in the types of things that Dick has dedicated his life fighting for, children's welfare services, subsidized child care, access to health care."
Batchelor, Chapin (a King family friend and early supporter of his campaign) and others in The Children's Trust of Orange County campaign want the investments sooner than that. Batchelor said that internal polling by the trust found 62 percent of people would vote yes, and 82 percent at least want it on the ballot.
"A need has created that is undeniable for this in this community," King said. "Let the voters decide. And if you've got a better idea, if got resources somewhere else that can address these issues show us, show us now. Because the need is now. We haven't seen that."
Jacobs, who is running for the chair position of the Orange County School Board, came out against the proposal. She argued that she believes the proposal includes some inaccuracies and unproven statements, and because she is skeptical of the accountability of independent authorities, particularly after the county had to endure scandals at some, such as the Orlando-Orange County Expressway Authority and Lynx.
And, she argued, there are better ways to make sure children's services are adequately funded and run.
Last month she said a consensus of the board of county commissioners agreed with her that more needs to be known and done, and she asked staff to provide a presentation at the July county budget hearings. Batchelor called that "running out the clock," making it almost impossible to get commission approval in time to put it on the ballot.
"As a result of a poll conducted by the Children's Trust, the growing mantra is "let the voters vote" — which makes for a compelling sound bite. However, it is the responsibility of the BCC to ensure that the voters are told the truth, that the information they are provided is accurate, complete and unbiased," Jacobs stated in a May newsletter to constituents. "The BCC also has a responsibility to our children, voters, and taxpayers to make sure there is a sufficient level of accountability to ensure that the outcomes promised can and will be achieved.
"The Children's Trust proposal does not meet these minimum standards, and upon closer review, there are many concerns and, in my opinion, there are better options to address unmet needs of our children sooner and with greater transparency and accountability."
King and Batchelor both urged Jacobs to put the proposal on the Orange County Commission's agenda, for possible approval to appear on the November ballot. King argued that the idea needs with a taxing district because the state has failed to adequately address issues ranging from child abuse to homeless children.
"That's the mayor's burden. If she does not want to go forward with this, she can't ignore the fact that the need is extraordinary. So it's her burden to give us another vision," King said. "I think our concern is there might not be another vision for it and the need is so great."
Late Thursday Jacobs responded with this statement:
"While I appreciate Mr. King's interest in this issue, I'm not sure he has been provided all of the facts. I have been a very strong advocate for children and for enhancing children's services. However, there are serious problems with the proposal presented to our board by the political committee behind this campaign. First, the studies on which this political committee is basing their request contain inaccurate, outdated and misleading information. Second, the political committee is advocating for the creation of an independent taxing agency, run by a governing board wherein the majority of the members are not elected by the citizens. Yet, this board would have the sole authority to determine the level of tax up to ½ mill, which amounts to over a half billion dollars over ten years. This same board would have the sole authority to determine how those tax dollars would be spent.
"We are hiring an independent consultant to review the needs assessments conducted by the political committee and conduct their own assessment. We have asked them to provide a status to our board during our budget work sessions in July."