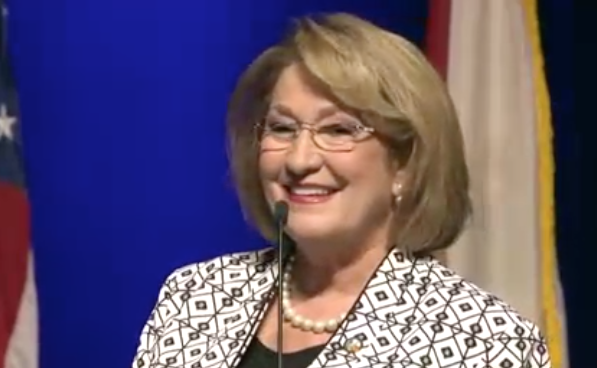 Outgoing Orange County Mayor Teresa Jacobs' last State of the County speech found it "strong" with strong fiscal indicators, a robust economy, a more open, business-friendly government, and a community spirit of collaboration and unity.
"The upshot of these and so many other strategies, ladies and gentlemen, I am proud to announce that the state of Orange County is in fact very strong," Jacobs declared.
Her speech in many ways looked back across her entire seven and a half years in office, focused on her commitments to delivering fiscal conservatism and responsible government, and helping bond and balm the community, particularly after the crises of the 2016 Pulse nightclub massacre and the 2017 Hurricane Irma.
"Together, we weathered these storms," she said.
"Never would I have imagined the outpouring of love and unity or the depth of our strength and unity," she said of the period after the Pulse massacre. "As a community we share a commitment to make sure the world never forgets our 49 Pulse angels."
Yet she pointed to few if any landmark legacies for which she might be remembered, or anything that spoke of bold initiatives that could bear her name in future generations. She did not mention the International Drive urban-center planning underway, or commitments to rural and environmental preservation.
Jacobs referenced the Dr. Phillips Center for the Performing Arts, the rebuild of what is now called Camping World Stadium, and the Amway Center. Yet while Jacobs battled to make those three economically feasible, it was Orlando Mayor Buddy Dyer who drove them forward. She referenced big transportation projects, notably the I-4 ultimate build-out, SunRail, and the Wekiva Parkway, projects driven largely by state and federal officials.
She also briefly discussed two areas emerging in the 2018 mayoral election as major concerns for the county, wage levels and affordable housing, but offered no specifics, other than to say a housing plan would be rolled out later this year.
Jacobs, who now is running for the position of chair of the school board, got emotional only when she spoke of the schools, specifically of school shootings, at Parkland earlier this year, and in Santa Fe, Texas, just a few hours before her speech. She broke down and needed a moment as she asked for people to remember those who are grieving,  saying, "Our community did for us. Our nation did as well. And it makes a difference."
And she repeatedly stressed collaboration and community partnerships.
"Let's not forget what sets this community apart in tough issues like this," she said. "It's our ability to collaborate. It's our ability to set aside partisan politics and other barriers to insure that we are working in unison for the safety and welfare of our citizens."
Jacobs had plenty to offer for her declaration that the county was "very strong:"
– When she took office in 2011, the county was still mired in the Great Recession, during which it lost $150 million in annual revenue. The county overcame that dip by 2016.
– The county's bond and credit worthiness "are routinely rated "Triple A."
– The county added more than 160,000 new jobs, and won 50 business projects.
– The unemployment rate fell from 10.7 percent to 3.2 percent today.
– The tourism business has boomed, and consequently the county's tourism development tax has boomed, bridging in more than $255 million last year.
– Building permits "are being issued at a pace we haven't seen in years," she said: 84,000 last year, with more than $2.3 billion in valuation.
– She declared that the culture of county government has been changed, emphasizing access and accountability, beginning with her 2008 "Citizen Participation Bill of Rights," and including a variety of internet aps to provide citizens with information and services.
– The county began addressing the opioid crisis early, in 2015, when she commissioned a heroin task force which led to numerous policy initiatives.
– The county first set out to begin hardening schools and against attacks and addressing youth mental health problems shortly after the 2012 Sandy Hook Elementary School shooting in Connecticut.
– She led the county commission earlier this month to adopt a three-day waiting period for all firearms purchases in the county, including those at gun shows. She did not mention that in 2011 she led the commission to repeal a previous three-day waiting period requirement.