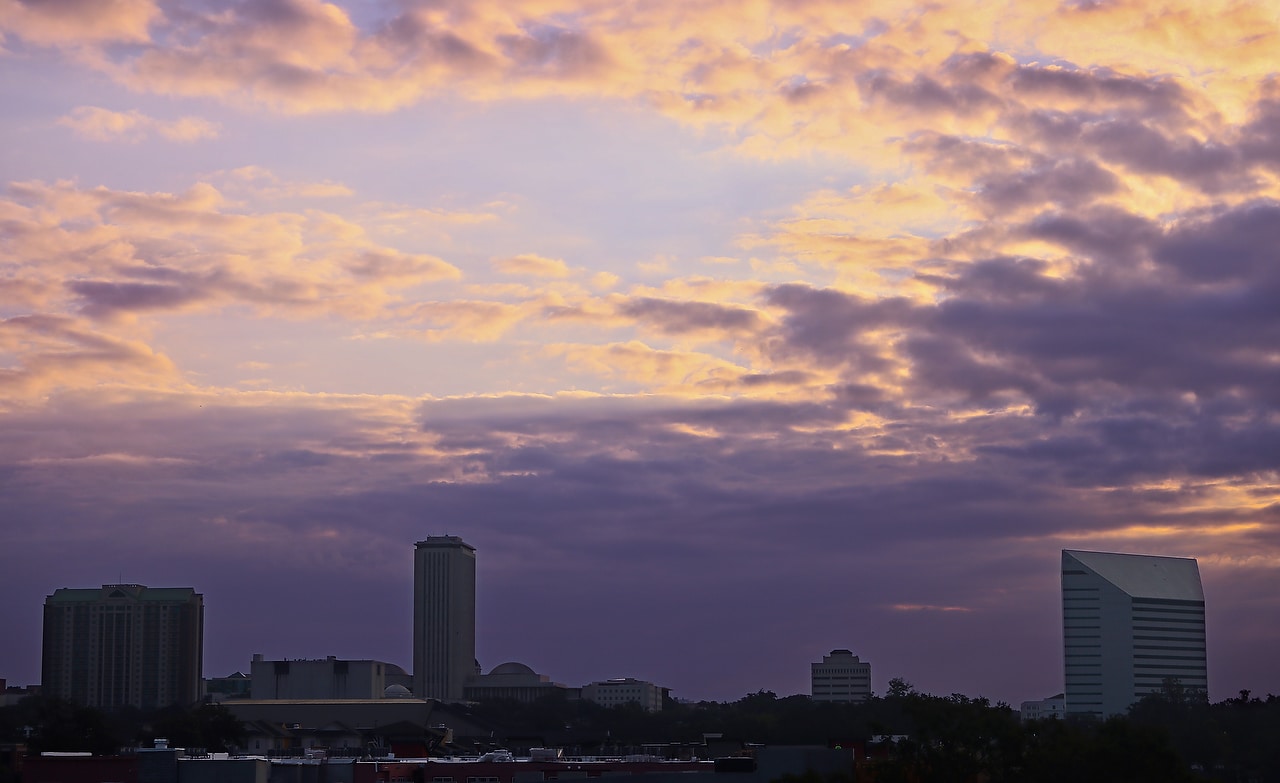 Sunburn — The morning read of what's hot in Florida politics.
By Peter Schorsch, Phil Ammann, Daniel McAuliffe, Jim Rosica, and Drew Wilson.
If there has been any suspicion that guns, student activists, and the National Rifle Association are going to fade into the background come October, this week is shaping up to suggest otherwise.
The NRA isn't likely to go away. Certainly, Marion Hammer won't allow that.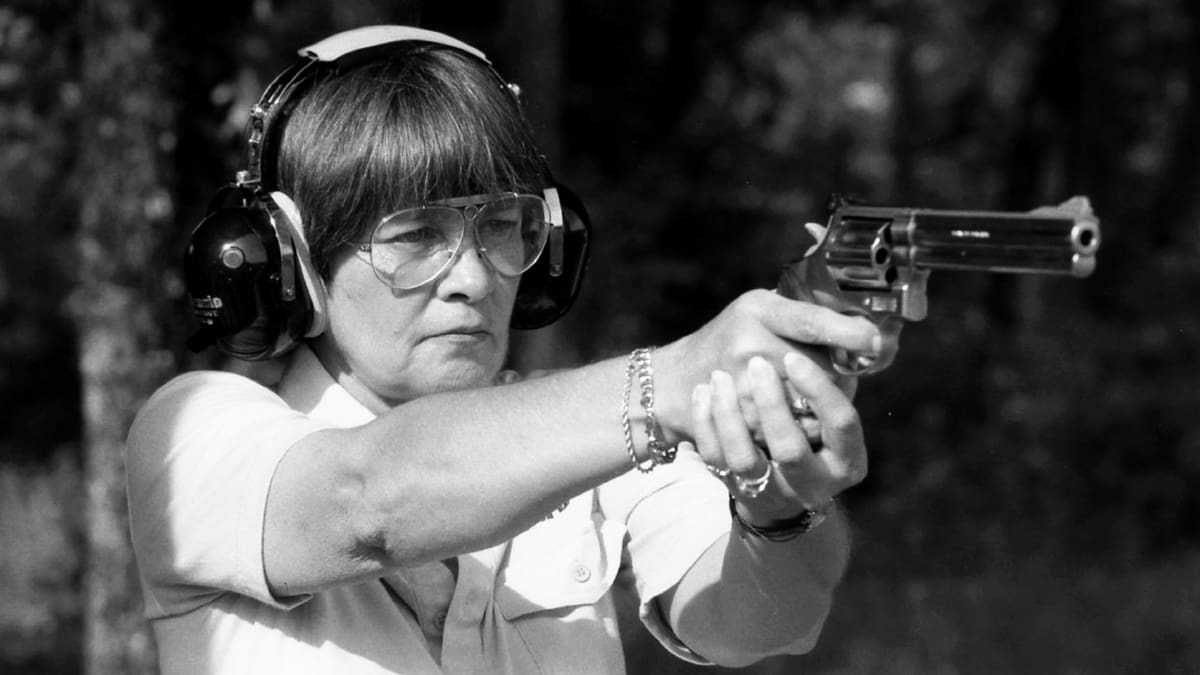 The students and others demanding gun law reforms continue driving, and all the Democrats seem eager to keep them in the spotlight.
When the NRA distributed its questionnaire to candidates it came with covert messages from Hammer: We're still the force we always were, and we're digging in. That mess the Florida Legislature called the "Marjory Stoneman Douglas High School Public Safety Act," is really a gun-control bill, and it's gotta go. It's also time to get serious about open carry, and allowing guns on campuses and in churches. And if you don't think so, think again about that oath of office.
Democrats' responses have been pretty universal, turned into a campaign commercial by Philip Levine Wednesday, essentially: Bring. It. On. Please.
Those NRA report card grades always have been campaign fodder, for or against. This fall, in competitive districts, some are going to wind up looking like Scarlet Letters.
— SITUATIONAL AWARENESS —
—@SecPompeo: We're watching reports that #Iran plans to increase its enrichment capacity. We won't allow Iran to develop a nuclear weapon. Iran is aware of our resolve. It's another example of Iran foolishly squandering its resources. It should surprise no one if protests in Iran continue.
—@IvankaTrump: Today @realDonaldTrump commuted the sentence of Alice Johnson. This Administration believes in second chances for those, like Alice, who have paid their debt to society and we are working w/ Congress on #PrisonReform to benefit millions of America's most forgotten women and men.
—@Evan_McMullin: Trump's pardons are not only intended desensitize the electorate to frequent interventions on behalf of his political allies, but also to make a mockery of the federal justice system, to suggest that law enforcement and the courts are incapable and illegitimate to begin with.
—@FLGovScott: My father taught me what service to our country means. The lessons passed on to us from the Greatest Generation is nothing short of remarkable. We will never forget.
—@MaryEllenKlas: Oh so many questions this election year …@FLGovScott says he's sending 25 used FHP vehicles to Puerto Rico. But his prison system struggles to have working vehicles to transport inmates. It's received half of what it's asked for in vehicle replacement.
—@JohnMorganEsq: Gary, here's my offer to Florida. I would like to debate @FLGovScott on this issue so all of Florida can see his position and see the position of those who need it. If he'll do this I'll donate $100,000 to his @ScottforFlorida campaign for US Senate that night on air!
— DAYS UNTIL —
Democratic gubernatorial candidates debate in St. Petersburg — 2; Democratic gubernatorial candidates debate in Miramar — 4; Time Warner/AT&T merger ruling — 5; 2018 FIFA World Cup begins — 7; Father's Day — 10; Close of candidate qualifying for statewide office — 15; Florida GOP Sunshine Summit starts — 21; Democratic gubernatorial candidates debate in Fort Myers — 31; MLB All-Star Game — 40; Deadline for filing claim bills — 55; 'The Race for Governor' Republican gubernatorial debate — 55; 'The Race for Governor' Democratic gubernatorial debate in Miami — 56; Start of the U.S. Open — 81; Primary Election Day — 82; College Football opening weekend — 84; NFL season starts — 91; Future of Florida Forum — 111; 'Before You Vote' Florida U.S. Senate debate — 138; 'Before You Vote' Florida Governor debate — 139; General Election Day — 152; 'Hamilton' comes to the Straz Center — 252; 2019 Legislative Session starts — 271.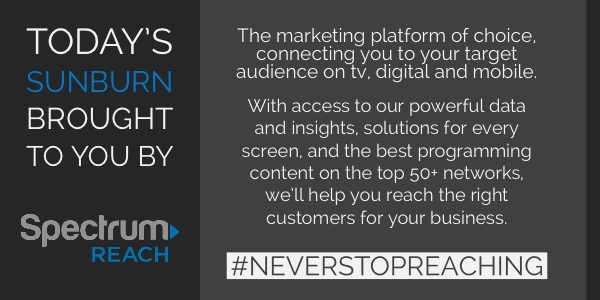 — TOP STORY —
"Donald Trump seeks to reorganize the federal government" via Helena Bottemiller Evich and Andrew Restuccia of POLITICO Florida — The Trump administration is preparing to release a sweeping plan for reorganizing the federal government that includes a major consolidation of welfare programs — and a renaming of the Health and Human Services Department. The report seeks to move safety-net programs, including food stamps, into HHS … The plan would also propose changing the name of the sprawling department, while separately seeking cuts at USAID and the State Department. The $70 billion food stamp program, formally known as the Supplemental Nutrition Assistance Program, is run by USDA and makes up the vast majority of the department's budget. The program helps more than 40 million low-income Americans buy groceries each month. It's unclear exactly how HHS would be reshuffled, but sources said its new name would emphasize programs that provide assistance to low-income Americans, potentially restoring the term "welfare" to the title of the department. HHS — a sprawling Cabinet-level agency that spends roughly $1 trillion annually — already oversees the Temporary Assistance for Needy Families program, which provides cash assistance to low-income people, as well as Medicaid, the health coverage program for the poor that insures more than 70 million Americans.
— NELSON VS. SCOTT —
"Trump tells Rick Scott he'll do 'very well' in Senate race" via Alex Leary of the Tampa Bay Times — Here's what Trump had to say: "We have a lot of people around and watching. You know, we're on screens all over the country and I think beyond. But we have Gov. Scott of Florida is there, and he's watching, and he's done a fantastic job. He's now running for the United States Senate. And I won't get political, but I think you're going to do very well, OK? That's not political, is it?"
"The price of beer could go up: How Trump's 'trade war' may hurt Scott" via Steve Bousquet and Alex Leary of the Tampa Bay Times — Anheuser-Busch has long had a big operation in Jacksonville … Since 1974, the king of beers has produced aluminum beer cans there, cranking out up to 2,500 a minute — a thriving operation that it says is threatened by Trump's tariffs on imported steel and aluminum. A year ago, Anheuser-Busch opened a metal container plant that makes aluminum bottles, adding 75 jobs with the help of state incentives from Gov. Scott, who clutched scissors at a ribbon-cutting in May of last year and was on hand for a groundbreaking ceremony in 2015. Then came the tariffs. Trump on June 1 imposed a 25 percent steel tariff and 10 percent aluminum tariff on Mexico and Canada to reshape the North American Free Trade Agreement. Other tariffs were slapped on the European Union and other countries. In the middle of a U.S. Senate race, Scott is suddenly caught between the president he supports and the business community that has backed him for eight years but which staunchly opposes Trump's trade policy as bad for jobs.
"Scott's new digital ad: 'Bill Nelson is the federal government'" via Steve Bousquet of the Tampa Bay Times — Days after Nelson mocked Scott for saying "I don't know what I would have done differently" than Trump's oft-criticized federal response, Scott's 60-second ad accuses Nelson of playing politics over Puerto Rico and of making false attacks. "Rick Scott leads. But Bill Nelson just complains about the federal government," a female narrator says. "Remember that after a half-century in government, Nelson is the federal government. It's time for Bill Nelson to go."
To view the entire ad, click the image below:
"Bill Cotterell: John Morgan makes marijuana appeal personal for Scott" via the Tallahassee Democrat — The Orlando attorney does not suffer fools gladly or couch his positions on issues in polite, lawyerly words. He can argue legal motions in the stilted language of the law on paper, then make his point on the courthouse steps in words Trump or Archie Bunker might use. Maybe there ought to be one of those fancy Latin legal dictums for "Oh, be serious." You don't need exit polls, just common sense, to know that when deciding how to vote on Amendment 2, no one was thinking about patients rubbing ointments into their skin or munching on cannabis-infused brownies. Morgan was predictably blunt in his public remarks about the case. He took to Twitter to tell Gov. Scott he should "follow the law & the will of 72 percent of the people," and drop the appeal. "This is just plain old meanness," Morgan said. "Will meanness and politics trump people and compassion and kindness?"
— NOTES FROM THE CAMPAIGN TRAIL —
"Two Democratic gubernatorial debates coming; will Jeff Greene participate?" via George Bennett of the Palm Beach Post — "We wish we knew" whether Greene is participating, said Vickie Dunn, whose Indivisible FL 13 group is organizing Saturday's forum along with Women's March Florida and Fired Up Pinellas. "We've made all kinds of efforts to contact him. We've set up our logistics, so we can accommodate and we're getting nothing back." Saturday's debate runs from 6:30 p.m. to 8 p.m. and can be viewed at baynews9.com or mynews13.com. The Service Employees International Union and other groups are organizing Monday's debate. The SEIU's Eunic Ortiz said organizers had not heard from Greene.
"Ron DeSantis' May report included more than $1M in old money" via Florida Politics — DeSantis said his campaign and affiliated political committee "took in more than $3 million" last month, but that may have been a little misleading. When he made the announcement, partial month records for his committee, Friends of Ron DeSantis, showed it had brought in about $1.27 million as of May 31, however those records have since been updated to include another $1.43 million worth of transactions on the last day of the month for a total "haul" of $2.7 million in May. The source of $1.1 million of that cash was a transfer from Ron DeSantis for Florida, the principal campaign committee for his now-defunct re-election bid for Florida's 6th Congressional District. Lots of candidates twist words when it comes to fundraising, most often by finding euphemistic ways to spin self-funding. This is different. This money wasn't raised in May. Most of it wasn't even raised in 2018.
Spotted — DeSantis on Fox News' "The Ingraham Angle," talking to host Laura Ingraham about allegations of a "counterintelligence operation into the Trump campaign." DeSantis said the FBI official timeline for the investigation is "clearly … not true."
Andrew Gillum releases new video, highlights 'Medicare for all' — The Gillum for Governor Campaign released "One Percent," a new 30-second campaign video, part of the six-figure digital ad buy. Gillum Communications Director Geoff Burgan said in a statement: "Mayor Gillum's led the Democratic field on progressive issues, from being the only Democrat to back 'Medicare for All,' proposing a constitutional amendment to guarantee health care to all Floridians and being the first to call for legalization and taxation of marijuana to pay for teacher pay raises. 'One Percent' highlights the need for Democrats to run and win on a bold, progressive message — not Republican Lite."
To view the video, click on the image below:
"Gillum failed to disclose more than $400K in mortgage debts" via Matt Dixon of POLITICO Florida — Gillum failed to disclose two mortgages on legally required financial disclosure forms going back to 2014, publicly available records show. Gillum said he would file amended financial disclosure reports after he was asked about the issue by POLITICO. "Like the vast majority of people, Mayor Gillum owes a mortgage on his home, and we're going to file the updated forms shortly," said Burgan … the mortgages were not disclosed because of an "accidental mistake." Overall, Gillum failed to disclose two mortgages totaling $423,665, including one for his family's home in Tallahassee. State ethics laws require state officials to report any debts worth more than $10,000. A complaint would have to be filed with the Florida Commission on Ethics for any formal penalties to be considered, said Kerrie Stillman, a commission spokeswoman. "There is nothing automatic" regarding candidate disclosure forms, she said.
"Chris King invests another $400K in gubernatorial bid after raising $78K in May" via Florida Politics — Nearly $410,000 of the May money went to his official campaign account, while his committee, Rise and Lead Florida, took in the balance. All told, King has now brought in nearly $5.1 million since entering the race for Governor in March 2017. Including his $400,000 infusion last month, King has put more than $2.7 million of his own money on the line. The Winter Park businessman didn't specify whether his May investment was marked down as a loan or a contribution, though he's marked them down as loans for the past two months.
"Philip Levine bashes federal school safety commission for ducking review of guns" via Ryan Nicol of Florida Politics — Following February's shooting at Stoneman Douglas High School that killed 17 people, Trump set up the Federal Commission on School Safety. The commission, chaired by Secretary of Education Betsy DeVos, was tasked with reviewing ways to keep students safe in light of recent acts of gun violence. One issue the commission apparently won't examine? Guns. DeVos was asked yesterday by Vermont Sen. Patrick Leahy if the group would review "the role of firearms as is relates to gun violence in our schools." She replied: "That is not part of the commission's charge, per se." "So we'll look at gun violence in schools, but not look at guns? It's an interesting concept," concluded Leahy. Democratic gubernatorial candidate Levine pounced on the secretary's remarks in a statement. "Betsy DeVos' decision to not investigate the role of guns in school safety reflects the Trump administration's continued disregard for our children's safety. This year, more children are dying in our schools than servicemen and women on the battlefield."
Assignment editors — Levine will host a Central Florida roundtable with Caribbean-American community leaders, speaking about issues in the 2018 election season, 9:30 a.m., Orlando Fashion Square, 3201 E. Colonial Dr., Orlando.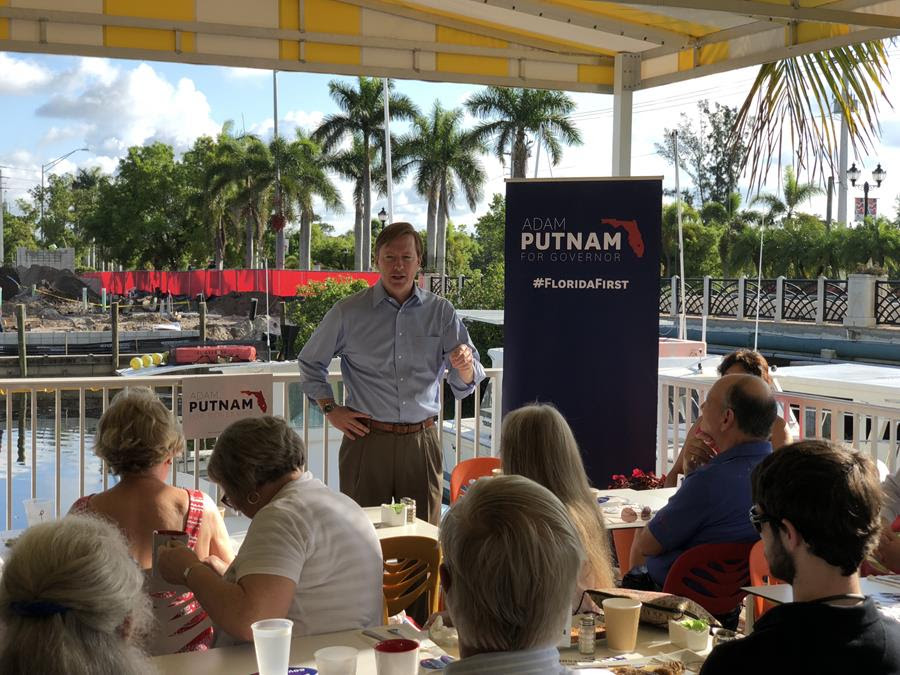 Assignment editors — Putnam says he will make a "major announcement regarding security and safety issues facing Florida." He will be joined by Manatee County Sheriff Rick Wells, Sarasota County Sheriff Tom Knight and Tampa Police Benevolent Association members. That's at 2:30 p.m., Tampa PBA headquarters, 1302 W Busch Blvd., Tampa.
"Baxter Troutman releases second statewide ad" via Bill Rufty of Florida Politics — The ad for the Winter Haven businessman and grower is part of a $1.6 million television and digital ad package in his campaign for Agriculture Commissioner. The 30-second ad features the candidate himself discussing the issues facing agriculture and its importance to the state and nation. The ad has been pared down to 15 seconds to run on Facebook and Twitter.
To view the ad, click on the image below:
Happening today — The Flagler County Young Republicans host a debate for GOP candidates in Florida's 6th Congressional District, including Fred Costello, Michael Waltz and John Ward, 5 p.m., Pine Lakes Golf Club, 400 Pine Lakes Parkway North, Palm Coast.
"New ad pumps up Carlos Curbelo's efforts on climate change" via Ryan Nicol of Florida Politics — A new ad is supporting Congressman Carlos Curbelo's work to address the effects of climate change. The 30-second spot, released by The Alliance for Climate Solutions, replays pieces of a speech the South Florida Republican gave on the House floor regarding the conversation around climate change. "Enough of the demagoguery. Enough of the fact-less conversation. Let's focus on what's happening in the world. And let's try to make this situation better." Curbelo added: "Neither the deniers or the alarmists have much to offer. It's the men and women who are willing to sit at the table and have a sober conversation that can really help solve this problem."
David Richardson adds Victor Torres endorsement in CD 27 bid — Democratic state Sen. Torres, who represents Orange and Osceola counties in SD 15, is the latest state lawmaker to endorse Richardson for Florida's 27th Congressional District. Richardson served with him for four years in the Florida House before Torres' election to the Senate in 2016. Torres said: "This year, State Representative David Richardson and I worked on a Medicare-for-All bill for the State of Florida that we believed would change the lives of millions of Floridians. Although the GOP refused to bring the bill to a vote, David has continued his fight by campaigning on Medicare-for-All nationwide. That type of progressive spirit and his history as an effective legislator demonstrate that he will be an effective congressman for FL-27. As such, I'm proud to endorse his campaign for Congress." Torres joins 17 other state lawmakers backing Richardson for Congress.
Florida retailers back Dennis Baxley re-election — The Florida Retail Federation (FRF) PAC is endorsing Republican incumbent Baxley for Senate District 12 which includes portions of Lake County and a significant part of north-central Florida. "Senator Baxley has made tremendous strides in helping to protect retailers by supporting legislation on limiting organized retail crime and by not increasing the felony threshold limit," said FRF President/CEO R. Scott Shalley in a statement. "We're eager to see the continued progress Senator Baxley makes in his return to the Florida Senate." Baxley is a funeral director/consultant who served as principal owner and vice president of Hiers-Baxley Funeral Services.
"Belinda Keiser campaign plays fast and loose with facts" via Florida Politics — From the outside, it looks like there's a tough Republican primary brewing in the special election to replace Senate President Joe Negron in SD 15, but a closer look at Keiser's campaign messaging raises a lot of questions. Cast aside the fact that she lives 80 miles south of the Martin- and St. Lucie-based district and her past financial support of Democratic Party politicians, and even still Keiser looks as if she's undergoing a desperate and rapid shift to make herself palatable to Republican voters on the Treasure Coast. according to Keiser, she's always been a conservative even though she hasn't always been a Republican. After going through the spin cycle of her campaign she's decided that she joined the GOP in 2001, though according to that timeline the flip would have come just months after she mounted a failed Democratic primary campaign for a state House seat. Talk about a sore loser. That explanation euphemistically sidesteps saying she "joined the Republican Party," and is oddly contradicted by appearing under a title line that reads "Coming soon …"
Spotted — State Rep. Carlos Guillermo Smith at BellaBrava on Beach Drive at the St. Petersburg waterfront. The Orlando Democrat was fundraising for his House District 49 re-election bid.
Happening today — Democrat Tony Mowry holds a campaign kickoff event in Sarasota County's House District 74, which opened when Rep. Julio Gonzalez decided to run for Congress, 5 p.m., Off the Wagon Brewery, 2107 South Tamiami Trail, Venice.
— STATEWIDE —
"General revenue to be updated in August" via the News Service of Florida — Florida budget watchers should plug Aug. 16 into their calendars. A panel of state analysts has scheduled a meeting for that day to update general-revenue tax estimates. The meeting by the panel known as the Revenue Estimating Conference will be an initial step as lawmakers begin working on a budget for the 2019-2020 fiscal year.
"Health plan to challenge Medicaid contracts" via Christine Sexton of the News Service of Florida — Attorneys for Molina Healthcare filed a notice with the state announcing the HMO's intention to challenge the agency's decision to award contracts to Miami Children's Health Plan and Lighthouse Health Plan. The HMO has 10 days to file a legal petition with the state. The Agency for Health Care Administration has gone through a lengthy process to award new contracts in the Medicaid system, which requires most beneficiaries to enroll in managed-care plans. In April, the agency announced a decision to award five-year Medicaid contracts, which one official has estimated to be worth upward of $90 billion in all, with nine HMOs. That decision drew challenges from a dozen health plans that were not chosen for contracts, including Molina Healthcare. Under a 2011 law that called for the statewide use of Medicaid managed care, AHCA is awarding contracts in 11 different regions. The number of contracts varies by region.
"'All the signs were there.' On video, guard says school knew Parkland shooter posed threat" via David Ovalle of the Miami Herald — "Nikolas Cruz. I knew the kid," security guard Andrew Medina told Broward detectives in a sworn video-recorded statement released by prosecutors … As soon as Cruz began walking "like on a mission" toward the building, Medina followed and began frantically texting fellow security guards. "We had a meeting about him last year and we said if there's gonna be anybody who's gonna come to this school and shoot this school up, it's going to be that kid," Medina told detectives on the day of the Feb. 14 shooting. "He was rebellious, you know … he had 666 on his book bag. He had the [anti-] Jewish swastika. He had all that crazy stuff. … All the signs were there, so they, they got rid of him," Medina said. Medina's testimony to detectives details what became alarmingly clear after the shooting: School officials long knew about Cruz's bouts of rage, obsession with weapons and Nazi imagery and violent outbursts against fellow students.
–"'Swatting' David Hogg wasn't a 'prank,' it was attempted murder" via Matthew Fleischer of the Los Angeles Times
Happening today — The Marjory Stoneman Douglas High School Public Safety Commission, established as part of a new state school-safety law, will meet in Broward County to discuss school discipline and diversion, 8:30 a.m., BB&T Center, Chairman's Club, 1 Panther Parkway, Sunrise.
"Deputies seize Broward bailiff's 67 guns under new Florida law" via Linda Trischitta of the South Florida Sun-Sentinel — A Broward Sheriff's bailiff accused of threatening behavior toward courthouse colleagues was temporarily relieved of duty and his 67 firearms were taken by law enforcement … In court documents, Franklin Joseph Pinter was described as making threats toward other bailiffs. In May, one bailiff alleged that while delivering documents to Pinter's courtroom, Pinter told him the defendants weren't there and that he should "get the f— out of here" and "All you rats should be exterminated." Six months ago, Pinter, 60, of Hollywood, was allegedly seen on the fifth floor of the courthouse, leaning over the atrium and pretending to hold a long gun and shoot at people, an affidavit said. Another bailiff alleged that Pinter told him he wanted to burn two other bailiffs with a blow torch.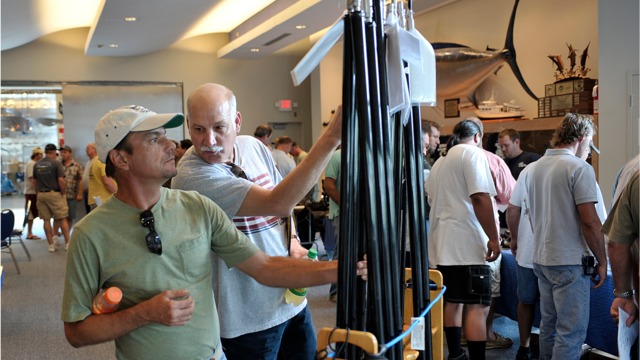 "Florida school officials seek clarity on rules for private-school scholarships to bullied students" via Jeffrey Solochek of the Tampa Bay Times — "The way the statute reads, we would have to make the scholarship [notification] available even if the allegations were not merited," Santa Rosa County assistant superintendent Bill Emerson said during an hourlong rule-making conference call. "What we're asking is if we've interpreted that correctly." State Department of Education officials couldn't disagree. Adam Miller, executive director of the Office of Independent Education and Parental Choice, responded to Emerson by reading from the law, which was included in HB 7055 passed in the spring. It reads, in relevant part, "a student enrolled in a Florida public school in kindergarten through grade 12 is eligible for a scholarship under this program if the student reported an incident" listed in the law. Those include bullying, fighting, sexual harassment and several other offenses.
"MedMen paying $53M to enter Florida medical marijuana market" via Jim Rosica of Florida Politics — The country's biggest medical marijuana provider on Wednesday announced it was buying its way into the Florida market. In a news release, MedMen Enterprises Inc. of Los Angeles said it had agreed to pay $53 million for what's known in Florida as a "medical marijuana treatment center" license from Central Florida's Treadwell Nursery. MedMen management says they will host a conference call about the deal, to be live streamed on their website, at 9 a.m. Eastern time on Thursday. State records show Treadwell, which has one of 13 active licenses in the state, has "cultivation authorization only." Florida has a vertically-integrated market, meaning the same provider grows, processes and sells its own marijuana. A Treadwell representative reached Wednesday declined to comment. "As part of the transaction, MedMen will acquire Treadwell Nursery's cultivation facility on 5 acres in Eustis, and the right to open 25 medical marijuana dispensaries," the release said.
Horse interests end legal battle over money — Almost a year after a unanimous appeals-court panel said horse breeders could "challenge the annual plan for distribution of owners' and breeders' awards," the parties have withdrawn their case in administrative-law court. A final order of dismissal was signed Tuesday by Administrative Law Judge G.W. Chisenhall, records show. Southern Cross Farm (SCF), an Ocala horse breeder; the Florida Thoroughbred Breeders' And Owners' Association (FTBOA); and the Department of Business and Professional Regulation (DBPR), which regulates gambling, all agreed to dismiss the case. The resolution of the case was confidential. In a case about who controls the money and how much goes back to horsemen and breeders, SCF won a reversal of a ruling from state gambling regulators. DBPR had said SCF couldn't challenge the doling out of dollars from a pool managed by the FTBOA, in part because the farm had let its membership in the association lapse. The association manages a pool created by lawmakers in 1977 to collect and distribute wagering-prize monies as awards.
"Sources: Ethics Commission prosecutor recommends charges against Rick Fernandez" via Jeff Burlew of the Tallahassee Democrat — A prosecutor for the Florida Commission on Ethics is recommending that former Tallahassee City Manager Fernandez is charged with violating state ethics laws, according to sources close to the matter. The prosecutor, an assistant attorney general, recommended the commission find probable cause for some of the allegations and no probable cause for others. A probable cause hearing is set for Friday before the Ethics Commission to determine whether Fernandez will be charged in connection with a complaint filed last year by local businessman Erwin Jackson. A majority of the commission's nine members must vote to find probable cause for Fernandez to be charged. The complaint alleged Fernandez accepted a nearly $5,000 catering discount from the city-backed Edison restaurant and solicited and accepted Florida State football tickets from the firm of lobbyist Adam Corey, a central figure in the FBI's long-running investigation into local public corruption.
— BENACQUISTO TALKS #METOO, SUCCESSES —
State Sen. Lizbeth Benacquisto, of Fort Myers, had a big role in her chamber during the 2018 Legislative Session.
In a Q&A published in Gulfshore Life Magazine, she sheds light her efforts, which came as she's transitioned from relative political obscurity more than a decade ago to perhaps the "most powerful politician in Southwest Florida's most populous county," writes Jonathan Foerster.
"Now one of Senate President Joe Negron's most trusted allies, Benacquisto has been at the heart of several key battles in Tallahassee and become one of the most compelling figures in efforts to rid the state capital of sexual harassment."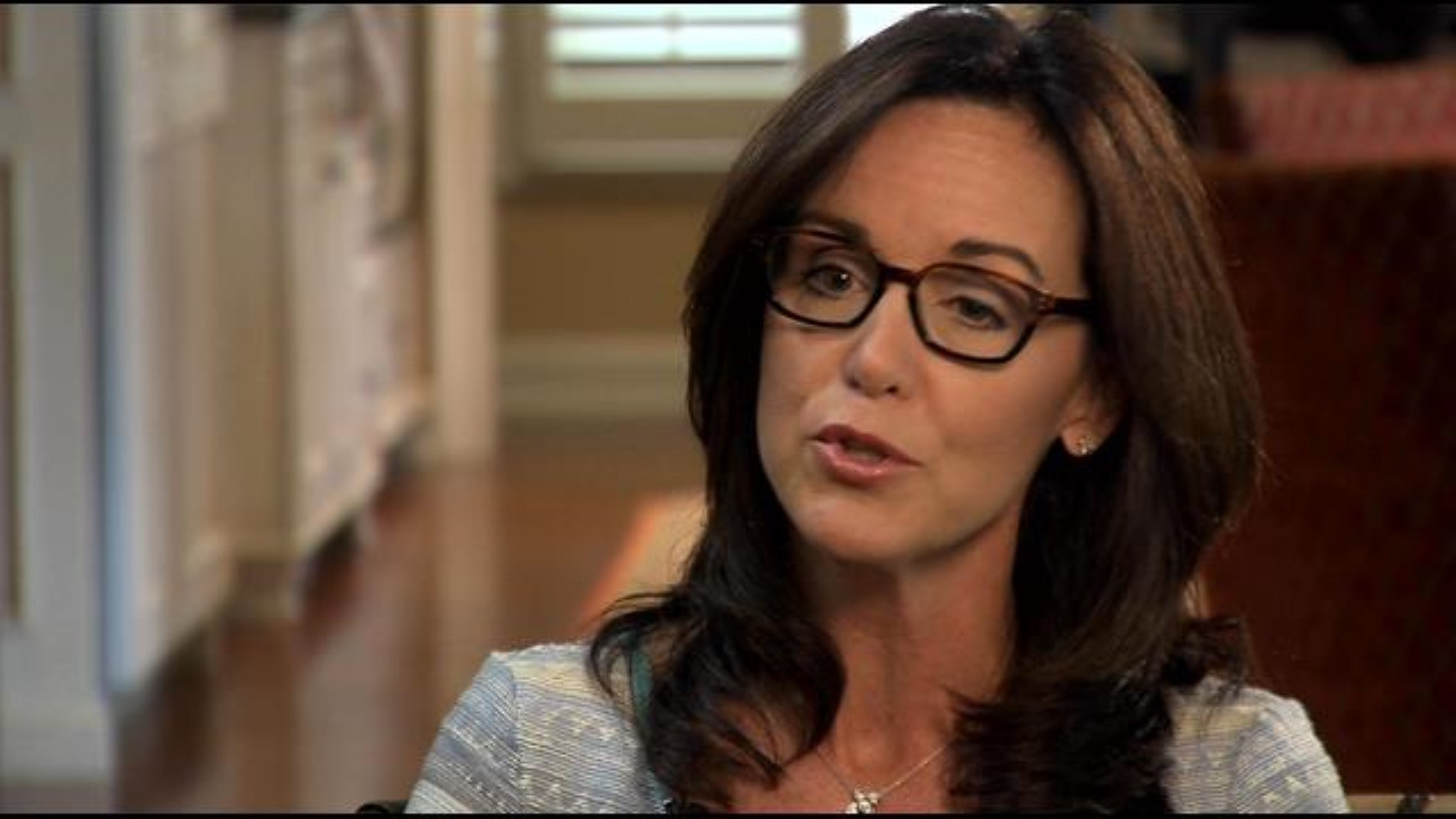 #MeToo: Benacquisto came forward with stories of harassment from Ritch Workman, the now-resigned Public Service Commission nominee. "As soon as I brought the matter to light, (Workman) immediately resigned. So I think it was a good outcome, a good result," she told Foerster.
Opioids: Benacquisto championed record legislation addressing the opioid crisis, which placed restrictions on prescriptions and focused on treating addicted Floridians. "Everybody has someone in their lives who is likely affected by this in some way," she said.
Child marriage: The Senator also tackled the high-profile issue of child marriage, and succeeded to a notable extent. She labeled the victory a bipartisan one. "We are all on the same page. This is child abuse," she said.
— D.C. MATTERS —
"Trump considering inviting Kim Jong Un to Mar-a-Lago" via Alex Leary of the Tampa Bay Times — If things go well in Singapore next week, Trump may invite the North Korean dictator to Mar-a-Lago … "The president is determined to walk out of the meeting if it doesn't go well, two officials said. Alternatively, Trump is toying with the idea of offering Kim a follow-up summit at his Mar-a-Lago resort in Palm Beach, Florida — perhaps in the fall — if the two men hit it off," says Bloomberg News. "There could be more than one meeting, more than one conversation" between Trump and Kim, presidential counselor Kellyanne Conway told reporters, adding a nuclear deal may take "2, 3, 4, 5" meetings.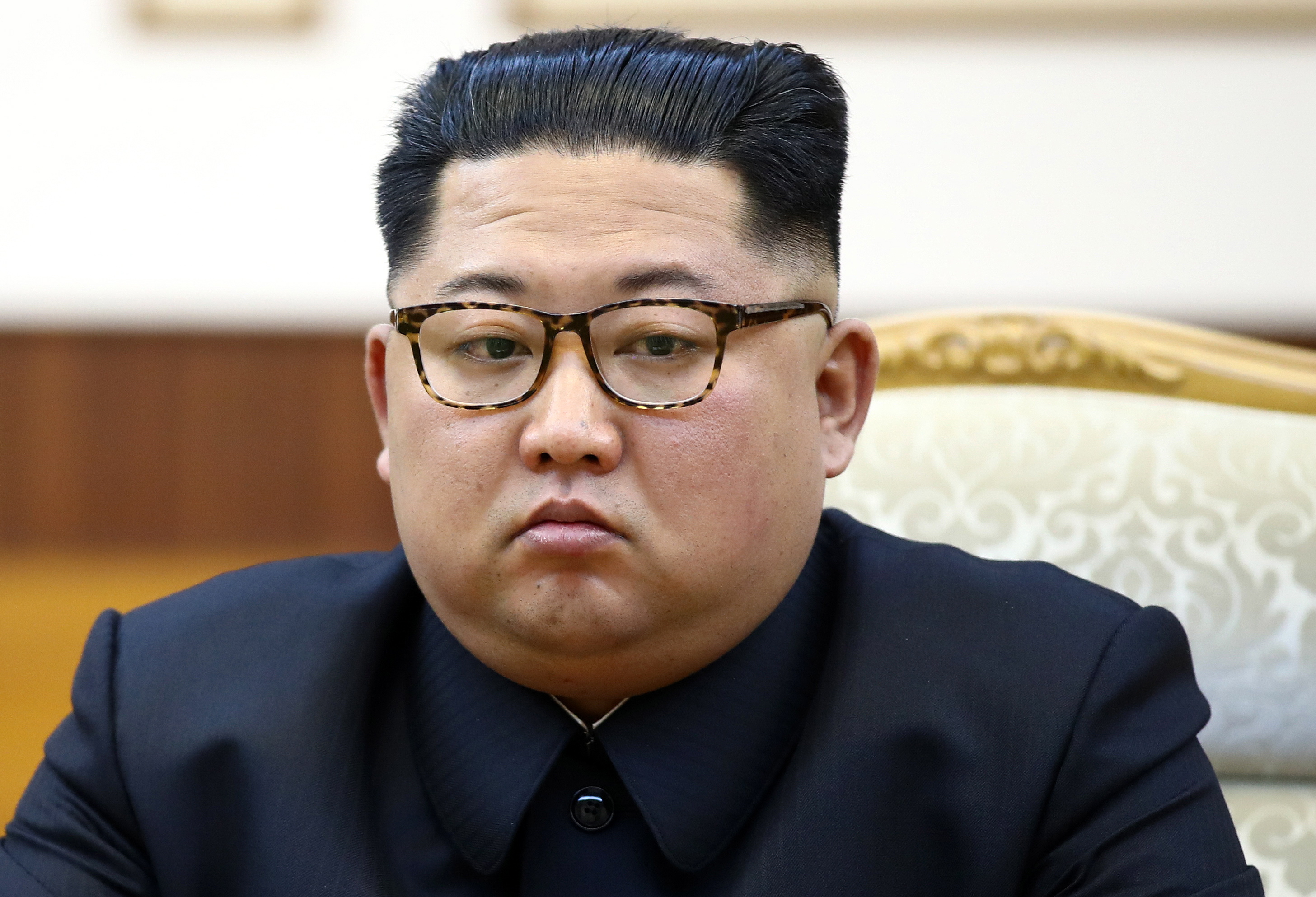 "Trump praises hurricane response amid demands for Maria death toll investigation" via Lorraine Woellert and Colin Wilhelm of POLITICO Florida — Meeting with his cabinet and disaster agency officials for a briefing on hurricane season, Trump said his administration "leapt into action to coordinate the response" to last year's storms. "We've had three devastating major hurricanes," Trump said. "America has never experienced so many large-scale disasters in such a short period of time." As he spoke, Puerto Ricans displaced by Maria marched on Capitol Hill demanding housing aid and Democratic lawmakers, led by members of the Congressional Hispanic Caucus, called for an investigation of the response and the death toll from Maria. "Will Congress yet again do nothing? Will President Trump yet again do nothing?" Rep. Darren Soto said at a news conference. "If, God forbid, another hurricane hits that island they will have blood on their hands." Trump gave himself a perfect score last fall for his administration's response to last year's storms. But as 2018 hurricane gets underway, Puerto Rico's readiness and the government's accounting for last year's storm remain open questions.
"Democrats want a 9/11-type commission to probe Puerto Rico hurricane controversy" via Christine Condon of the Miami Herald — But it's unlikely Republicans, who control Congress and the White House, will sanction a special commission on Puerto Rico before the 2018 elections. Florida-based pollster Brad Coker said the caucus' move, which it proposed at a Capitol Hill news conference, could be part of a larger effort among Florida Democrats to win more of the Puerto Rican vote in the hotly contested U.S. Senate and governor's races this fall. About half those fleeing Puerto Rico in the hurricane's wake landed in Florida. But Darrell West, director of governance studies at The Brookings Institution, a Washington-based research group, said while it's unlikely the commission idea would go far in Congress before the 2018 elections, the push for it could prove influential in areas with large numbers of Puerto Rican migrants.
"Sunshine Summit to offer insight into Puerto Rico's challenges" via the Sunshine State News — The Republican Party of Florida (RPOF) announced a "Puerto Rico Rising" panel on Friday as part of its 2018 Sunshine Summit in Orlando. On Friday, June 29, the four-person panel — Jose Carrión, chairman of the Puerto Rico Financial Oversight Board; Jose Fuentes, former attorney general of Puerto Rico; Congresswoman Jenniffer González-Colón; and Florida state Rep. Bob Cortes of Altamonte Springs — will discuss the island's recovery progress and its plans for fiscal responsibility and integrity. "A little over six months ago, Hurricane Maria devastated the island of Puerto Rico. We saw this nation come together for the Puerto Rican community, and although many are still struggling to rebuild their lives, progress has been made," RPOF Chairman Blaise Ingoglia said in a statement. "The Puerto Rican community has proved its resilience and together the people will continue rising. We look forward to an engaging discussion with these incredible Puerto Rican champions, and solidifying our commitment to aiding our fellow citizens on and off the island." Cortes said he believes the Florida event is important for Puerto Ricans.
"Tom Rooney blasts Trump over spy claim" via Kyle Cheney and Rachael Bade of POLITICO — Rooney, a top Republican lawmaker on the House Intelligence Committee, is ripping Trump's unsupported claim that the FBI inserted a spy inside his campaign. "What is the point of saying that there was a spy in the campaign when there was none?" Rooney said in an interview. "You know what I'm saying? It's like, 'Let's create this thing to tweet about knowing that it's not true.' … Maybe it's just to create more chaos but it doesn't really help the case." Though Rooney isn't the first GOP lawmaker to question Trump's assertion, his comments were the most forceful repudiation to date from a Republican lawmaker. Rooney, a three-term Florida Republican who is retiring at the end of the year, was one of three GOP House members to lead the Intelligence Committee's yearlong Russia probe after Chairman Devin Nunes stepped aside.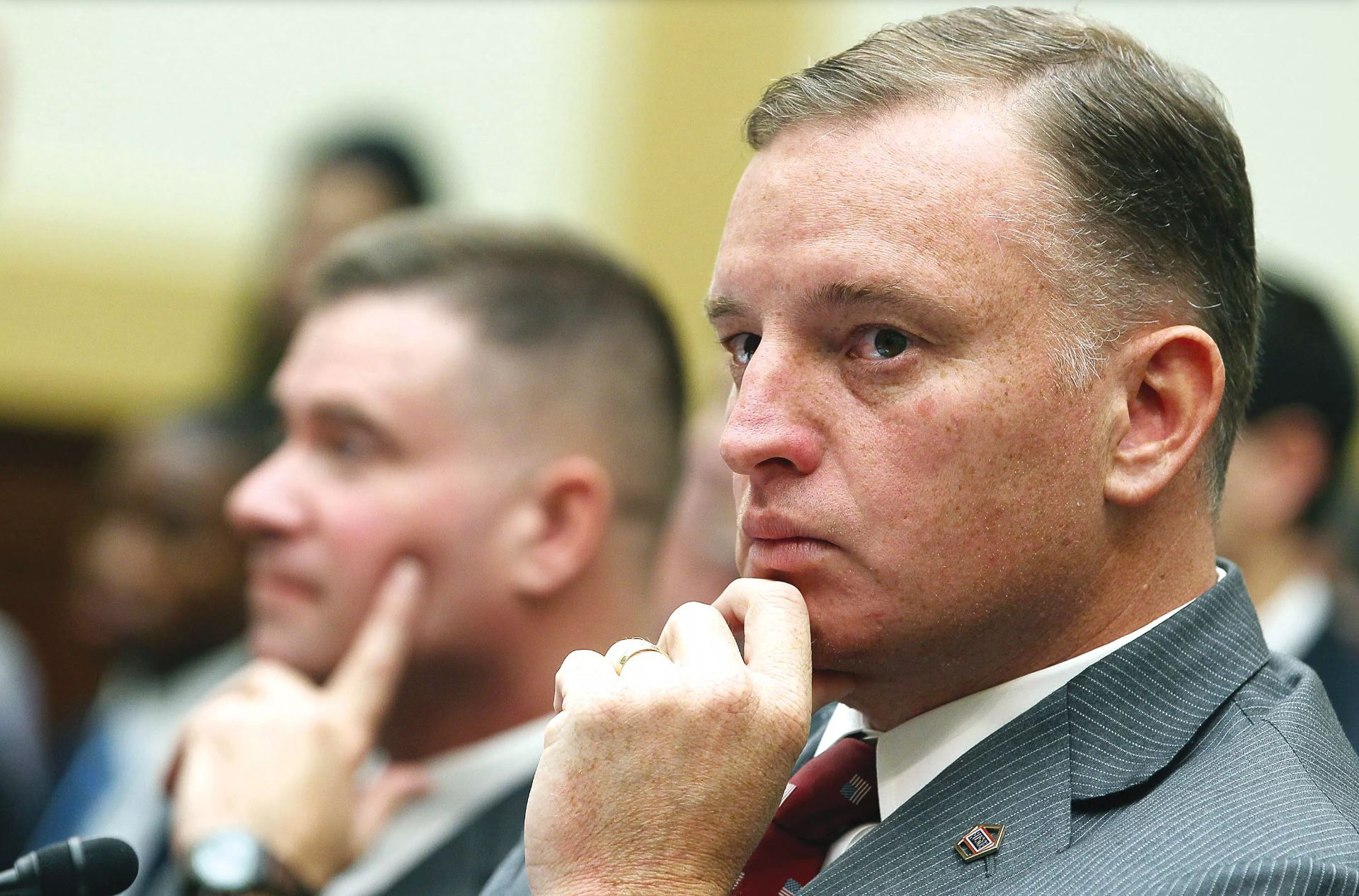 "Mario Diaz-Balart votes against amendment barring offshore drilling" via Ryan Nicol of Florida Politics — Diaz-Balart may have just helped open the door to more offshore drilling in parts of the U.S. But Florida appears to be in the clear for now. Members of the House Appropriations Committee voted on an amendment to prevent the expansion of offshore drilling into new areas, including the Atlantic and Pacific coasts and Alaskan waters. The amendment was to be attached to an appropriations bill for Trump's planned expansion of offshore drilling. The text of the amendment, proposed by Congressman Chellie Pingree of Maine, read, "None of the funds made available by this Act may be used to prepare a five-year offshore oil and gas leasing program that would schedule any Outer Continental Shelf oil and gas lease sale before 2022." It would have been a temporary delay, but a delay nonetheless. Of the four representatives from Florida that serve on the Appropriations Committee, only Diaz-Balart voted against the amendment. John Rutherford and Debbie Wasserman Schultz voted in favor, while Thomas Rooney was not present.
Assignment editors — U.S. Sen. Marco Rubio speaks at the Faith & Freedom Coalition's Road to Majority Conference, approximately 12:30 p.m. Eastern, Omni Shoreham Hotel, 2500 Calvert St. NW., Washington D.C. Rubio's remarks will be live-streamed here.
— OPINIONS —
"Jeb Bush: Delaying immigration reform is a missed opportunity for Republicans" via Time magazine — There has been a wealth of news stories this month detailing concerns by various Republican leaders that a vote on DACA could cost the Republican Party our control of the House in the midterms. Fortunately, the data doesn't bear that result out. In fact, a recent poll shows that nearly 70 percent of Republicans support a legal residency for children brought illegally to the United States through no fault of their own. The percentage of support in swing districts that will determine the next Congress' majority is even higher. Despite the urgency of our nation's immigration crisis, politicians on both sides of the aisle cynically employ immigration as a wedge issue, election after election, for their own benefit. Meanwhile, our inability to fix a broken system has tremendous real-world costs, both human and economic. As opposed to caucus infighting over a vote on the fate of DREAMers — just one of many issues that must be addressed — why not embrace conservative, comprehensive immigration reform now?
— PAY-FOR-PLAYOCRAT —
Shot — "Andrew Gillum and Tallahassee Democrat: 'pay for play' or good business?" via Florida Politics — Tallahassee Reports (TR) is best thought of as a conservative counterpoint to the Tallahassee Democrat's coverage, particularly of City Hall. It's no secret that its editor, Steve Stewart, has run and lost more than once for local office in the deep blue capital city.
— TR's latest watchdogging of the city's Gannett-owned paper of record says that "just one month after he announced he would run for Governor … Gillum's office negotiated with the Democrat to publish 10 stories favorable to a Gillum initiative."
— Those stories, penned by staff writer TaMaryn Waters, "highlighted Gillum's Family Friendly Workplace initiative" begun in 2015, the paper reported. They appeared in the Democrat during the first two weeks of April 2017.
— Most saliently, TR says the paper billed the Mayor's Office $10,000 for those stories last May — which, by the way, it didn't pay. "Ultimately, (the paper) issued a $2,500 discount and Gillum's office paid half of the discounted amount Jan. 8, 2018," TR's report says.
— Both Democrat editor William Hatfield and publisher Skip Foster declined to comment.
Chaser — "Note from the editor: Family Friendly-gate? Not so much. Here's what really happened." via William Hatfield of the Tallahassee Democrat — The newsroom drew up a plan to spotlight businesses that had taken part in a survey and were on track to receive "Family Friendly" certification.
— The advertising side of the house, meanwhile, drew up an outline with the city of Tallahassee … that laid out how we would spotlight the issue and how advertising would use its top-notch, multi-platform channels to promote the effort in print and online.
— There was no negotiation to publish 10 stories. And certainly, the gubernatorial campaign had no bearing on the project, which took shape months before he would announce.
— The stories weren't sponsored content.
— Stewart himself points out that each story accurately included the following line: "The series is a partnership between the City of Tallahassee and the Tallahassee Democrat that stems from the Family First Initiative launched in 2015 by Tallahassee Mayor Andrew Gillum."
— Jamie Van Pelt, the mayor's chief of staff, says that was a misstatement and an "oversimplification" of an admittedly complex partnership.
— TOO MUCH OF A GOOD THING —
The rapid pace of the news cycle is having a fatiguing effect on Americans, new research shows.
The Pew Research Center recently released results of a study showing that almost seven out of 10 Americans are feeling worn out by the amount of news, and just three in 10 are content with the amount of news they get.
The results are in line with a similar study conducted during the 2016 presidential election, Pew writers Jeffrey Gottfried and Michael Barthel note. Only then, a majority actually expressed exhaustion.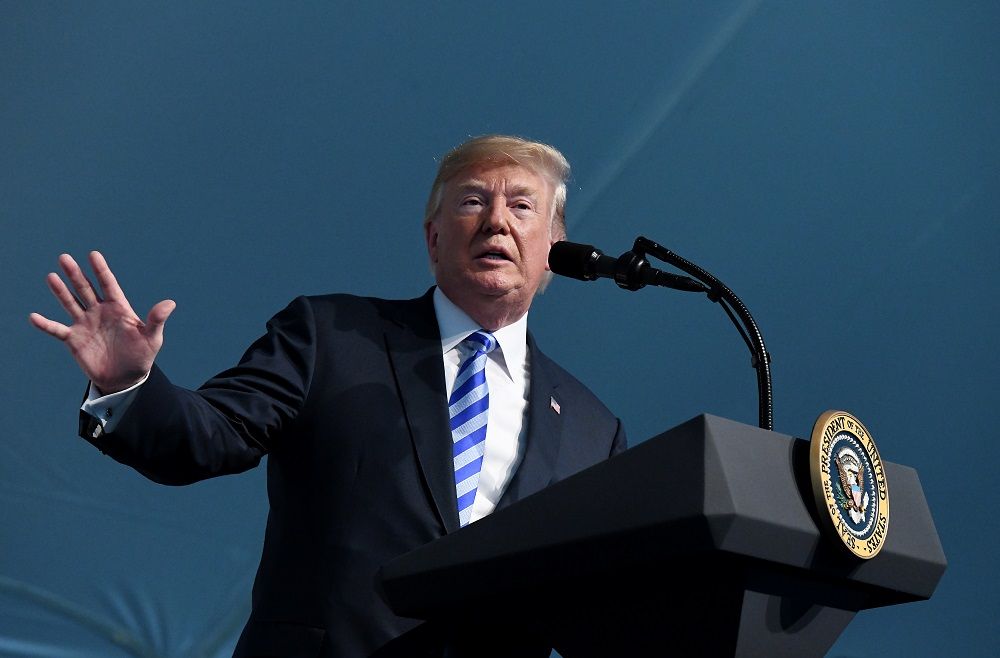 You might be an outlier: You're reading Sunburn, so this research might not apply to you. "Feeling overwhelmed by the news is more common among those who follow the news less closely than among those who are avid consumers."
But: There's a partisan divide in the results. "Roughly three-quarters … of Republicans and Republican-leaning independents feel worn out … compared with about six-in-ten Democrats and Democratic-leaning independents."
Demographics: White Americans are more likely than others to feel news exhaustion, ahead of both Hispanic and black Americans. Women were more likely by a slight percentage to feel worn out than men were, and older people were slightly less likely to indicate exhaustion than younger folks.
— MOVEMENTS —
Appointed — Steve Cona (reappointed) to Hillsborough Community College District Board of Trustees.
"Michelle Suskauer to become the Florida Bar's 70th president" via Florida Trend — West Palm Beach attorney Suskauer will be sworn in when the Bar holds its Annual Convention from June 13-16 in Orlando. She takes the oath Friday, June 15, at the General Assembly. Vero Beach attorney John Stewart will be sworn in as president-elect. Suskauer is the sixth woman to serve as Bar president and is the first former public defender to hold the office. Suskauer is a criminal defense attorney with Dimond Kaplan & Rothstein, P.A., practicing in state and federal courts. Suskauer has been a member of The Florida Bar's Board of Governors since 2010 and has chaired the Board Disciplinary Review Committee, the Board Communications Committee and the Annual Convention Committee.

Personnel note: Step Up for Students hires two new VPs — Anne Francis and Jillian Metz are now the organization's vice presidents of development. Step Up For Students is a state-approved nonprofit scholarship funding organization that helps administer two scholarships for Florida schoolchildren: the Florida Tax Credit Scholarship Program for low-income families and the Gardiner Scholarship for children with certain special needs. "Francis and Metz lead a highly skilled team in both tax-credit and charitable fundraising initiatives that support scholarships for underprivileged students in Florida," a release said. Last year, the group used $600 million in tax-credit contributions from corporations to give more than 105,000 scholarships.
New and renewed lobbying registrations:
Kaitlyn Bailey, RSA Consulting Group: US eDirect
Christopher Dudley, Allyce Heflin, Southern Strategy Group: Apple, Bradford County School District, Sogeti USA, Study Edge, University of Central Florida Foundation
Michael Corcoran, Corcoran & Johnston: Wreckers Cay Apartments at Stock Island
Mark Delegal, Holland & Knight: Florida Brewers Guild
Danny Jordan, Samuel Verghese, One Eighty Consulting: Pondera Solutions
Brandon Tyler Peck, Flywheel Government Solutions: U.S. Green Building Council
William Stander, Whisper: Florida Life Care Residents Association
— ALOE —
"Instagram could soon allow users to post long-form video" via Benjamin Mullen of The Wall Street Journal — The Facebook Inc.-owned photo and video sharing app is preparing to launch a new feature that will include long-form video, according to people familiar with the matter. The feature, which could allow videos of up to an hour in length, will focus on vertical video, or video that is taller than it is wide, one of the people said. Until now, Instagram hasn't allowed users to post any videos longer than one minute. The people said the plans are tentative and subject to change. The decision to launch long-form video comes about two years after the launch of Instagram Stories, a feature that allows users to share photos and multiple short videos of up to 15 seconds uploaded within a 24-hour time-span. Instagram Stories is now one of the app's most popular and fastest-growing features, according to the company, with about 300 million daily users.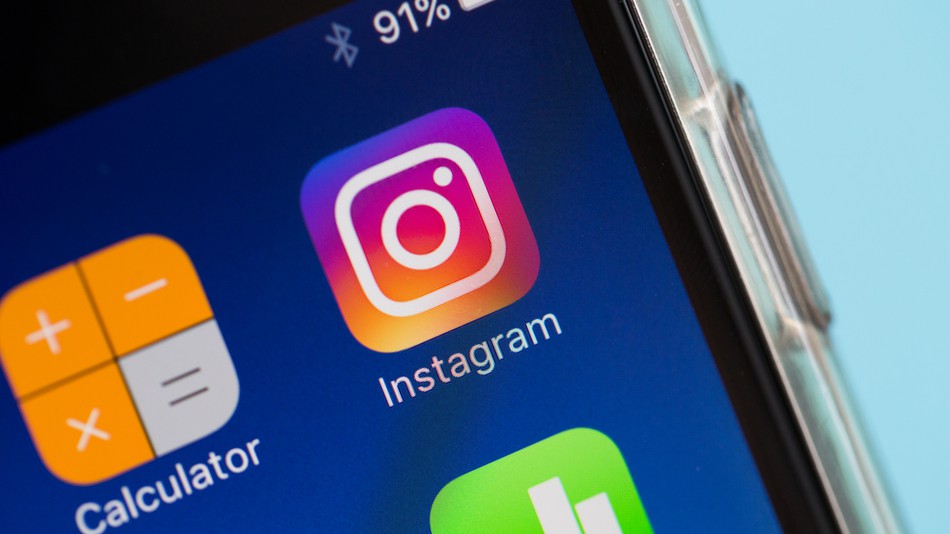 What Marc Caputo is reading (not really, but he should) — "Sharp drop expected for Florida avocado volumes" via FreshFruitPortal.com — Florida is feeling the effects of Hurricane Irma on this year's avocado season, with expectations that the early crop could be at just a third of the normal level. Brooks Tropicals marketing director Mary Ostlund told Fresh Fruit Portal the storm … "did a number" on south Florida groves, stressing the trees. "Although the physical damage wasn't major, we are seeing the impact in flowering and that impacts harvesting volumes," she said. "The early crop is affected the most, with various grove estimates throughout the industry as low as 30 percent. Later season varieties — which have had more time to recover — appear to be as good as 60 percent." She explained that the season, which typically kicks off around May, has had a slow start this year, but she expects it to run through this year and early into next year. Florida's avocado volumes are expected to return to normal next year, she added.
"Why are so many Florida honeybees dying?" via Laura Reiley of the Tampa Bay Times — According to the Florida Department of Agriculture's chief apiary inspector David Westervelt, Hurricane Irma drastically compounded the state's ongoing problem of honeybee colony loss. He says at least 75,000 of Florida's 600,000 honeybee colonies were affected by the storm: Bees drowned, were blown off course, or died of starvation due to the destruction of the nectar- and pollen-rich vegetation on which they forage. And it's not just about honey. Honeybees are critical to pollinating Florida's $4 billion blueberry, cantaloupe, cucumber, honeydew, raspberry and watermelon crops. Florida bees matter nationwide: Twenty to 25 percent of the nation's honeybees pass through Florida, often wintering here to gain strength before or after pollinating California almonds. Beekeepers from New York, Wisconsin, Ohio and Michigan winter their bees in Florida to fortify the hives: In 2006, Florida had 1,000 registered beekeepers, now it's 5,000. Let's call them snowbees.
Happy birthday to Rep. Jason Brodeur, Thomas Grigsby, and Nancy Stephens.