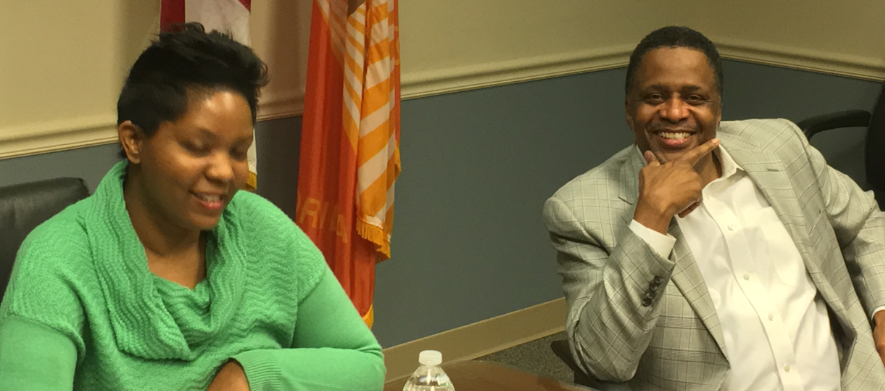 Jacksonville City Councilmembers Katrina Brown and Reggie Brown, indicted Thursday on a 38-count scheme to defraud, will have more time to devise a legal defense in the coming weeks.
As many expected, Gov. Rick Scott devoted a chunk of his Friday 5 p.m. news dump to the inevitable memo, suspending the Councilmembers, though not naming temporary replacements.
The suspension for the two Democrats comes in the wake of a federal investigation spanning years, one that started with a failed economic development deal that one Councilmember voted for, followed by an intertwining of professional fortunes for the the pair.
Per prosecutors, the two misappropriated federal and city money provided to fund an ultimately-failed BBQ sauce plant for Katrina Brown and her family, with money being routed through shell accounts for everything from non-existent invoices to personal expenses of the alleged co-conspirators.
Reggie Brown voted affirmatively on that incentive package in 2011, and soon thereafter, prosecutors assert that the Browns engaged in a scheme to defraud the Small Business Administration and the city of Jacksonville.
In 2013 and 2014, Katrina Brown opened two companies — A-Plus Training and Consultants and RB Packaging — listing Reggie Brown as the principal.
According to the indictment, the companies were used solely as instruments of fraud, as attempts to siphon government money from another Katrina Brown shell company (CoWealth), via a $2.62M Small Business Administration loan and city of Jacksonville money ($210,000 in grant money), intended for economic development plans regarding a BBQ Sauce Plant that never appeared seriously meant to come to fruition.
Reggie Brown opened up bank accounts for the companies at a BBVA Compass location soon after forming the entities.
Before this, Reggie Brown — who was serving on the Council at that point — voted yes for what would be a fateful decision in 2011: to appropriate $640,000 in total for KJB Specialties, a Katrina Brown company, to create 56 jobs at a BBQ sauce plant in Northwest Jacksonville.
Those jobs, as reported previously, were never created — and both the federal government (on the hook for a $2.6 million SBA loan) and locals are still searching for their money back.
By the time Katrina Brown and Reggie Brown went into business together, the barbecue sauce plan was failing. And soon enough, per the indictment, malfeasance began.
Around the end of 2013, A-Plus Training was, the indictment says, used to funnel $12,500 in SBA loan funds, setting up a pattern.
In 2014, $251,919 of those funds processed, with Basic Products and Katrina Brown getting over $166,000 of them, and Reggie Brown getting the remainder, prosecutors allege.
[Katrina Brown was elected to Council in 2015; Reggie Brown elected in 2010. However, some of this money went to Katrina Brown's political activities, including a $3,500 loan from her campaign, and donations for former Mayor Alvin Brown and the Duval Democratic Party.]
The conspiracy boils down to Katrina and Reggie Brown secreting SBA money, with both Councilmembers engaging in fraud.
Prosecutors say Katrina Brown prepared false invoices for both A-Plus and RB Packaging, with BizCapital — the SBA lender — sending checks to the home of both Reggie Brown and his mother.
Money deposited into accounts went for personal expenses, prosecutors claim, and moved between accounts in the process.
False invoices, including a $64,000 bill in 2015 for heavy equipment from the phantom RB Packaging, were also part of the scheme to defraud.
In addition to conspiracy to defraud, the pair face 13 counts of mail fraud, 13 counts of wire fraud, six counts of illegal monetary transactions (money laundering charges, all of them involving checks of over $20,000), two counts of attempted bank fraud (trying to secure a loan using forged information), two false statements to a federally insured institution, and a fraudulent 1040 form.
Penalties, at least in theory, are stiff.
The first 27 counts could bring 20 years and $250,000 fines for each, the next six counts 10 years and $250,000 each.
Katrina Brown is the sole defendant for the bank fraud counts: 30 years and a $1 million fine are the maximums there.
Reggie Brown is charged with the fraudulent 1040, a misdemeanor.
Cumulative potential penalties for Katrina Brown: 720 years and a $12 million fine. For Reggie Brown: 601 years and a $8.275 million fine.
As of Friday afternoon, both are still running for office. Katrina Brown wants another term on Council, while Reggie Brown believes he can defeat Senate Minority Leader-Designate Audrey Gibson in a primary.
Neither suspended legislator was immediately available for comment.
Mayor Lenny Curry was non-committal in response, saying the"governor has exercised his authority. We will work with his office on plans to engage the community in identifying next steps."
Those steps could include appointed replacements, or expedited elections on August and November ballots for the seats, each of which have many active candidates filed in hopes of running and winning in 2019.