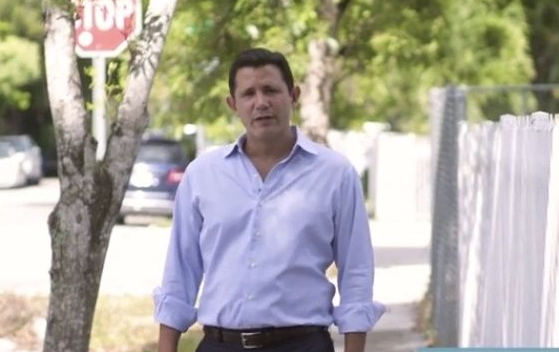 Jason Pizzo's insurgent Democratic primary campaign against Miami Sen. Daphne Campbell picked up another major backer Wednesday: LGBTQ rights group Equality Florida.
The nod was delivered by former state Rep. Joe Saunders, who resumed his job as the organization's political director after leaving office.
"The Equality Florida Action PAC endorsement is a recognition of the competitive campaign that Jason Pizzo is running, his record of service, and his belief that his election will have a positive impact on the lives of LGBTQ Floridians. I thank him for his commitment to our community and for being willing to step up to serve," Saunders said.
Equality Florida's backing comes on the heels a couple other big gets for Pizzo, a former prosecutor. Last week Miami Gardens Democratic Rep. Barbara Watson and public employee union AFSCME both announced they were supporting the North Miami Beach Democrat's second bid for Senate District 38.
"In Florida, no one should have to fear losing their job or being denied benefits for loving who they love or being who they are. I thank Equality Florida for their trust in our campaign and I look forward to working with them to codify protections for every resident of our state. I'm more committed than ever to the fight for full equality and rolling back laws that unfairly target our LGBTQ neighbors," Pizzo said.
It doesn't take a cipher to crack the code in this endorsement, nor Pizzo's acceptance.
Campbell is one of the most conservative Democrats in the Florida Legislature when it comes to social issues. For one, she's pro-life, and while the 2018 Legislative Session didn't grant her an opportunity to cast a vote on bills to include LGBT protections under the 1992 Florida Civil Rights Act — the legislation Pizzo is invoking — she has in the past won the support of the Christian Family Coalition, which is against gay rights.
The bulk of Campbell's 2018 backers have been her Democratic colleagues in the Legislature. The count stands at 12 so far, including an endorsement from incoming Senate Minority Leader Audrey Gibson.
Campbell and Pizzo are currently the only two candidates in contention for the Democratic stronghold, though until the qualifying period ends in a couple of weeks, there's a chance an unaffiliated or other-party candidate enters the race and shuts down the Dem primary.
The primary election is Aug. 28.