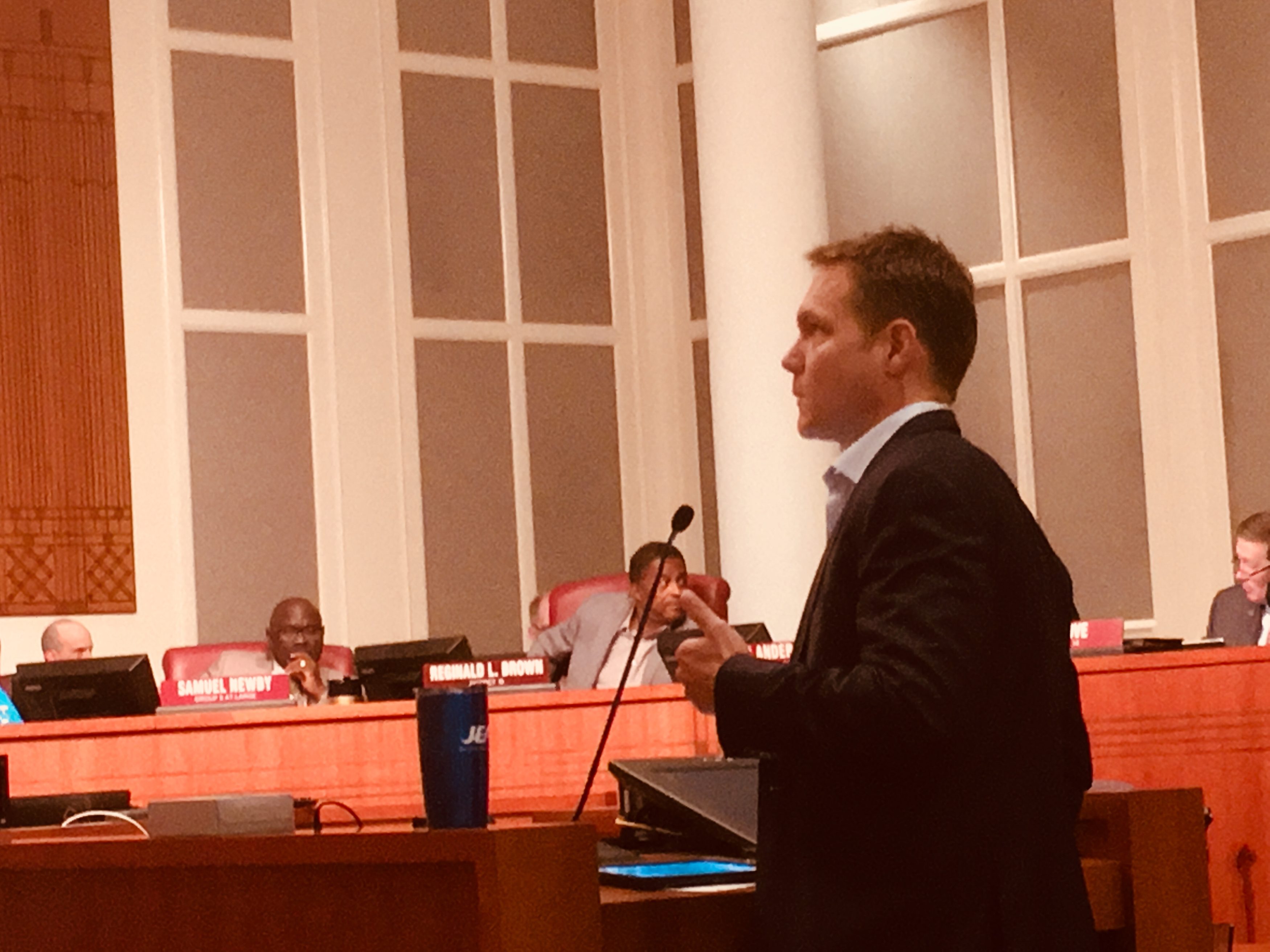 With just weeks to go in Anna Brosche's Jacksonville City Council presidency, the majority of special committees formed during her year are coming to an end.
That rule applies to what is now known as the special committee on the "future of JEA," a change in name and scope from its original five-person iteration as a group of Councilors skeptical of a proposal to sell the public utility, to a committee of the whole involving members more influenced by the Mayor's Office than then-Council president.
Discussion was exhausted early in Thursday afternoon's meeting, and chairman John Crescimbeni noted that it likely would take the better part of two weeks to get a draft report of the committee's findings into shape.
The panel adapted to what seemed to be a perpetually shifting debate, one spanning the tenure of one permanent CEO, a temporary CEO turned COO, and a board member ascending to the interim CEO position.
That debate spotlighted fissures in city government, though it remains to be seen how they will affect city elections in the next year.
The committee was a response to the push for privatization of the utility, one launched late last year when major Lenny Curry donor Tom Petway, as he exited the JEA board, urged an exploration of a "private sector marketplace" model for the city's utility.
The push moved on a sub-rosa level for weeks, before it manifested in public view via a joint meeting of the JEA board and the City Council Feb. 14, in which the collective bodies were to hear a valuation report that suggested, optimistically, that the city could garner as much as $6 billion profit from a sale of the utility.
Brosche and Mayor Lenny Curry's staff disputed whether or not such a meeting was called at the behest of the Mayor's Office, rather than being an independent motion by former JEA CEO Paul McElroy.
By the end of March, anecdotal evidence from McElroy supported Brosche's claim, with McElroy saying in a meeting that Curry's chief administrative officer Sam Mousa, in fact, reached out to Brosche to set up the meeting.
"We were starting to hear that the [JEA valuation] report would come out. In the last week of January," Brosche said, a noticed meeting was scheduled by city councilors "to discuss the potential sale of JEA."
"As soon as that happened," Brosche continued, "I had gotten an urgent request to meet with Mr. Hughes."
Hughes, Curry's chief of staff who had moved over weeks before from the Mayor's political operation, urged in and out legislation to move forward with exploring the utility's valuation.
Per Brosche, the case was urgent.
Hughes told Brosche that there were "resources," such as "investment bankers, other attorneys, and consultants," being "pulled by others who are aware of this transaction and didn't want to leave the city out of the necessary resources to make sure we were appropriately evaluating."
Of course, the evaluation depended on the party making it.
The 2018 Council Auditor report was more bearish than the one JEA commissioned.
It contended "the net proceeds to the City from selling JEA could range from a low of $1,702,795,000 to a high of $5,202,795,000. However, these numbers alone do not answer the question of JEA's value and numbers alone do not answer the question as to whether the City should sell JEA."
Matters ranging from local control to the future of JEA employees animated those discussions, which went far beyond tangible value.
If there was a benefit to the committee on the Council side, it allowed Brosche to thwart what she saw as a fast-track to selling the utility.
Certainly, there was evidence that interested parties abounded, with utility lobbyists registered with the City of Jacksonville.
Florida Power and Light engaged Paul Harden, best known locally as the representative for the Jacksonville Jaguars and owner Shad Khan's interests.
Meanwhile, Emera, a Nova Scotia-based utility company that acquired TECO and otherwise has assets ranging from New Mexico to the Caribbean, also lobbied up.
Emera retained Southern Strategy Group's Deno Hicks and Matt Brockelman, along with Marty Fiorentino and The Fiorentino Group colleagues Joe Mobley, Mark Pinto, and Jason Roth. Other lobbyists for the client include Wyman Duggan, a land use attorney running for the state House, and his Rogers Towers colleague T.R. Hainline, who served on Mayor Lenny Curry's transition team.
Fiorentino and Southern Strategy have held Jacksonville city lobbying contracts in Tallahassee since soon after Curry took office.
It is uncertain how the trajectory of this debate will go going forward, but at least for now, there is a stalemate between advocacy for privatization and defense of the status quo.
Mayor Curry has said "I will not submit any JEA privatization plan to the City Council," seemingly closing the discussion.
Interim CEO Aaron Zahn has discussed changes to the business model, suggesting that restructuring is almost inevitable.
There will be a final report from the committee. And Thursday's meeting will shed some light on next steps.