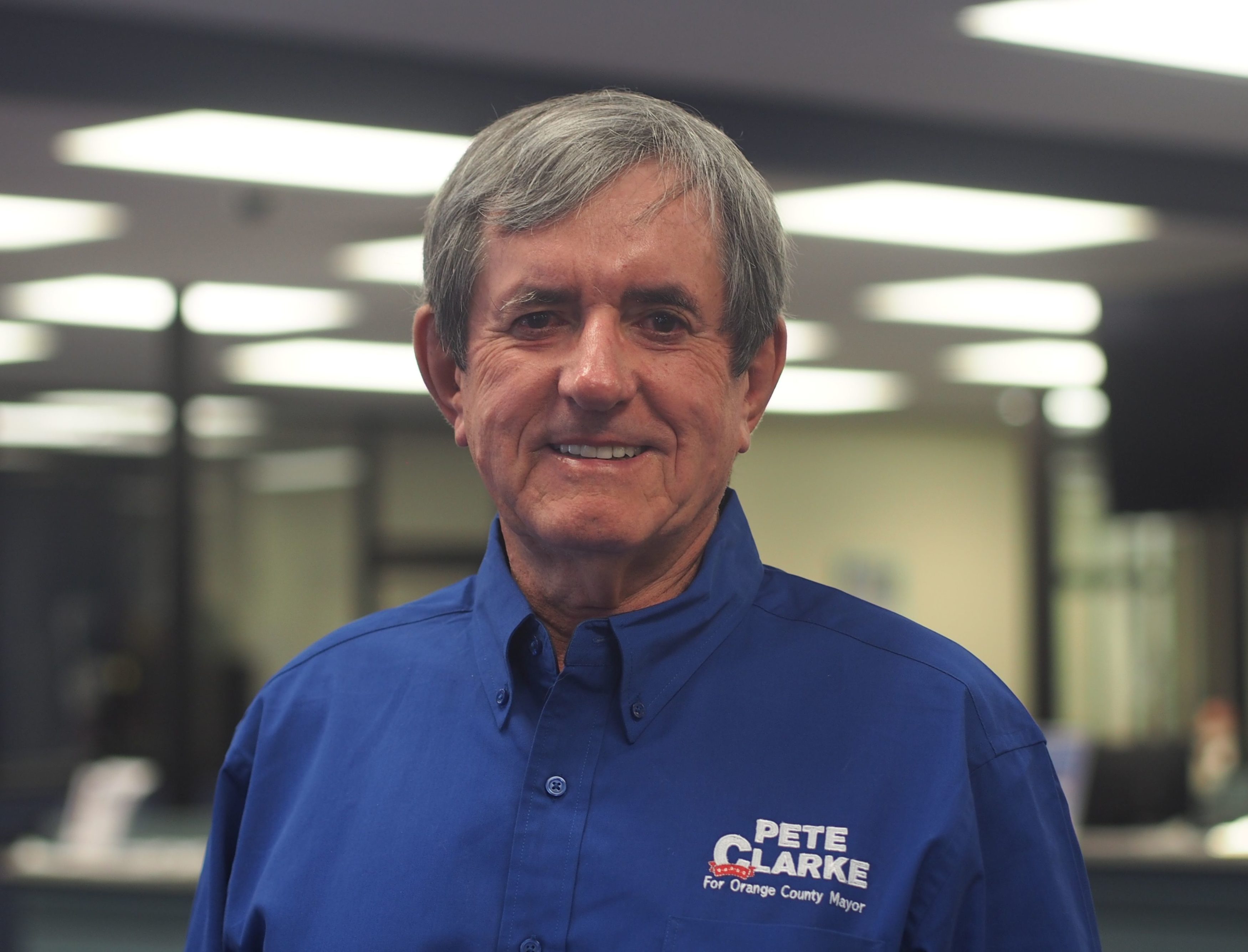 Orange County Commissioner Pete Clarke put to rest the constant rumors that he might back out of the Orange County mayor's race Friday when he submitted his letter of resignation from the commission to qualify for the ballot.
"I kept telling people that I'm carrying through and they chose to not believe me. When I say something I'm telling the truth. If I was thinking about it I'd say I'm thinking about it," Clarke said Friday after submitting his Orange County Commission resignation letter, effective in early December.
The letter went to the Orange County Supervisor of Elections to clear the way for his mayoral run under resign-to-run laws.
Clarke, midway through his second four-year term on the commission, is one of three major candidates heading toward the August 28 Orange County mayoral election, along with Orange County Sheriff Jerry Demings, who submitted his resignation as sheriff letter Thursday, and Winter Park entrepreneur Rob Panepinto.
Clarke has complained previously that rumors he believes were started by another candidate had affected his fundraising and organizing, as he had to convince people he was not going to get out so that Demings and Panepinto could battle one-on-one. And he said the rumors have persisted.
He, Demings, Panepinto and three minor candidates are all running to succeed outgoing Mayor Teresa Jacobs. If no one gets more than 50 percent of the votes on August 28, the top two move on to a runoff election in November.
Like Demings' resignation letter, Clarke's sets up a domino effect, creating an election this year for his seat. Seven candidates have filed to run for his Orange County Commission District 3 seat, which was set for a 2020 election, and now will be rescheduled for a 2018 election.
Clarke said he's confident he has very strong support in parts of the county and is working on other parts.
"What I tell voters is we all talk about the same thing. We're all going to address homelessness, and affordable housing prices, transportation, what the others call 'smart growth' and what I call 'un-smart growth,'" Clarke said after filing. "But what resonates when I talk to people is this will all work out through the processes and our systems to make improvements. But underneath the whole thing are people that sometimes are forgotten, that I've spent a lot of years working with, the homeless, people with mental health issues, domestic violence issues. There is a cause for all these issues that keep people from succeeding."
Clarke still is an acknowledged underdog and has watched as Demings has raised nearly $1 million through the end of April and Panepinto about $600,000; Clarke's campaign raised about $262,000, much of it his own money.
"I've run on a shoestring before," Clarke said, "and it's amazing how that resonates with voters."