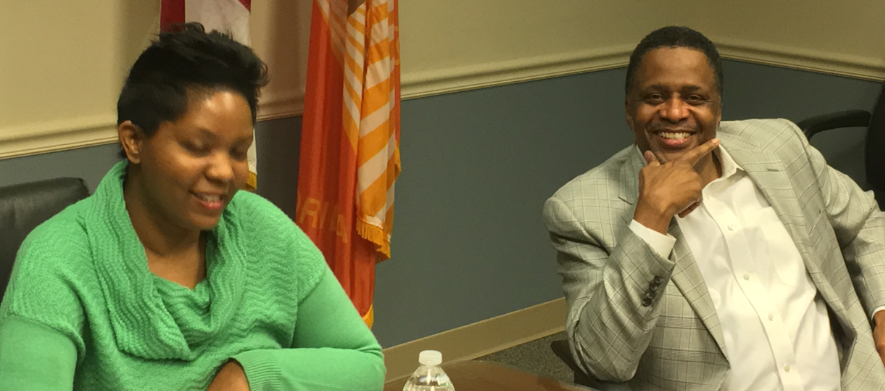 Two Jacksonville City Council members, Katrina Brown and Reggie Brown, are dealing with dozens of federal fraud charges.
A 61-page indictment dropped in federal court late last month details 38 counts in a scheme to defraud.
Federal prosecutors allege the Browns, who are not related, collaborated in a scheme that used shell companies as ways to extract, via transfers and fraudulent invoicing, hundreds of thousands of dollars from a Small Business Administration brokered loan intended to fund Katrina Brown's family's barbecue sauce plant.
The Browns have a status hearing in Jacksonville's federal courthouse Thursday morning, and a central question remained unanswered: Who would represent them in legal proceedings?
M. Alan Ceballos, who represented Reggie Brown two weeks ago in court, told Florida Politics Wednesday that was a complicated matter and will be addressed by both him and Katrina Brown's lawyer, Curtis Fallgatter, in court Thursday.
Katrina Brown was up first, and in her case, a delay in determining her lawyer was requested and received.
Fallgatter cited "delays in the discussion," but "there is a valid financial plan in place to retain the firm."
He asked for two more weeks from Judge James Klindt.
Klindt raised concerns via the "speedy trial clock."
For the federal government, A. Tysen Duva raised concerns that "in two weeks, we'll be in the same situation."

"I know this is important to Miss Brown … my concern is in two weeks nothing will happen … the representation issue has to be settled," Duva said, to get the case onto the August trial calendar.
Klindt split the difference and set a status hearing for a week out in Katrina Brown's case.
Regarding Reggie Brown, Ceballos noted the councilman wanted court-appointed counsel, citing "indigency."
Councilman Brown, who has spent more than $3,000 out of pocket on his state Senate campaign while retiring past due property taxes, may not have seemed like a plausible candidate for indigency.
But with his Council salary cut off, all he had coming in was his pay as a member of the Army Reserve, with $2,000 in bank accounts, and two late-model cars.
In terms of obligations, Brown has child support payments to two twin sons.
"Knowing what I know about fees in this type of case," Klindt said, "I find it highly improbable that a lending institution would lend you money."
Brown will have to deposit $1,000 to defray billing in this case, with potentially more financial obligations if he were to get a job.
____
Jacksonville is no stranger to fraud trials for its politicians, and part of those narratives has involved shifting legal representation.
Former U.S. Rep. Corrine Brown, currently serving five years in federal prison after being convicted of 18 counts in her own scheme to defraud, had multiple changes in legal representation during her pre-conviction phase.
With each change of lawyer, questions mounted regarding Corrine Brown's defense, including whether she could afford her lawyers or disagreements on trial strategy.
Undoubtedly, those paying close attention to the trials of Reggie Brown and Katrina Brown will speculate along similar lines, should there be similar vagaries in representation.
Even as the legal drama continues in federal court, the decision on who will fill the indicted Democrats' places on Council remains, with no timetable for resolution.
____
On June 1, Gov. Rick Scott suspended the two and is now mulling a long list of potential temporary replacements for the duo.
The list (as it stands) includes: Joseph Willis, Darrin Williams, Dwight Brisbane, Terrance Brisbane, Brenda Priestly Jackson, Ju'coby Pittman, Tameka Holly, Celestine Mills, Terry Fields, Angela Nixon, Christopher Pendleton, Jean Tranquille, Randolph Hall, Charles Barr, James Greiner, Keshan Chambliss, Rahman Johnson, Clarence James, Dwight Brisbane, Niki Brunson, Ralph Chavers, Cornelius Cox, Theresa Graham, King Holzendorf, Kevin Monroe, Latangie Williams, Chandra Griffin, Charles Barr, Ralph Chavers, Pat Lockett-Felder, James Breaker, Mincy Pollock, Leslie Harris, James Greiner, Barney Spann, and Nancy Walker.
If the Council members resigned, there would be a special election. However, the choice made by the Democrats was to stay in office and let Gov. Scott work out the details of succession.
When a reporter asked Councilwoman Brown if she was going to resign she was mum.
We then asked what happened to the money.
Her attorney (at least for now) said that was a "disrespectful question" from a "biased reporter."
Florida Politics will be back next week with more from the court action.