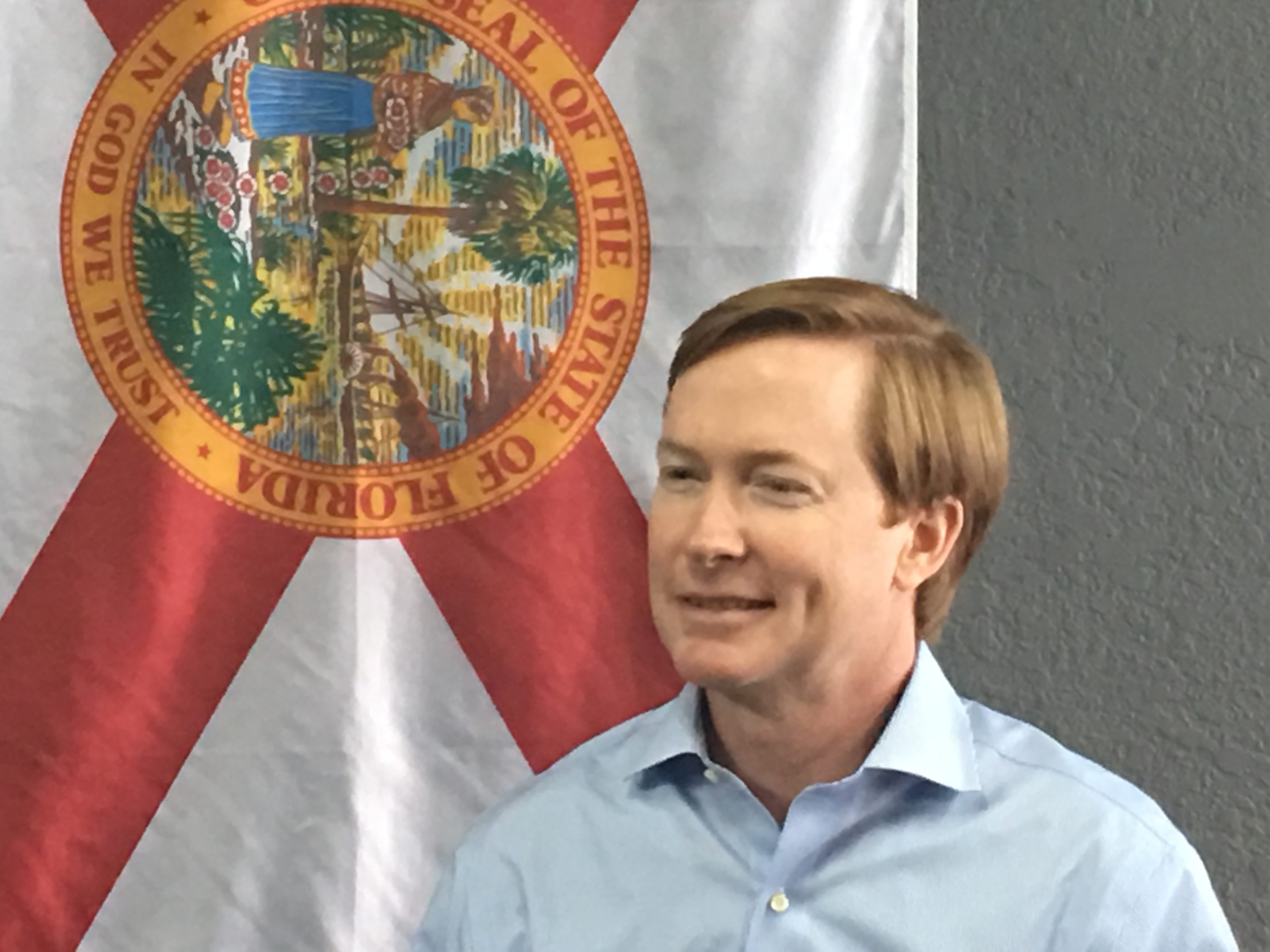 Agriculture Commissioner Adam Putnam continued his Northeast Florida swing this weekend, opening a Jacksonville campaign headquarters Saturday with loads of prominent Republicans in attendance.
U.S. Rep. John Rutherford and state Sen. Aaron Bean, two of the most prominent Republican elected officials in Northeast Florida, were there in support.
Likewise in the house: Jacksonville City Council President-designate Aaron Bowman, Council colleague Doyle Carter, and a host of other candidates and local officials.
Putnam, who held a BBQ in St. Augustine Thursday that drew hundreds, made a Jacksonville stop before heading to Clay County for a Flag Day dinner.
Introducing Putnam, Rutherford (a former Jacksonville sheriff who stressed to reporters that he was on hand to "support his good friend," not to endorse Putnam over House colleague Rep. Ron DeSantis), extolled the commissioner for having the kind of knowledge and experience that only an executive position gives.
"The guy knows how to run stuff," Rutherford said, "not just talk about running stuff."
And though critics are panning Putnam for missteps in his department ranging from incomplete concealed weapons permit background checks to a botched roller coaster inspection that left nine injured in Daytona just this week, the "experience matters" trope was central to Rutherford's remarks.
In a speech that ran close to 20 minutes, Putnam was ebullient, noting "we ran the table" with endorsements from groups, including the Fraternal Order of Police in Orlando earlier Saturday.
"They've seen my work the last eight years," Putnam said, before drawing contrasts between him and DeSantis.
In spotlighting 3.8 percent unemployment, Putnam said that even though he's "just a Gator, not an Ivy Leaguer," those numbers translate to "full employment."
(Labor force participation rates, somewhat lagging below that metric, went unmentioned.)
"If you want to lead our state, be in our state," Putnam asserted. "You have to be present to be a strong servant leader."
In what could appear as a slam on the nationwide network of financiers for DeSantis, Putnam threw out a zinger: "Don't let billionaires from out of state influence this election."
Perhaps to sidestep going too inside-baseball, Putnam qualified his remark with the names of familiar liberal villains Tom Steyer and George Soros.
Qualifiers notwithstanding, the message was clear: There was a difference between Florida-grown Adam Putnam and DeSantis, someone much more likely found with Sean Hannity and Laura Ingraham than on the campaign trail.
Putnam expanded his point.
"What I know is I'm in every corner of the state. I know Florida best," he said. "I've put in my time. I've listened to Floridians and their issues and their challenges, and we have put out specific plans on how to put Florida first and build on the success of Gov. [Rick] Scott.,"
Putnam contrasted his path to that of DeSantis, who pursued "three different offices in three years, that's a lot."
He also cited momentum and grassroots volunteers throughout the state.
"The fact that Northeast Florida is turning out for me is a really good sign, given my position on the I-4 Corridor," Putnam asserted.
"The grassroots momentum is rallying behind a Florida first message that is going to prevail," he added.
The friendliest poll of late (via the Florida Chamber), shows Putnam up 32 to 15.
When asked if his internal polling jibed with those numbers: "I'm very pleased with how the campaign is going."