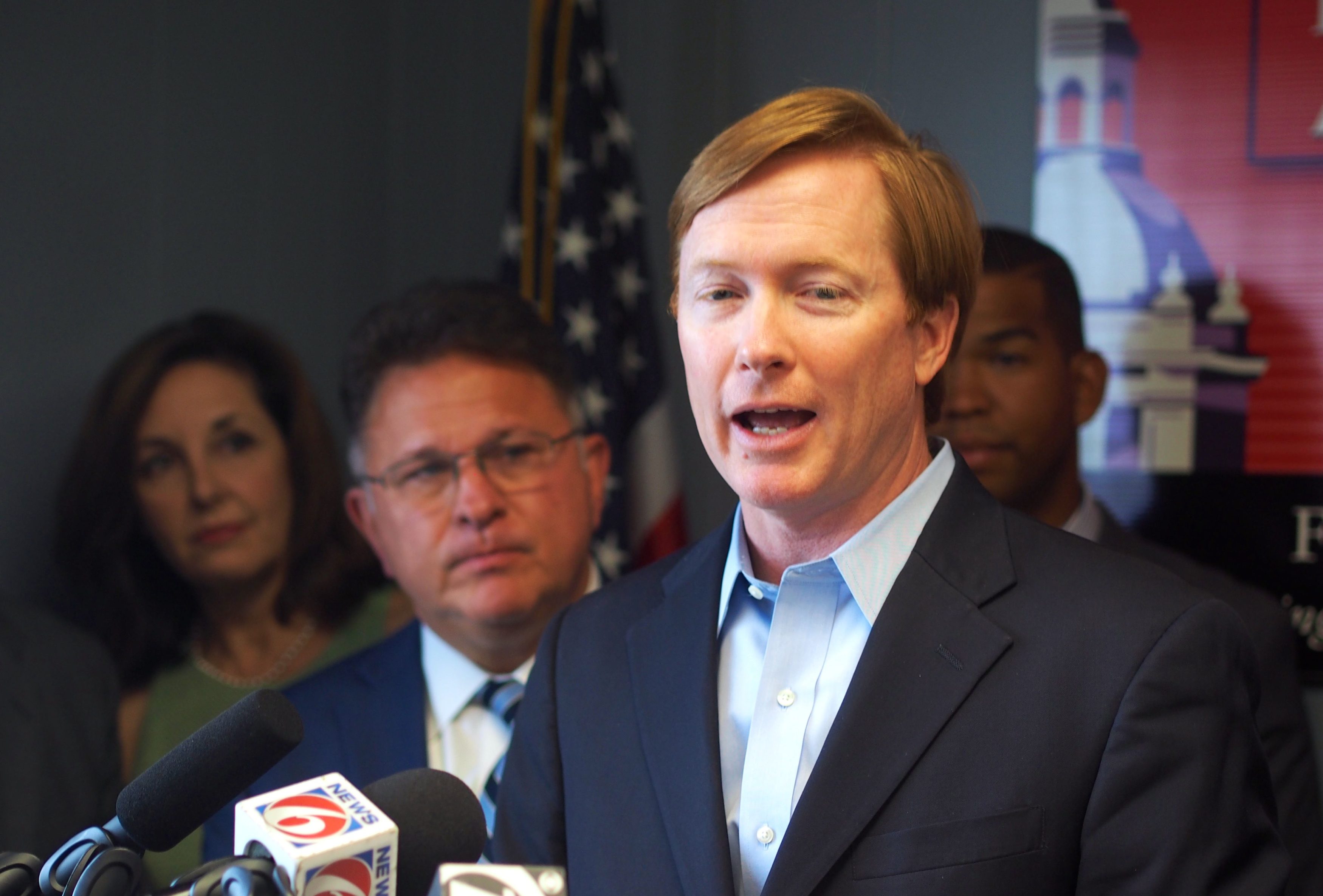 Republican Adam Putnam received the backing of John Stemberger's staunchly-Christian-conservative Florida Family Action as a "distinct honor and privilege" and spoke at least generally about supporting the group's hardline anti-abortion positions.
At a news conference with board leaders of Florida Family Action and others at Stemberger's office in Orlando Wednesday, Putnam also stressed his support for the group's efforts to address human trafficking, children "orphaned" by opioid abuse, and caring for children and families. Putnam also spoke strongly about values, saying "Florida has to be strong inside and out," and the state needs to "envoke the partnership and leverage the power of the faith-based community."
For that, he repeated a proposal he made in May to create an "Office of Faith-Based and Community-Based Initiatives" within the governor's office to work with churches and other faith-based groups on matters ranging from caring for the homeless to storm relief efforts.
Putnam's proposal was one of the cornerstones of the "First Families Agenda" platform he introduced at the time.
Putnam declined to directly answer questions about whether his positions align with Florida Family Action, and it's parent organization, the Florida Family Policy Council, on gay rights, a topic that has seen the organizations taking staunch opposition stances against what it calls the "homosexual agenda." He replied by speaking of the need to defend religious rights, but neither offered support nor opposition to gay marriage or other rights earned or sought by the LGBTQ community and opposed by Florida Family Action.
That organization is the political arm of Stemberger's Florida Family Policy Council, arguably the state's leading Christian-conservative political organization.
Putnam claims a lifetime 100 percent National Right to Life rating and a 98 percent Family Research Council rating.
"I believe that we do have to defend and protect life in the state of Florida," he said.
Stemberger, who also announced his personal endorsement of Putnam, said that was his organization's impression as well, saying, "We believe he will fight to protect human life at every stage."
Putnam got the endorsement over his Republican rival U.S. Rep. Ron DeSantis after both made presentations in May at the group's annual gala.
"It's become clear to us that Adam Putnam is the clear choice for Florida's future," Stemberger said. "The next Governor of Florida needs to be a proven leader who knows Florida. No one knows Florida backwards and forwards, policy, people, demographics more than Adam Putnam."
From the two organizations, Stemberger pledged to aid Putnam with broad support, with help from "thousands, hundreds of thousands of our volunteers statewide, from Pensacola to Miami, to educate and mobilize millions of Christian voters."
Stembeger added: "He shares our faith and he shares our values, but, just as important, he would respect the right of those that don't share our faith, and don't share our values."
A gay rights question followed, asking Putnam to clarify if his values and positions align with those of Florida Family Action.
"We have to build a state with strong families. It begins with defending life, defending marriage, and supporting the very pillars of our community and our society that allow our community to flourish," Putnam replied. "That means discrimination ought not to be tolerated, and that includes discrimination toward the pulpit, and towards religious freedom, and religious liberty. And we strive to make sure that no one including our churches are discriminated against."
Next, Putnam asked if he would support the anti-discrimination against gays bills that have been introduced in the Florida Legislature in recent years, and he replied, "I think it's important to see what that looks like when it hits the desk. But we, I, am focused on making sure that we protect the balance that doesn't include discrimination including discrimination against religious liberty."