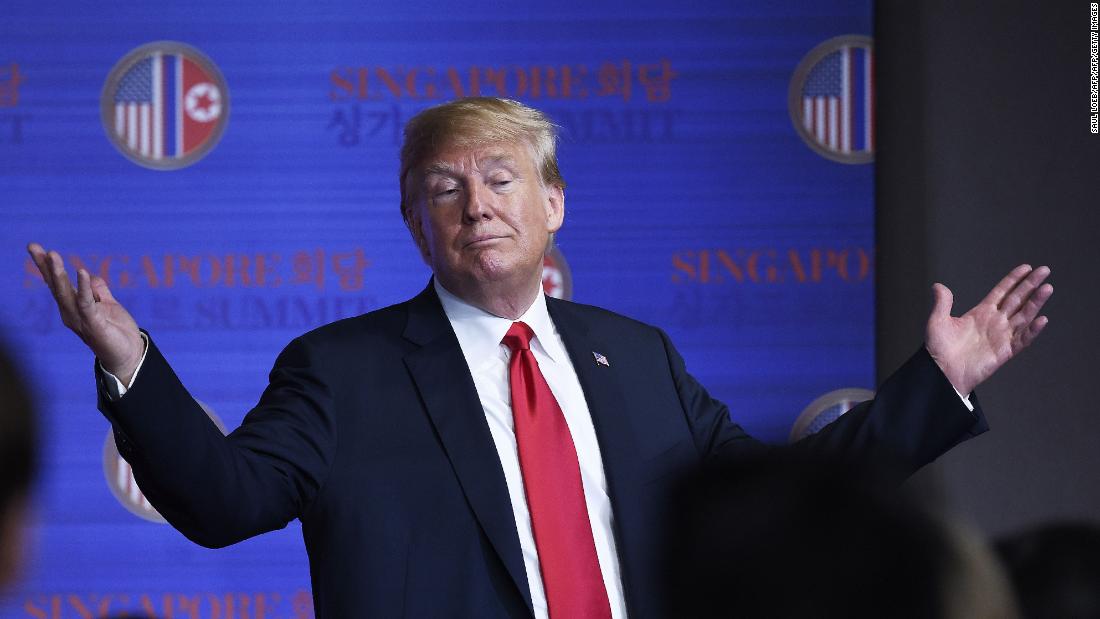 Let's take a deep breath and briefly examine what we have learned over the last several days.
Lesson No. 1: Separating children from their parents and locking them in cages is bad.
Lesson No. 2: When in doubt, refer to Lesson No. 1.
Sometimes, it really is that simple.
Someone finally got that message through to President Donald Trump, and he announced an executive order that reunites previously separated children and parents. A modicum of compassion and sanity was restored to this nation's border policy, and I guess we take victories where we can find them.
Hysteria, for the moment, was trampled by millions of Americans who said in loud, unmistakable voices that this isn't the kind of country we want.
It's possible to have security without being terrified of the border boogeyman.
That's a conversation for another day, but it's an important one — especially here in Florida.
For now, though, just look at how we got to the point where the leader of the free world had to have it pounded through his thick skull that there are lines that can't be crossed, especially when crying children are standing on the other side.
The arrogance of hard-liners in the Trump administration got us here, along with the president's unswerving belief that anything which makes his 40 percent base happy is good public policy.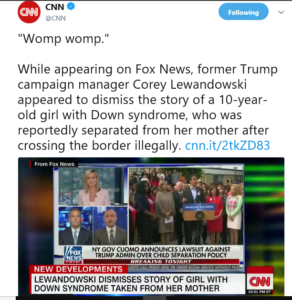 Consider how Trump's former campaign manager, Corey Lewandowski, showed the Fox News audience he had the heart of pit viper when he mocked a 10-year-old girl with Down syndrome who had been separated from her parents at the border.
This is a guy who had Trump's ear, and he evidently thinks situations like this are funny. Offered a chance Wednesday to apologize, he declined. Repeat: Lewandowski used to manage Trump's campaign, and if he had his way that little girl would be nothing more than collateral damage on the way to building a border wall.
And I'll bet Lewandowski still has Trump's ear.
Speaking of collateral damage, few people have had a worse week career-wise than Department of Homeland Security Secretary Kristjen Nielsen of Clearwater.
She was given the fool's errand to try and back up her boss's lie that Democrats were blocking any law that could have reunited those kids with their parents, and she dutifully did as she was told.
Turns out, Trump could fix it with the stroke a pen, like Democrats always said.
But Nielsen's public face on this issue led to an ugly scene with protesters at, oh yeah, a Mexican restaurant where she was having dinner Tuesday night. It rammed home another important lesson: Trying to defend the indefensible is never a good idea.
And just when we think Attorney General Jeff Sessions couldn't possibly look worse, he did by quoting out of context Romans Ch. 13 from the Bible. Sessions used that to defend the government's action, basically saying that God would want people to go along with what the administration is doing.
Religious leaders around the country responded with stinging rebukes, and now Sessions could face sanctions from the United Methodist Church, where he is a member.
About 700 UMC clergy and laity across the land, including ten from Florida, signed "a formal complaint against fellow United Methodist layperson Jefferson Beauregard Sessions" for violating the denomination's Book of Discipline.
They accuse Sessions, among other things, of "chargeable offenses" that include child abuse, racial discrimination, immorality, and dissemination of doctrines contrary to the standards of doctrine of the United Methodist Church (see Romans, Ch. 13) — all growing out of his enforcement of the unholy zero-tolerance directive.
I've never been prouder to be a member of the United Methodist Church.
This won't be the last time Trump is moved to rapid excess while he occupies the Oval Office. Just because opponents forced him to change this time doesn't mean he will quit trying. He has enablers like Lewandowski, and if they suddenly go away, there will be new ones to take their place.
But if you like the president and you think on balance that he is doing what you sent him to Washington to accomplish, hopefully, you just learned something important.
There are limits.
Trump and those who support him just crossed one.
Yes, they were stopped — this time.
One we know for sure, though. They will be back.