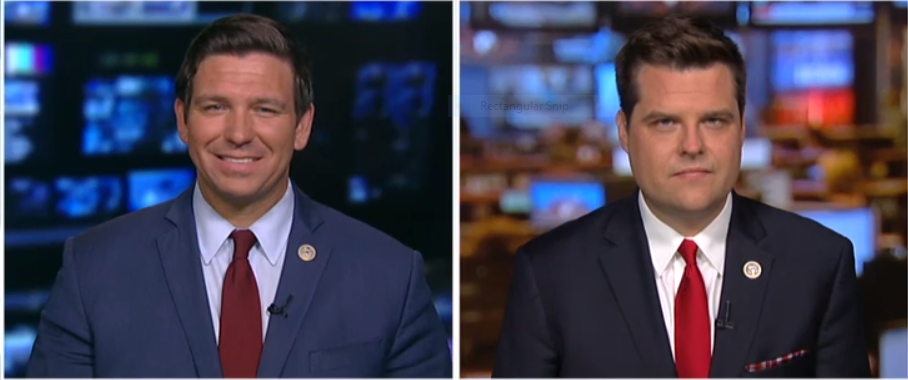 U.S. Rep. Ron DeSantis, a Republican candidate for Governor, will have company on the campaign trail Saturday in the form of House colleague Matt Gaetz.
The two conservatives, fixtures on Fox News, plan a three-stop swing through the northeastern corner of the state.
The first: the Sawgrass Marriott in Ponte Vedra, where the start time is 9 a.m.
This will be DeSantis' second visit to the Jacksonville area in a week; he met with Republicans in Orange Park last Friday.
From there, the duo hits Lake City's Quail Heights Country Club at 12:30, followed by a 3 p.m. engagement at the Holiday Inn on Southwest 38th Street in Ocala.
Spokesman David Vasquez asserted that "DeSantis has been engaging Floridians all over the Sunshine State. He was born in Jacksonville, raised in Dunedin and stationed in Mayport, but now he has the chance to meet Floridians from every part of the state who are excited about an Iraq veteran and a proven conservative who's endorsed by President Trump."
DeSantis' tour will be buoyed by President Donald Trump offering a second tweet endorsing him for Governor.
https://twitter.com/realDonaldTrump/status/1010129956222001153
This has to be considered a timely (re)endorsement, and a necessary one, given that recent Fox News and Florida Chamber polls show DeSantis down 15 points.
DeSantis' chief rival for the Republican nomination, Agriculture Commissioner Adam Putnam, has routinely jabbed DeSantis (without naming him) for not being on the trail or knowing the concerns of Florida voters.
"What I know is I'm in every corner of the state. I know Florida best," he said in Jacksonville Saturday. "I've put in my time. I've listened to Floridians and their issues and their challenges, and we have put out specific plans on how to put Florida first and build on the success of Gov. [Rick] Scott."
Putnam contrasted his path to that of DeSantis, who pursued "three different offices in three years, that's a lot."