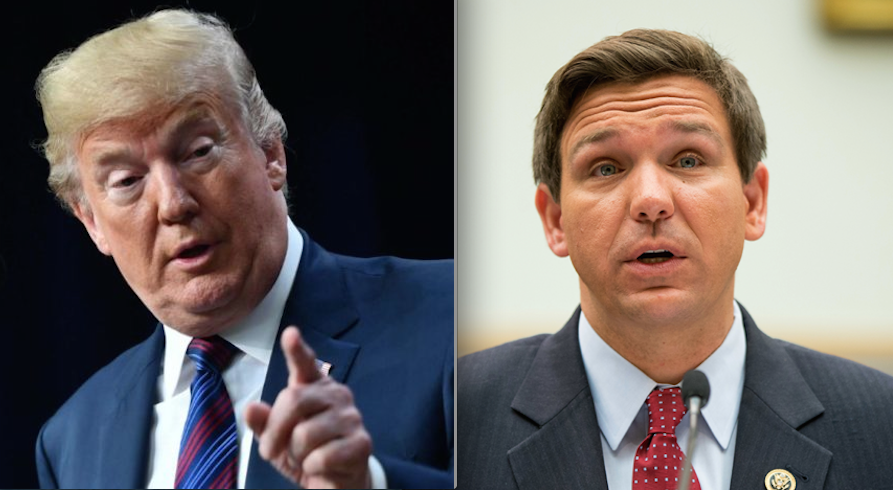 No more speculation about whether President Donald Trump's kind words Ron DeSantis were just praise for the moment: Trump Friday morning tweeted out a full-throated endorsement of the Republican congressman's bid in Florida's gubernatorial election.
"Congressman Ron DeSantis, a top student at Yale and Harvard Law School, is running for Governor of the Great State of Florida. Ron is strong on Borders, tough on Crime & big on Cutting Taxes – Loves our Military & our Vets. He will be a Great Governor & has my full Endorsement!" the president tweeted.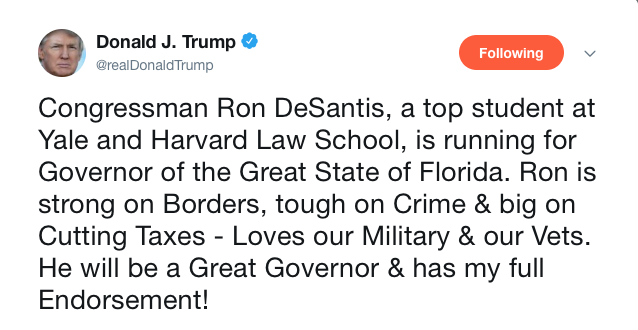 DeSantis, who's been campaigning largely on FOX News, has been trailing Florida Agriculture Commissioner Adam Putnam in most polls, including a FOX News poll Thursday that gave Putnam a 15-point lead. Heading toward the August 28 primary, the Trump factor is expected to be significant, as polls have shown overwhelming support from the party. Weekly tracking polls from Gallum has put Republican approval of Trump at 90 percent for the second week of June.
Yet while Putnam, too, has sought to offer support for Trump, DeSantis always portrayed a close and supportive two-way relationship with Trump, and has been one of the most reliable and hardest-hitting members of Congress pushing back on the Russia probes and arguing that the Democrats, not Trump, have done wrong.
Earlier this week DeSantis posted on Facebook that he was "proud to have President Donald Trump's endorsement." But until Friday that was a little unclear, as Trump hadn't actually spoken or written the word endorsement.
Until now.
"We're proud to have the full support of President Trump." DeSantis campaign spokesman David Vasquez stated Friday morning. "As a top conservative leader in Florida, taxpayer superhero and an Iraq veteran, Ron DeSantis will make a Great Governor of Florida."
Putnam's campaign responded with this:
"Floridians know that Adam Putnam will always put Florida First. As the FOX News poll indicates, grassroots momentum behind Adam Putnam's Florida First vision continues to grow. Adam looks forward to working with President Trump as Florida's next governor to keep our economy thriving, taxes low and our borders secure."