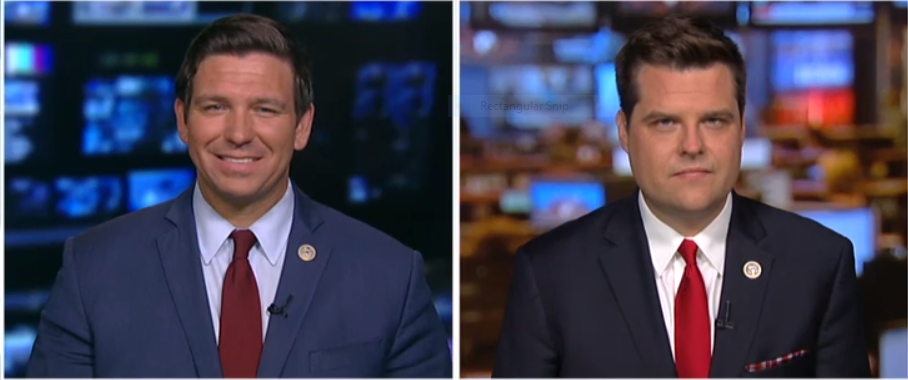 Fox News host Sean Hannity, who was an early backer of DeSantis' campaign to succeed term-limited Gov. Rick Scott, will be appearing alongside Republican gubernatorial candidate Ron DeSantis on Monday at campaign events in Fort Myers, Tampa Bay and Pensacola.
In the morning from 10:00 a.m. to 11:30 a.m., Congressman DeSantis, a regular favorite guest for Fox News, will be with Hannity in Fort Myers at the Sanibel Harbour Marriot. In the afternoon from 2 p.m. to 3:30 p.m., the two will be at the Marriot Waterside Tampa.
Then the two will link up with Republican U.S. Rep. Matt Gaetz Monday evening for a rally in Pensacola. That event will kick off at 5:30 p.m. (CT) Monday at the New World Landing, 600 S Palafox St.
The two Congressmen, dubbed "absolute warriors" by President Donald Trump, have held several joint events this month. The two Congressmen tackled a doubleheader June 6 with rallies in Pensacola and Valparaiso, and then handled three in one day last weekend with stops in Ponte Vedra, Lake City and Ocala. Now they're back again, but this time they'll also be in the company of Hannity.
DeSantis faces Agriculture Commissioner Adam Putnam in the Republican primary, and at this stage of the race, Putnam is the clear front-runner.
A survey released by the Florida Chamber of Commerce a couple of weeks ago showed Putnam with a 32-15 lead among primary voters, and for those who weren't convinced by that poll due to the Florida Chamber's support of Putnam, an NBC News poll released earlier this week showed him with a similar lead.
Still, there's plenty of undecideds on the board, and if DeSantis' Ponte Vedra rally is any indication, he'll continue ramping up his rhetoric against Putnam as his campaign gets into full swing.
Though DeSantis political future — the next couple years of it, at least — is staked on the outcome of the Aug. 28 primary, Gaetz is relatively safe.
He faces two challengers in the Republican primary for Florida's 1st Congressional District and neither can hold a candle to him when it comes to fundraising or the amount of screen time he's been able to grab on 24-hour news networks over the course of his first term.
One of the Democrats challenging him, Phillip Ehr, has broken the six-figure mark in fundraising, but CD 1 is among the most blue-wave-proof districts in the land — it voted 68-28 in favor of Trump two years ago.