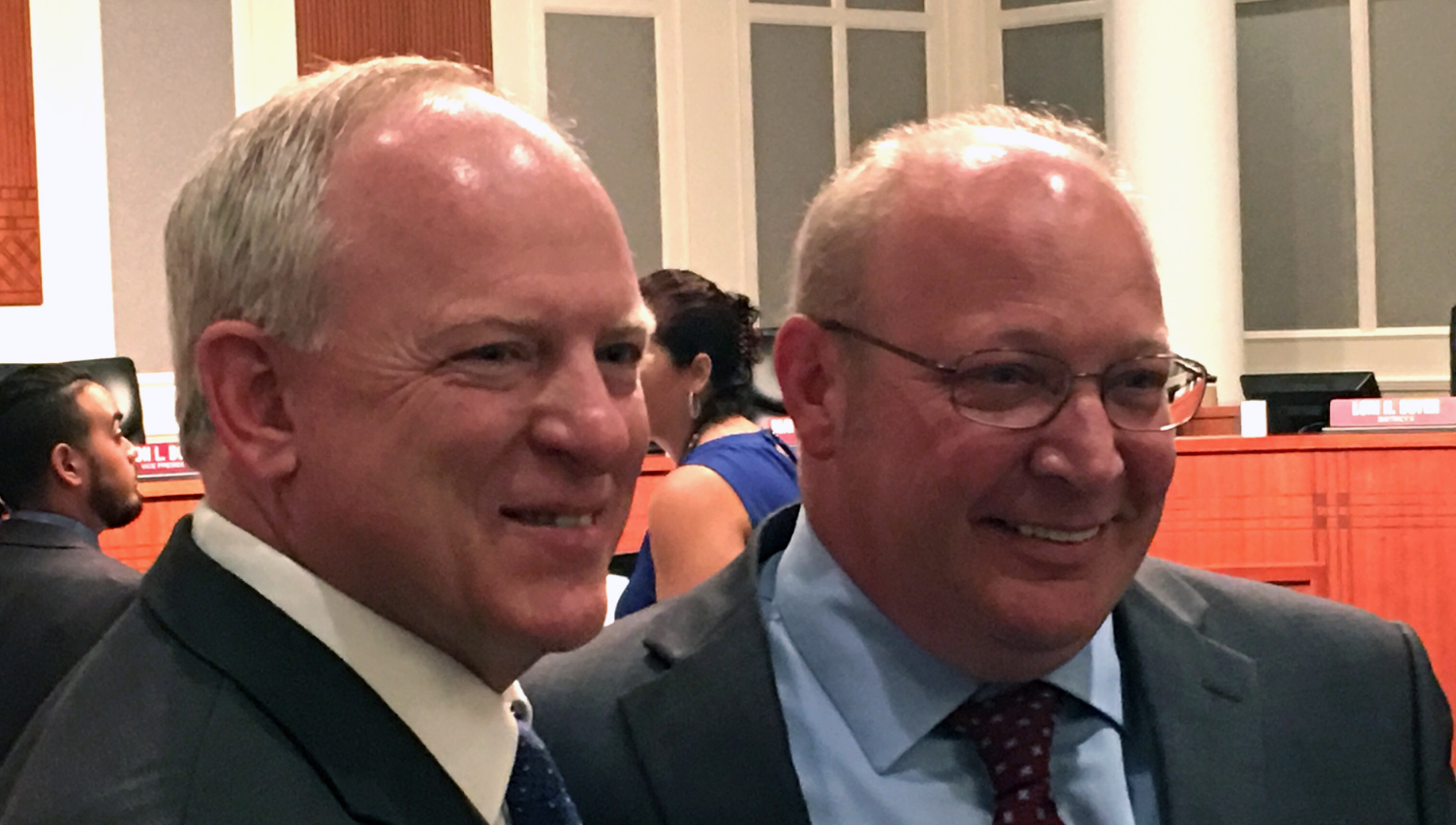 Mayor Lenny Curry's man — Councilman Aaron Bowman — will run the City Council for the next year, presumably with the same no-nonsense efficiency he demonstrated running Mayport.
Curry is on board with Bowman's plans.
Good stuff From @AaronAbowman. Goal and plan focused. https://t.co/SQzZOtQifT

— Lenny Curry (@lennycurry) June 29, 2018
As well, one of the best-received lines in Bowman's brief speech (the ceremony, mercifully, was an economical hour) was his remark about something needing to be done about the Jacksonville Landing — a remark that got an affirmation from Curry in the crowd.
That's the good news for the Mayor, who has spent much of the last year irked by people resisting the administration's reform agenda.
We have 3 years of winning for Duval w/ big Council support & collaboration. Keep the momentum. Those that obstruct fail.They r political opportunists w/ no ideas/plan. Local history will forget them. Remain relentless & join me here #JaxOnTheRise. https://t.co/2pW3eiltp0

— Lenny Curry (@lennycurry) June 26, 2018
Language about "political opportunists" hurtling toward being forgotten in "local history" — that's light years removed from the public rhetoric of Curry's predecessors. And a measure of the pitched battles between Curry and former President Anna Brosche and now-former Finance Chair Garrett Dennis.
Brosche won't lead even a committee this year. And Dennis is on just one committee.
In his remarks from the stage, Bowman lauded Brosche for enduring "attacks from the media and the public," a curious construction given that the media didn't attack Brosche nearly as much as the executive branch did. (The public was a different matter, with Brosche's moves toward potentially removing Confederate monuments from some of the most prominent public places occasioning ire that never actually went away).
Brosche, meanwhile, had her own takes. Her remarks included shoutouts to Reggie Brown and Katrina Brown, two former members of her Finance Committee who are currently suspended from the City Council. Federal prosecutors assert they were involved in a scheme to defraud involving a Small Business Administration loan, a $2.62 million sum loaned to Katrina Brown and her family to start a BBQ sauce business that never got off the ground.
Brosche sounded like she was choking on her words when she thanked Curry and the administration for … well, who knows? Submarining her agenda on issues ranging from children's programs to the JEA?
Chief of Staff Brian Hughes offered this response via Twitter.
https://twitter.com/GoMeteoric/status/1012484993715712002
A changing of the guard? You betcha.
But it's pretty clear that Brosche, Dennis, or, perhaps, both are looking at a run for Curry's seat in 2019.
Thank you to an amazing leader @AnnaBrosche and friend. I'm so proud to have served as your finance chair. Fierce and tenacious! Not afraid to take on the "REAL" status quo! @NateMonroeTU #MarySingletonAward #1Committee18/19 #MoreTimeToEnsure1City1Jax1Term

— Member of the Lot J 7 (@GarrettDennis_1) June 28, 2018