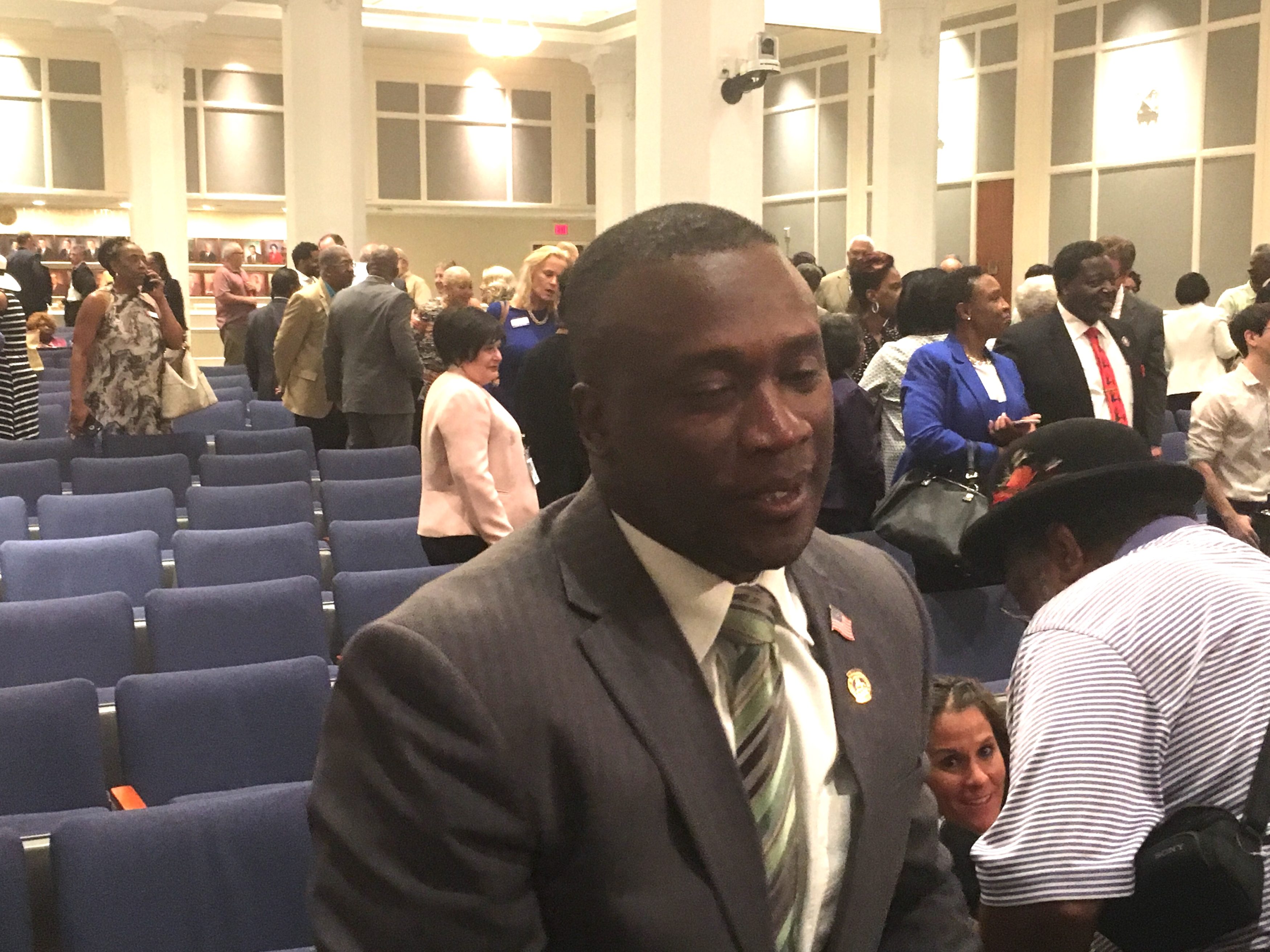 On Tuesday, Gov. Rick Scott chose a Democrat (Ju'Coby Pittman) and Republican (Terrance Freeman) to replace indicted and suspended Jacksonville City Council members, Katrina and Reggie Brown.
On Thursday afternoon, in the Jacksonville City Council Chamber, they were sworn in to fill the Browns' terms, pending resolution of the fraud charges facing them.
Yet, more drama is likely to come regarding Freeman and the District 10 seat: While Freeman's residency question is seemingly resolved to the satisfaction of city officials, others hold more doubt, including local attorney and Democratic activist Leslie Jean-Bart, who told Florida Politics that a legal challenge is pending.
Freeman's residence, at 7101 Gunston Hall Court, consists of two rooms, per Jenna Bourne at Action News Jax. The owner of that house is Michael Graham.
The Athletic Director at Eagles View Academy, where Freeman used to coach baseball, is named Michael Graham also.
Freeman, at this writing, did not immediately confirm whether they were the same person.
Questions will be asked as to whether or not renting two rooms in a friend's house equals residency, at least in the spirit of the law.
If two rooms constitute a residence, Freeman and his allies are good.
General Counsel Jason Gabriel noted earlier this week that the threshold for eligibility to serve is when Freeman is sworn in. The governor's appointment on July 10 (leaked on July 9 to local media) is not the time marker, per Gabriel's interpretation, a read which may confound some reading this.
Municipal code explains it as such, per Section 5.04: "Every member of the council shall be continuously throughout his or her term of office, a resident and qualified elector of Duval County, and of his or her district or residence area."
In other words, Freeman was living at the residence when sworn in, conforming with the statute.
Thursday morning, Gabriel stood by his read of the law: "The Office of General Counsel has rendered its position on this matter based on a straightforward reading of the law, and I am confident in it."
"If anyone seeks to properly challenge the position, we will review the matter at such time and respond accordingly."
Council President Aaron Bowman was emphatic in his belief that the Freeman appointment was legit and that the pending lawsuit was "bothersome."
"That district's been without a council member for almost a month and a half. We've finally got somebody who is ready to work and excited about working, and they file a lawsuit to try to stop it," Bowman said.
"I'm very disappointed that they did that. It's unfounded. It's not going to go anywhere. It's a distraction. It's a political game, and really a waste of everybody's time," Bowman added.
Regarding the contention that the appointee should have lived in the district before the appointment process began, Bowman said that "to me, the law is pretty clear. It's been vetted [legally]. The governor knew exactly what he was doing. He chose the right person for both positions."
"If they don't like the governor's position," Bowman quipped, "maybe they should run for governor."
Councilman Garrett Dennis, a Democrat who represents District 9, warned of potential complications ahead.
"After six-plus weeks of a process with NO transparency, the Governor has exercised his authority to appoint individuals to the City Council to represent parts of Jacksonville in the most dire need," Dennis said.
"I am glad District 8 and District 10 now have dedicated representation, although I can't help but question the logic of choosing an individual who did not live in the district, has never campaigned in the district, and will take all 10 months he sits in the seat to learn the people, learn the streets, learn the parks, and learn the needs of the area," Dennis added.
"Such a move has Mayor [Lenny] Curry's back-room-deal fingerprints all over it. A hand-picked individual from outside the district will come in to address some of the most challenging issues, issues that are difficult to find in Mandarin," Dennis wrapped. "In the coming days and weeks, it will show why this appointment was problematic from the start of his application and will be problematic for the citizens of District 10. I welcome my new colleagues to City Council because we have a lot of work to do."
Despite Dennis' objections, many of his new colleagues were on hand, including representatives of Curry's office, suggesting that his position was not universally shared.
Meanwhile, more intrigue: Freeman's current residence is in At-Large District 1, currently held by Anna Brosche.
Brosche, a Republican, has clashed with current Council President Aaron Bowman and Mayor Lenny Curry.
Some say it is possible that Freeman could use his new home — all two rooms of it — as a launchpad to challenge Brosche, should she run for re-election rather than running against Curry in 2019.
Freeman would have a tough road to victory in a district that's 19 percent Republican. But citywide? He'd fit in with the principles and program embodied by Curry and his allies. And he could be carried by a mayor who could win re-election by a landslide, in addition to allies throughout the business establishment, both in Jacksonville and Tallahassee.