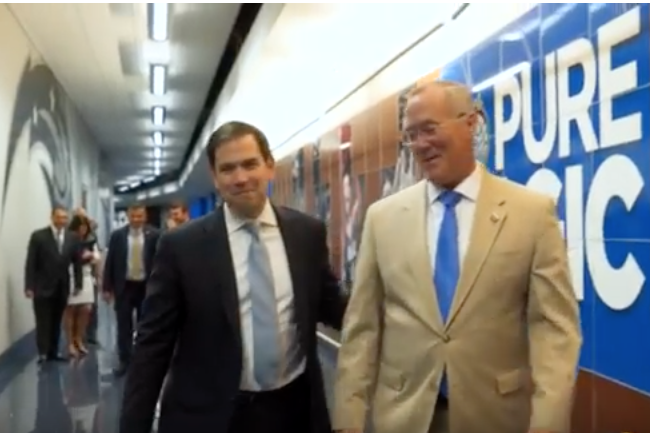 State Rep. Mike Miller is taking to the airwaves in the hotly-contested Republican primary race for Florida's 7th Congressional District with a television commercial featuring Gov. Rick Scott and U.S. Sen. Marco Rubio praising him.
The 30-second TV spot, "They Both Like Mike," is essentially a mashup of some video highlights from two internet ads that Miller's campaign released this spring. It features Scott talking about Miller at an event the governor held in Orlando earlier this year, and then Rubio talking about Miller at a Miller campaign fundraiser.
Rubio has endorsed Miller. Scott has not.
Miller, of Winter Park, faces two other Republicans, Sanford businessman Scott Sturgill and Orlando lawyer Vennia Francois in the Aug. 28 primary for CD 7, which covers Seminole County and north and central Orange County.
Neither of them nor the Democratic frontrunner, incumbent U.S. Rep. Stephanie Murphy of Winter Park, have launched any TV commercials yet. She has a primary opponent in Chardo Richardson.
The commercial begins with a narrator declaring, "Marco Rubio and Gov. Rick Scott are saying the same thing about conservative Mike Miller: I Like Mike."
It then cuts to Scott saying, "I want to thank Mike Miller for all that he's done. He's making sure our taxes are low."
It then moves to Rubio declaring, "That individual liberty is something we value and cherish."
Scott continues, "That we have a great education system, and that people are safe."
And Rubio finishes, "Mike will make a difference. And I look forward to working with him in making that difference."
Text also notes him as "100 percent pro-life."
"It is an exciting time for our campaign," Miller's campaign manager Alex Bolton stated in a news release. "Momentum is building with voters and this ad further illustrates the fact that Mike is the only conservative in this race. Voters should not be tricked by false claims about Mike," continued Bolton. "Sen. Rubio and Gov. Scott know Mike will protect the Trump tax cuts and is 100 percent pro-life."