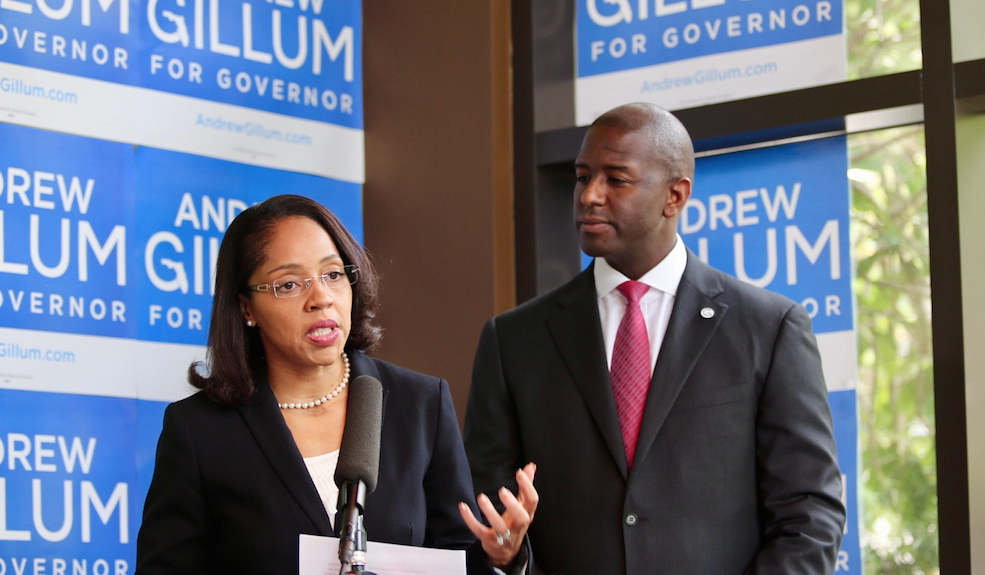 Tallahassee Mayor Andrew Gillum has received the endorsement of Orlando's State Attorney Aramis Ayala, someone who polarized much of Florida last year with her anti-death penalty stance but also won strong statewide recognition and support among many progressive Democrats.
"I'm proud to stand with Mayor Andrew Gillum in his campaign to take this state back for working people," Ayala stated in a news release issued by Gillum's campaign. "He's shown true courage in this race — from speaking truth to power, to standing up for our most important values of inclusion and decency. His track record as a progressive leader in Tallahassee, combined with his bold vision of a true north star for this state, will serve him well as our next Governor. I'm looking forward to campaigning with him this summer and fall."
She also joined him for an announcement in downtown Orlando.
Ayala, the state atorney for Florida's 9th Judicial Circuit serving Orange and Osceola counties, also has been credited for courage, by her supporters – and for wrecklessness, by her critics. Last year she became the first Florida state attorney to declare a ban on death penalty prosecutions for capital murder cases in her circuit. That led to a high-profile, high-stakes, protracted legal and political fight with Gov. Rick Scott and others. Ultimately she lost and was forced to develop a system to institute death penalty prosecutions. And because the case was decided by the Florida Supreme Court, she likley will be the last state attorney to attempt such a stance under current Florida laws.
The fight made her famous statewide, and also attracted national attention, a poster child for liberal excesses to many Republicans and conservatives, and a champion of judicial reform to many Democrats and liberals. She has followed up with a couple more, less-controversial reforms, including a roll-back of automatic bail requests in many non-violent crime cases.
As the state's first African-American state attorney, Ayala also has fostered a strong statewide base in Florida's black communities, and she may be something of a role model for Gillum, who is seeking to become the state's first African-American governor.
She won a shocking upset victory in the Democratic primary in 2016 over then-State Attorney Jeff Ashton before winning the post in the fall election. Her victory was fueled in large part by a third-party campaign financed by New York billionaire George Soros, who has declared his dedication to helping black candidates get elected to high offices. Soros also has poured $750,000 so far into a political committee to support Gillum this year.
Gillum faces former U.S. Rep. Gwen Graham, former Miami Beach Mayor Philip Levine, businessman Jeff Greene, and businessman Chris King heading into the Aug. 28 Democratic primary. King also advocates a ban on the death penalty.
"I'm deeply honored have State Attorney Ayala's support in this race," Gillum declared. "She is a deeply dedicated public servant and a strong advocate for justice and fairness, and the personification of leadership in her community and across the state. I've been deeply impressed by her criminal justice reforms, including the elimination of cash bail, as a way to make our justice system more equitable. She's not afraid to stand up for what she believes in, and I can't wait to continue campaigning with her throughout the summer and fall."