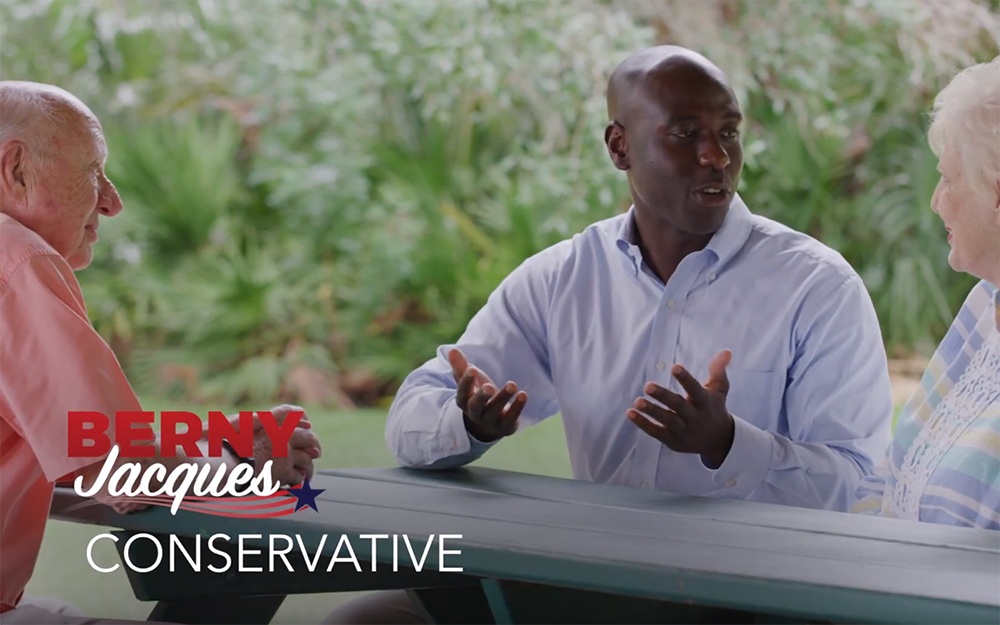 Just days after his Republican primary rival hit the airwaves, Berny Jacques is rolling out his own TV ad in the race to succeed term-limited state Rep. Larry Ahern in House District 66.
"For over a year now, our campaign has been talking directly with the voters of Pinellas, spreading our message of principled conservatism and our shared goals of holding government accountable," Jacques said. "I am excited to release our first TV spot discussing these values; that of constitutional conservatism, support for President Donald Trump, and ensuring our nation's laws are followed."
The 30-second ad, titled "A Conservative We Can Trust," indeed touches on most of the issues du jour for Republican primary voters set to the backdrop of Jacques speaking with Pinellas voters at a picnic table, working behind a desk and even holding a baby.
"As a former prosecutor, I know what it takes to keep us safe from criminals. Now, I want to protect Pinellas from politicians who are doing harm to our country," Jacques says in the ad.
A narrator then takes the reins to tout the Seminole attorney's conservative credentials.
"Constitutional Conservative Berny Jacques. He's A rated by the NRA and supports Term limits. Berny Jacques is a former prosecutor who supports President Trump and will fight illegal immigration and ban sanctuary cities in Florida," the ad says.
"Together let's hold politicians accountable," Jacques says in closing.
Jacques faces Belleair Bluffs businessman Nick DiCeglie in the Republican primary for HD 66, a coastal Pinellas seat that covers part of Clearwater as well as Belleair Bluffs, Indian Rocks Beach, Indian Shores and Seminole.
Democratic candidate Alex Heeren, a schoolteacher, has already locked up his party's nomination without opposition.
Through July 6, Jacques led the money race with more than $200,000 raised, including $123,680 in hard money and another $81,100 for his affiliated political committee, Protect Pinellas. He has $140,692 in the bank. DiCeglie is nearly even with Jacques in hard money fundraising with $122,256 raised, though with $65,555 in his campaign account, his war chest is less than half the size of his rival's.
Heeren is a distant third in fundraising with $26,176 in receipts and $9,367 at the ready.
HD 66 has a Republican lean. Ahern has held the seat since it was redrawn in 2012, when he won re-election by 6 points. His next two re-election bids ended in double-digit wins, and Trump had similar success in 2016, when he carried the district 55-41.
The primary election is Aug. 28. The general election is Nov. 6.
Jacques' ad is below.