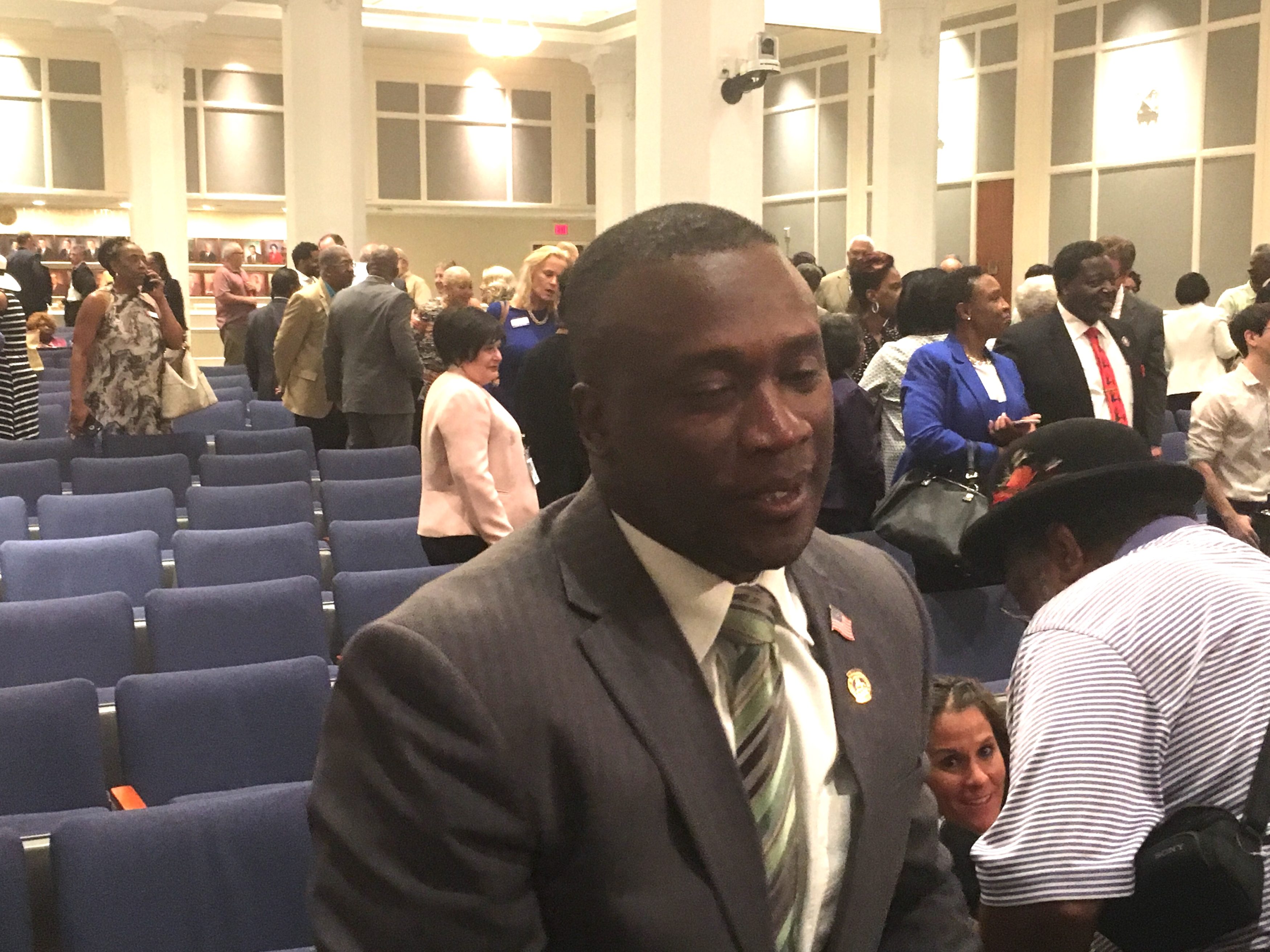 Jacksonville's motion to intervene in a residency challenge filed last month to a City Council appointment by Gov. Rick Scott, as well as a motion to dismiss the case by the plaintiff's attorneys, were heard in a Duval County hearing room Friday afternoon by Judge Waddell Wallace.
The magistrate, appointed by Gov. Jeb Bush in 1999, has been tasked with deciding whether the city has legal standing regarding the case of Terrance Freeman.
The matter will come down to Waddell deciding which of two days Freeman was actually appointed. And deciding that, even if Freeman wasn't technically a resident, if a potential "cure" of a re-appointment wouldn't satisfy requirements.
Waddell promised a ruling "soon."
Plaintiff Brenda Priestly-Jackson (a Democrat) says Republican Freeman, who established residency in District 10 by renting rooms in a private home the day he was appointed (July 10), was circumventing residency requirements.
The personal ties here illustrate this is a relationship business: Freeman was represented by Lindsey Brock, the husband of Council President Aaron Bowman's aide. Bowman, Freeman's former employer, emphatically asserts the legality of the appointment, which he dates as being official on the date of the swearing in on July 12.
That arrangement, coupled with the involvement and shared interests of city and state attorneys, suggested the long odds Priestly-Jackson faces going forth.
Brock urged dismissal, as the case was a "political challenge disguised as a legal challenge."
Brock contended that Freeman lived in the district once sworn in on July 12, two days after the appointment, and that the Governor had power to do what he wanted without "qualifications" when he suspended Democrat Reggie Brown.
Brock also contended that the judiciary can't decide, based on separation of powers, and the state Constitution and charter both saying the legislative body has exclusive jurisdiction to decide — which it did before Priestly-Jackson's filing.
Comparing the case to that of Jay Jabour, bounced from City Council years back for flouting residency requirements, Brock said that was an "election challenge," which does require residency 183 days before qualifying for the ballot. In the case of appointment, no such requirement applies.
Gov.  Scott's attorney, John MacIver, via the State Office of General Counsel, asserted the plaintiff claim lacked cause of action, and that state law was "unambiguous" in giving Scott jurisdiction to appoint as he saw fit.
"Could he appoint a non-resident, a foreign national? I don't think so," Waddell mused.
As well, the state attorney noted Scott could simply appoint Freeman again were he bounced, as Freeman has now established residency, and that the vacancy is still temporary as Councilman Reggie Brown's lawsuit is still live. [Waddell echoed that later, saying it was a potential "cure."]
The Jacksonville Office of General Counsel also made its case for intervention, with attorney Jason Teal making the city's case that "intervention should be allowed."
The city's case for intervention rests in its theory of judicial prerogative: Jacksonville contends that it has leeway to determine residency, and that Freeman is an active member of the City Council.
Plaintiff lawyer Leslie Jean-Bart made the contra case, rejecting the claim that the filing was "political."
"We're just trying to convey the will of the people," Jean-Bart said, on "residency requirements."
"If the Governor decides to reappoint Freeman," Jean-Bart added, "it would be his decision to do so."
Jean-Bart also expressed "concern" about the Governor flouting rules in a "minority-access district." And rejected the claim that an appointment didn't have to conform with the 183-day rule applicable to elected officials.
Jean-Bart offered no objection to the city's motion to intervene.