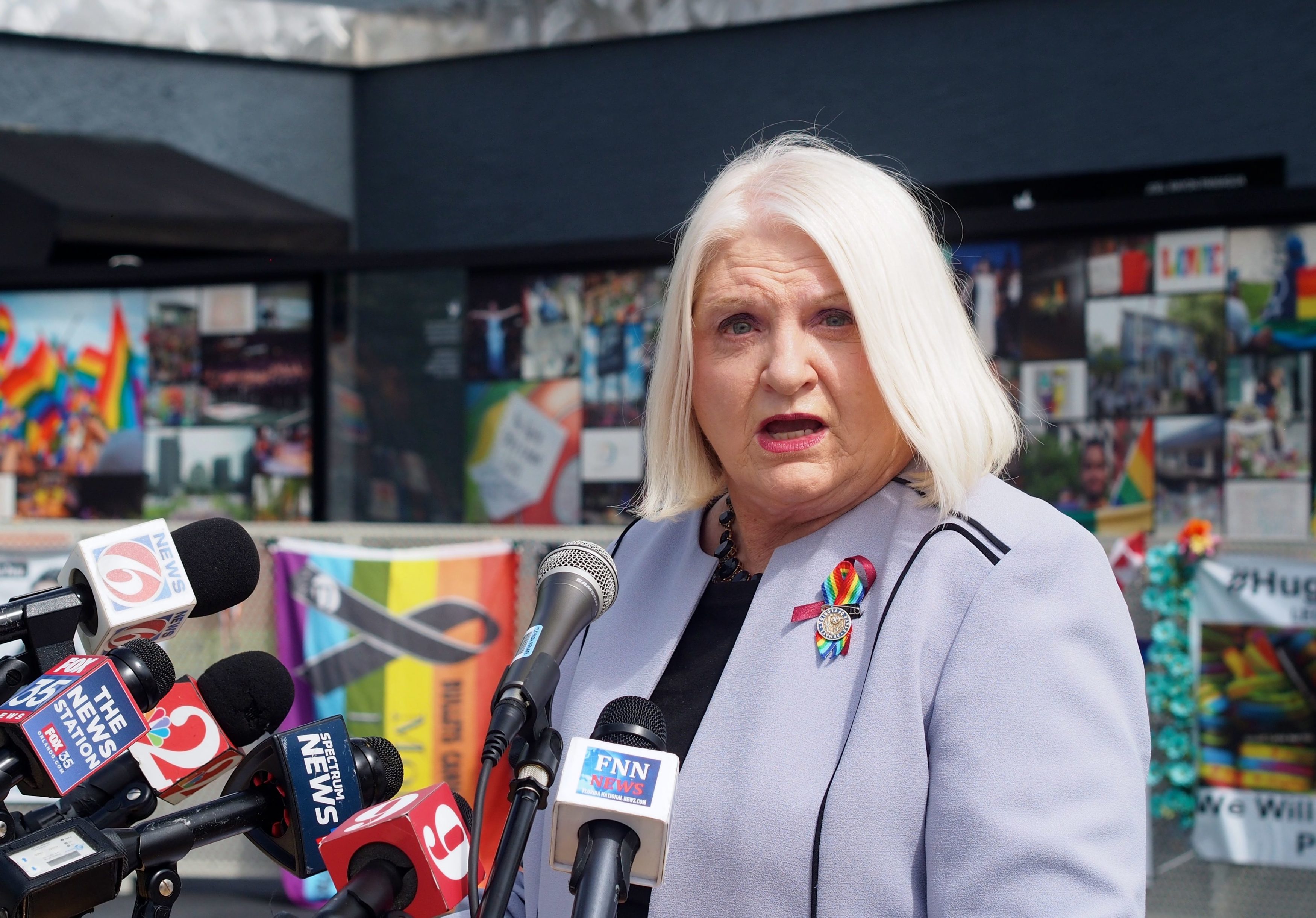 Democratic state Sen. Linda Stewart shredded the Department of Agriculture Inspector General's report on concerns regarding the state's concealed weapons permitting program Tuesday, suggested those concerns were tied to the 2016 Pulse slaughter, and renewed her call for an outside investigation.
"I am disturbed by an alarming trend among our elected officials to evade responsibility for their actions, especially when they threaten the safety and welfare of our fellow Floridians," Stewart said at a news conference held outside the former Pulse nightclub, scene of the horrific June 12, 2016, mass shooting that killed 49.
Stewart was drawing renewed attention to the reports that the Department of Agriculture and Consumer Affairs' handling of concealed weapons permits and other public safety permits had fallen into lapses and other controversies under Agriculture Commissioner Adam Putnam, a leading Republican candidate for governor.
The department's inspector general's report concluded last month that the blame rested with one employee, Lisa Wilde, who was terminated. Stewart ridiculed the internal investigation Tuesday. And she rejected Putnam's assertions that system safeguards prevailed, that no practical harm was done, that there was nothing more to the matter, and that the criticisms of his office's handling of the permits and the inspector general report were entirely partisan politics.
Various reports over the past six weeks have indicated that Wilde, who vetted concealed weapons permit applications, had failed for more than a year to use a critical federal background check database. A whistleblower was fired after she tried to raise red flags about misconduct in the department's Bureau of Licensing. Also, the department had reportedly put in a quota of approving at least 75 concealed weapons permits a day.
Stewart added criticisms that the Pulse murderer, Omar Mateen, had received both a concealed-weapons permit and a security guard license despite what should have been multiple red flags about his nature, including two FBI inquiries. His concealed weapons permit was renewed in 2015.
Putnam's campaign responded late Tuesday contending the claims were "baseless" and that Stewart was doing the dirty work of the Democratic gubernatorial candidates in circulating them.
But she offered it Tuesday as a personal concern, dating to her ongoing efforts to bring more attention to gun safety issues since the massacre at Pulse, in her district.
"I am standing here today because ultimately the system failed. The 49 people who were killed, the system failed their families, the system failed the community, and those failures cannot stand up to the truth we have learned since that tragedy," Stewart said. "We know that those accountable for ensuring that only law-abiding citizens carry a concealed weapon failed to do so.
"We know because of whistleblowers who have said out of court that his application was likely approved at a time employees at DACS [Department of Agriculture and Consumer Services] were being assigned daily quotas and were being told by their supervisors that they worked for the NRA," Stewart said of Mateen.
Last week Stewart wrote to Gov. Rick Scott requesting an outside investigation. Scott has told reporters since then that he is open to the prospect, but has not pursued it. Nor has he responded to Stewart.
On Tuesday Stewart declared the Department of Agriculture's IG report was biased and did not follow protocol guidelines, and that the conclusions were "deeply flawed."
"I am asking, once again, for the governor to refer this matter to the state inspector general as he has referred other matters of critical importance more than once in his time of office, and as he has confirmed in various media outlets that he is considering," Stewart said.
She also called for the concealed weapons permitting program to be returned from the Department of Agriculture to the Florida Department of Law Enforcement.
"I heard the criticism of Commissioner Putnam and Attorney General [Pam] Bondi made last week in the shadow of this building," she added. "They said it was partisan. They said I had insulted law enforcement. I am deeply disappointed in their statements because nothing could be farther from the truth."
Stewart said she conducted her own inquiry and was initially "stonewalled" by Putnam's office in seeking the DACS Inspector General's report and supporting materials, and when she reviewed them she concluded that what it said and what Putnam said was wrong; the investigation failed to interview some witnesses under oath, and that the report mischaracterized interviews with witnesses "in multiple instances."
The response from Putnam's Campaign Communications Director Meredith Beatrice:
"Apparently, the five Democrat candidates for governor can't do their own dirty work and have enlisted Senate Democrats to circulate these baseless claims. This is nothing more than partisan politics and state Senator Stewart and others should be ashamed for attacking sworn law enforcement officers. They are chomping at the bit to chip away at our second amendment rights in Florida and are painfully aware that Adam Putnam can beat their weak candidates in the general election."