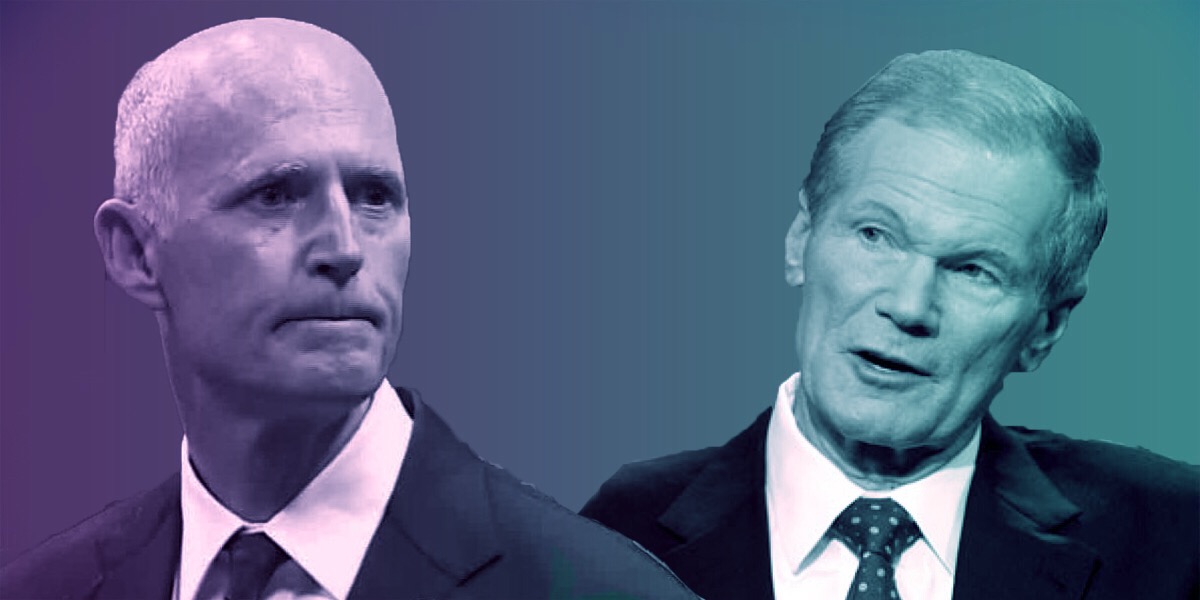 In an email Tuesday, Gov. Rick Scott said U.S. Sen. Bill Nelson "must do his job" and secure funding for repairs to the federally operated Herbert Hoover Dike surrounding Lake Okeechobee.
Scott is looking to replace Nelson in the Senate this fall; the email from his campaign touted his role in "championing" millions in state funding for the repairs, signing legislation to build a reservoir to store water south of Lake O, getting a commitment from the Trump administration to speed up repairs, and securing funding through the U.S. Army Corps of Engineers.
When it came to Nelson, though, the Scott campaign pitched him as a do-nothing senator.
"Let's remember, Bill Nelson made a pledge in 1990 'to save Lake Okeechobee' but the algae on Florida's shores today shows the extent of Nelson's failure to follow through on that commitment," the email said, adding that "Floridians cannot wait another 30 years for Bill Nelson to push this project forward."
Also included was a quote from Scott himself, "I was in Hendry County today and have heard firsthand from Floridians whose livelihoods have been impacted by algal blooms and Bill Nelson's 'all talk, no action' method of addressing this problem. Bill Nelson has failed the families and communities surrounding Lake Okeechobee for decades, but now that the EAA reservoir project we fought for has been approved by the White House, there is no excuse for Nelson and Congress to not immediately secure this funding.
"The fact that Florida is waiting for such an important project to move forward shows that it's time to end the career politician mentality of only working three days a week and allowing Washington's bureaucratic processes to slow down results. Floridians cannot keep waiting for Bill Nelson to do his job and push the EAA project forward, and I look forward to seeing this immediately approved."
The campaign message echoes a news release published earlier this month by Scott in his official capacity as Governor. That memo called on Congress to "act now" without targeting Nelson specifically.
Scott's message comes a few days after Nelson placed the blame for Lake O's green algae problem on Scott's shoulders.
During a roundtable on the algal blooms hosted by Nelson in North Fort Myers, he said Scott "has systematically dismembered the environmental agencies of the state of Florida over the last eight years." Specifically, the third-term Democratic Senator called out the defunding of Florida Forever dollars and a change in law requiring fewer inspections on septic tanks for contributing to pollution in Lake Okeechobee.