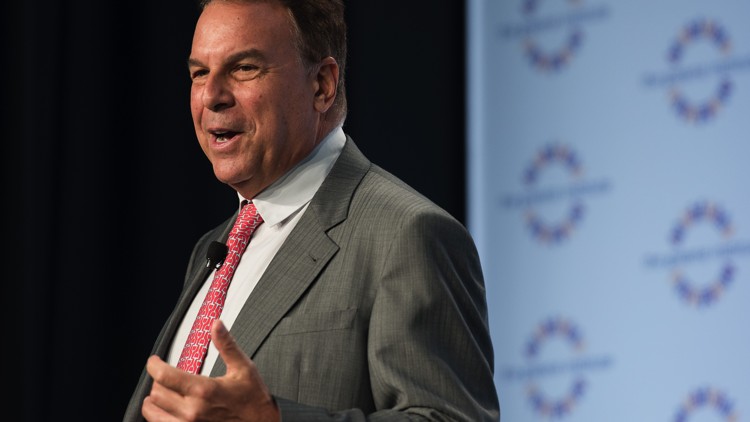 For decades, Republican candidates have been successful in Florida by rarely deviating from a script that labels Democrats as big-spenders, soft on crime, anti-business and anti-gun.
When confronted by these aggressive tactics, Dems generally answered with flustered babble that, roughly translated, was basically "that's not nice."
This campaign has been different though. Instead of trying to stay above the fray or pretending no one will be silly enough to listen to those doddering old Republicans, Democrats have saddled up.
Sure, top candidates trying to win a primary have criticized each other along the trail. But their public media is all about making the case to beat Republicans.
I guess two terms of Rick Scott in the Governor's mansion and total control of the Legislature by Republicans convinced them that it was time to show voters why they would be better.
They have been hitting back hard on Republicans and generally have stayed focused on their main themes: education, health care, standing up to the NRA and overall gun reform, and transportation.
Take the in-your-face mailer from Democratic gubernatorial candidate Jeff Greene, the one that has gotten NRA lobbyist Marion Hammer in such a twist. It's the mailer that shows cutouts of children being used as target practice at a school slaughter.
In case anyone didn't get the message, the cutouts are emblazoned with the NRA logo (color Hammer not pleased) and the words AR Practice.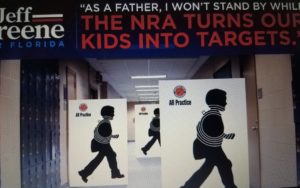 "As a mother, grandmother and a proud NRA member for decades, I find his mailer repulsive," Hammer told the Tampa Bay Times in an email.
"It is clear that Jeff Green is bankrupt of ideas and he has to resort to these dumb ideas to try and get attention for himself and his campaign. When people can't win on fact, they have to resort to cheap stunts like this."
I think Greene wins the argument there, though, because what's really repulsive is having 17 people shot to death at Marjory Stoneman Douglas High School. And what made it worse was how Hammer and NRA hard-liners tried to stop the even tepid revisions to Florida's gun laws in the aftermath of that slaughter.
I don't think a major Democratic candidate would have responded that way four, eight, or 12 years ago. They would have been wary of NRA backlash and decided that, no, let's just ease on down that road.
That's one reason they lose.
You see a different attitude now though.
Gwen Graham has been sharply focused with her points that 20 years of total Republican rule in Tallahassee is enough. When she talks about all the things she believes the common folks in the state have lost because of GOP policies, I think her punch line "we're gonna take it back" is resonating.
Philip Levine has been hammering hard for better pay for teachers. Other Democrats have been joining in that chorus.
It has even filtered down to the local level.
After serving as House Minority Leader, Janet Cruz of Tampa changed her mind about running for the Hillsborough County Commission to challenge Republican Dana Young in SD 18.
Her motivation was Young's absence from the Senate floor when the vote was being taken in March on an assault weapons ban. Young, a staunch gun supporter, said she was attending to other business and later recorded her votes.
Cruz has called her a coward for not being on the floor during the emotionally charged debate.
Polls show their race could be a squeaker.
It's clear Democrats believe the issues are on their side this time and they are charging hard. No matter which candidates emerge from the Aug. 28 primary, in most races he or she will find the battle lines already drawn against a Republican opponent.
That will save them time and money trying to define their opponent.
It's an unusual position for Democrats to be in, and it's too early to say it will be successful. But if they lose this time, at least it will be on the issues and not because they just laid down and took a beating.