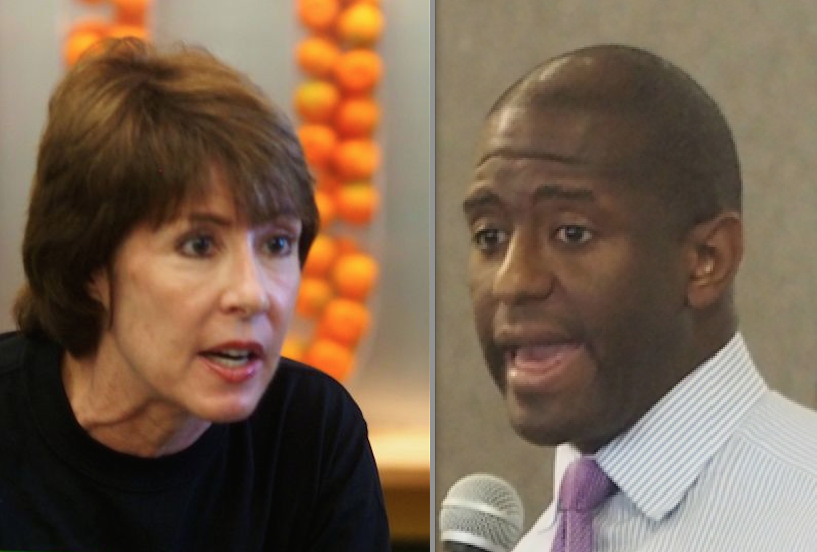 With the Democratic gubernatorial primary fast approaching, some of Tallahassee Mayor Andrew Gillum's most controversial allies are pushing an ad attacking frontrunner Gwen Graham.
Starting Monday: a $500,000 ad buy in Jacksonville, Tampa, and West Palm Beach via the Collective Super PAC.
This is not the first ad buy hitting a negative message on Graham.
The new spot, "Zero Regrets," attacks Graham for touting "progressive credentials despite voting with banks, supporting the disastrous Keystone XL pipeline, and publicly undermining President Obama's Affordable Care Act to get reelected," asserts the Collective group.
The group, after this buy, will have committed over $1.75 million to Gillum.
A pair of Jacksonville Democratic members of the Jacksonville City Council blasted Gillum for the ads.
"Andrew Gillum is running a dirty campaign. He is the only candidate in the race supporting negative Super PAC ads and he is the only candidate attacking his fellow Democrats — more than the Republicans are even attacking our party," Garrett Dennis said.
"Mayor Gillum likes to say we need to give voters something to vote for — not against. If his campaign and Super PAC followed his own advice, maybe they would be doing better in this race," Dennis added.
Dennis' colleague Tommy Hazouri added that "The Republicans are loving to watch as Andrew Gillum embraces secret money and attacks Gwen Graham with Super PAC money. This irresponsible sham weakens our party, and makes it harder for us to win the General Election."
When asked last week about third party ads compromising his message, Gillum was not worried.
"I try to be my own best messenger," Gillum said, "and hope that they can pick up from kind of where I leave off, and frankly create ads and advertisements that use my voice and get my voice out there."
"Obviously we don't get to control what everyone else does. I'm learning more and more about what everybody's doing as I read the news," Gillum added.
We reached out to both Team Gillum and the Collective Super PAC for comment, but thus far none has been offered.