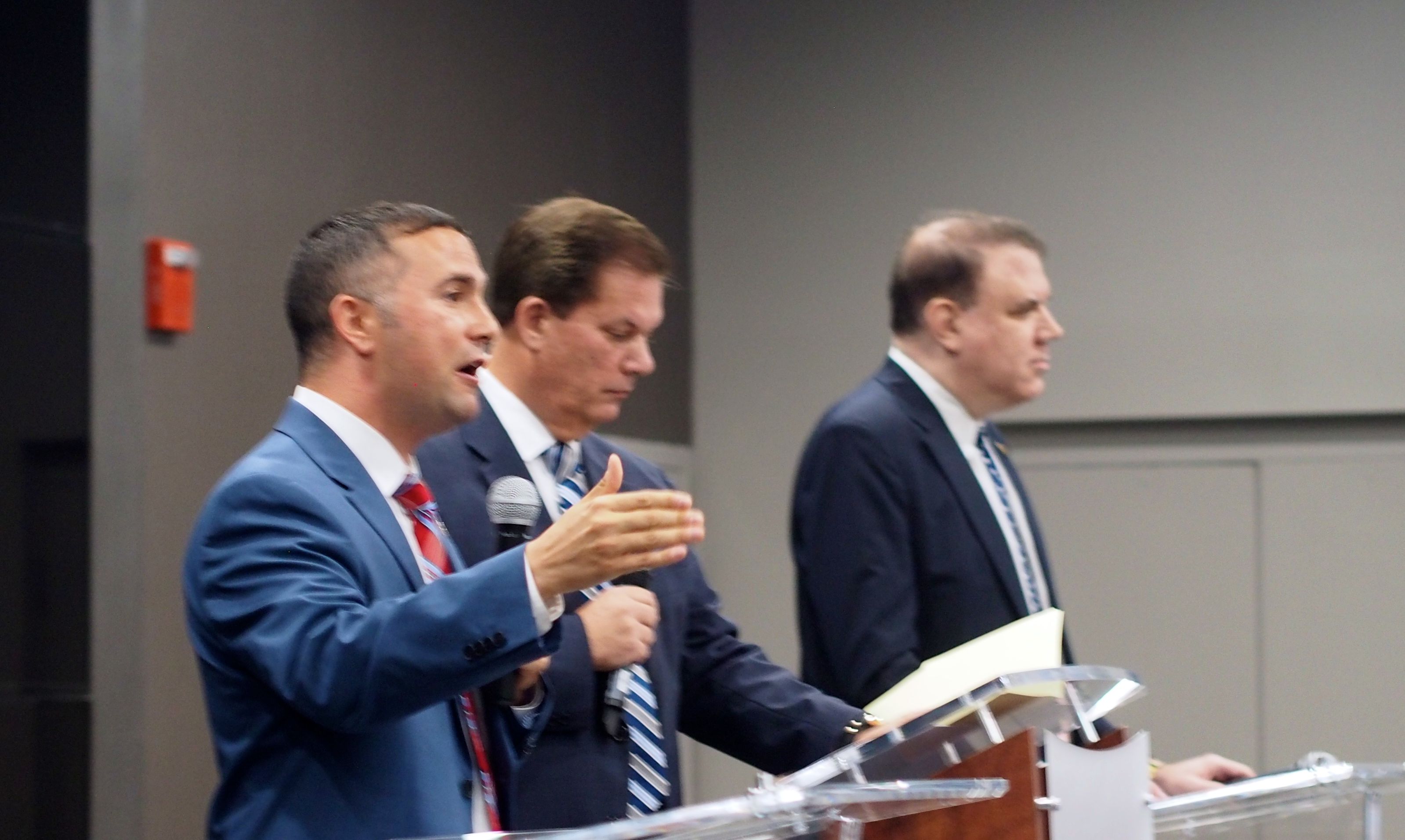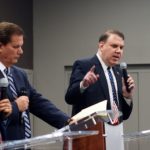 Democratic U.S. Rep. Darren Soto and Democratic former U.S. Rep. Alan Grayson, who wants to take his job back from Soto, may agree in principal on most Democratic positions but on Thursday that didn't stop an almost unrelenting brawl with bruising attacks on each other ranging from how they treat women to multiple accusations of lies.
Past histories of anti-abortion votes. Congressional ethics investigations. NRA ratings. Setting up off-shore hedge fund accounts. Insensitively-timed fundraisers. Monday-morning quarterbacking rather than helping with hurricane relief. Not living in the district. Not bringing home the bacon. Investments in a Russian firm. Campaign money from special interests. Campaign money from radicals whipped up by "saying crazy things on the internet." Claims of poor treatment of and disrespect toward women. Leaving a wife to be arrested for disorderly intoxication.
All of it was alleged or at least implied, and most of it angrily refuted, as the Tiger Bay Club of Central Florida sat through 46-minute debate between the two seeking to win the Aug. 28 Democratic primary to run this fall in Florida's 9th Congressional District by trying to make the other guy look unfit.
The Republican waiting for a survivor to challenge, Wayne Liebnitzky, would have been the gleeful winner Thursday, if he weren't such a significant underdog to either of them in the very-blue district covering South Orange County, all of Osceola County, and east Polk County.
When the final bell rang and the two fighters left the ring, they had offered mostly similar positions on immigration, guns, abortion rights, Social Security, Medicare, tariffs, opposition to President Donald Trump, Puerto Rico, and the Internet, with the differences on many of those issues primarily being defined as who's been more consistent, who got to the positions first, and who has been and is likely to be more effective in pushing them in the next Congress.
The discord began early when they were asked why each of them would best represent the district.
"I actually live in the district, rather than 30 miles away," Soto said at one point. "Second, I represent the emerging demographics of the district and work every day for my constituents, not myself."
"Darren has been a complete failure in getting money. … He doesn't know how to fight for it," Grayson said.
The first of many accusations of lies came when Soto accused Grayson of not overseeing what became problematic construction of Orlando's new Veterans Administration Medical Center four years ago, allowing the problems to languish for over a year and a half. Grayson refuted that. saying he got the contractor banned from getting more federal contracts.
"Now you're just making things up," Grayson charged. "What a silly lie that was."
Even when the questions involved a seemingly a uniting opponent like Trump, the two couldn't keep their gloves off each other.
"The president has blown it ever since he came to office for cheating and colluding with the Russians. Frankly, I would have voted already to have him impeached," Grayson said. "I would hope to see him impeached and convicted when I return to Congress. … My opponent has voted twice with the president against impeachment, and that's the worst form of appeasement that I can imagine."
"We have an investigation going right now, and should [Special Counsel Robert] Mueller find that President Trump committed high crimes, I'll be the first to vote for impeachment. But we have a process to go through," Soto responded. "And I doubt that my opponent is the best person to be trying to take on Russia, since he supported [Russia President Vladimir] Putin's invasion of Crimea, and he has investments over there that makes it a total conflict of interest."
"Okay, Darren, what investments do I have in Russia? Go ahead!" Grayson challenged.
Soto mentioned one.
"Okay, I haven't owned [that one] in 10 years. What else you got? Nothing! Okay, let's move on," Grayson said.
"You supported Putin invading Crimea!" Soto reminded him.
"Okay, and when did you become the great champion of self-determination?" Grayson responded.
They also battled about their dueling TV commercials. Grayson's alleged that Soto was attending fundraisers instead of helping the district during Hurricane Irma. Soto vehemently disputed the claim, saying he was in Central Florida. "You know that… You put up a lie on TV which has no truth whatsoever," Soto declared "This is just more of a campaign of deception, and we don't need that in politics."
Soto's commercial alleged that Grayson set up off-shore hedge funds. Grayson vigoursly disputed that, saying he created an empty fund there to meet legal requirements for the American fund he set up for his family and a couple of friends. He also doubled-down on his allegations about Soto's fundraiser, saying that if it actually took place four days earlier than the federal filings suggested, as Soto insisted, that was a lie to the Federal Election Commission. "Who's really lying here?" Grayson demanded.
The debate tetered on becoming ugly after Soto twice made implied references to Grayson's treatment of women, alluding to, though not explicitly mentioning, his record of discord with his ex-wife Lolita Carson-Grayson.
"If anybody on this stage is a champion of women, of protecting women, it is me, and that is not even close. I respect women in public," Soto declared. He then accused Grayson of calling women "senile, in print, on TV. I'm the only one up here who respects women and gives them the dignity they deserve."
Grayson swung back hard, referring to the incident in April when Soto's wife Amanda Soto was arrested for disorderly intoxication at Walt Disney World. Reports showed he was with her at the start, but conspicously absent when she was hauled away.
"Is that why you left your wife at Disney World when she was intoxicated?" Grayson demanded.
Grayson was in his natural activity, brawling, and through most of the debate appeared to have the advantage and land the hardest blows. It's a nature that made him a favorite and a poster child, nationally, among progressive Democratic activists.
But it's also his weakness, for Grayson's scortched-earth approach to politics burned a lot of bridges during his three terms, from 2008-'10, and '12-'16. Consequently, Soto drew all the Tiger Bay applause outbursts Thursday, and Grayson none; and a lot of progressive groups have been raining endorsements on Soto in this race. Even in the issues where Grayson attacked Soto the hardest, Soto had the seals-of-approval to counter-punch.
Abortion? Soto once voted in the Florida House for a bill pushed by anti-abortion lawmakers: mandatory trans-vaginal ulrasounds for any woman contemplating an abortion, Grayson charged. Soto's response: He's changed, and Planned Parenthood endorsed him, not Grayson.
Guns? Soto in the Florida House backed several measures offered by the National Rifle Association, and the NRA even endorsed him in 2010, Grayson offered. Soto's response: He's changed, and three major national gun-control organizations, Giffords PAC the Pride Fund, and Moms Demand Action all endorsed him, not Grayson.
Social Security? Grayson accused Soto of saying in a media interview that he's open-minded about eliminating Social Security benefits. Soto's response? He disputed that, and noted that the National Committee to Preserve Social Security and Medicare endorsed him, not Grayson.
"Who is there working every day, and gives our district the dignity and respect that it deserves?" Soto challenged.
Soto's strength also is the weakness Grayson went after and upended: he's usually quite cordial. Grayson repeatedly accused him of being ineffective in Congress and repeatedly contrasted that with his own record, including having been named the most effective member of Congress, Democrat or Republican, by several publications during his tenures. In Grayson's statements, Soto may have brought tens of millions of federal dollars home, but Grayson brought hundreds of millions.
"Slate magazine named me the most effective member of Congress. I've demonstrated what you can do with this job. I haven't noticed anybody saying Darren Soto is the most effective member of Congress. People talk about: 'Is this someone you'd like to have a cup of coffee with, or a drink?'" Grayson said. "The voters take it much more seriously. The voters think: 'What are you going to do for me?'"
There almost was an acknowledgement of agreement when Soto talked about measures he had sponsored for Social Security, and then Grayson pointed out that he'd brought those things up first. But, even then, the blows came.
"He legislates by carbon-copy," Grayson said. "He's really taken things that I passed through the House, and introduced them himself."
"Why not embrace good ideas? Soto replied.
"There's nothing like the real thing, baby," Grayson responded.