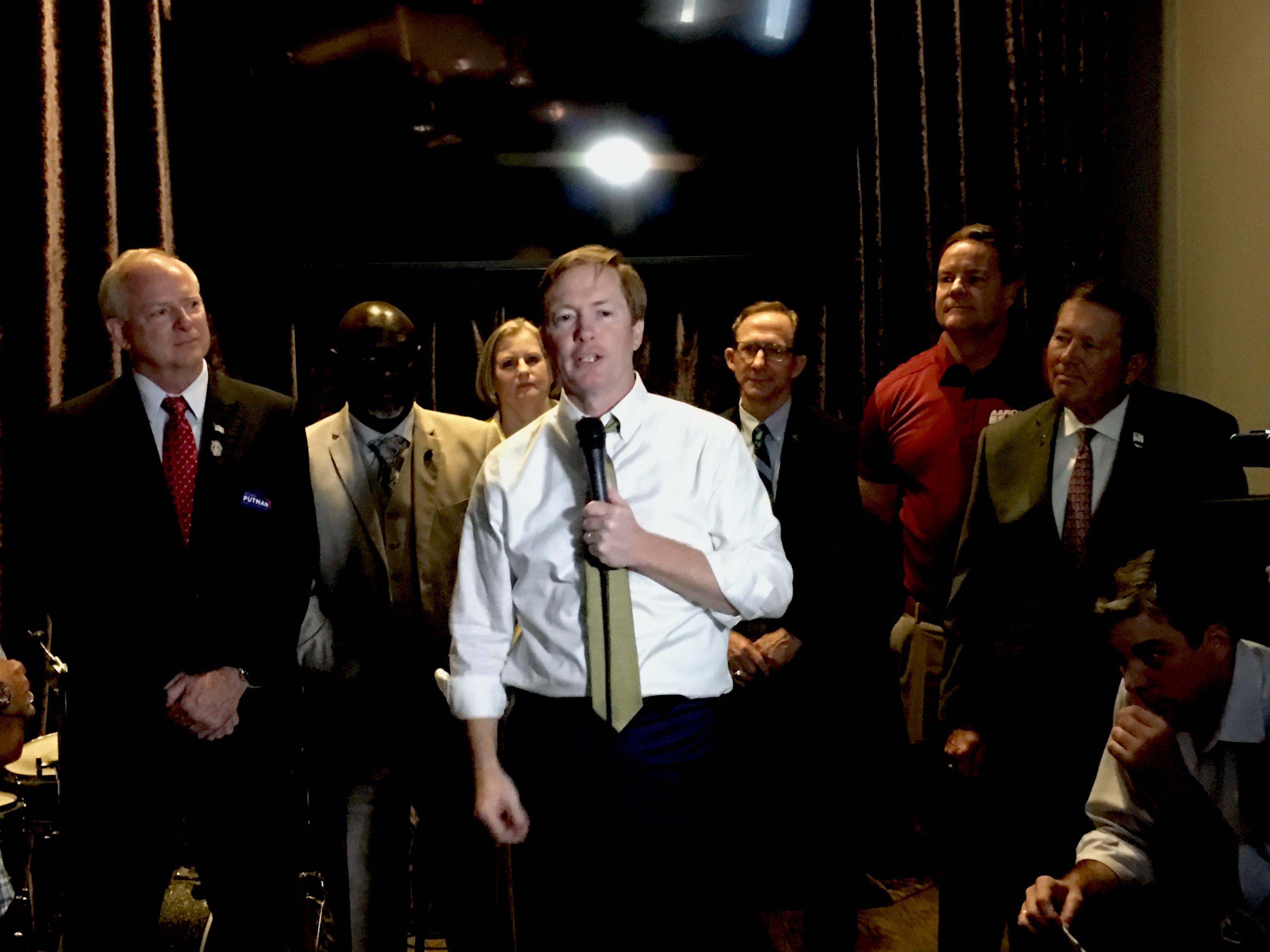 On Wednesday night, Jacksonville will play host to what likely is the last major stand for Agriculture Commissioner Adam Putnam in the race for Governor.
Putnam's debate at Jacksonville University with U.S. Rep. Ron DeSantis is a make-or-break moment if one is still possible in this race.
The Real Clear Politics polling average, which includes polls conducted before President Donald Trump unambiguously endorsed DeSantis at a rally, has DeSantis up 11 points. A late-July Mason-Dixon poll likewise saw a 12 point spread.
The race could stay there. It could, at least theoretically, get closer if Putnam's ground game strategy continues without abatement.
Or the spread could get worse.
What we know: Ballots are coming in already, and the polls reflect a snapshot of a race that is already being decided.
All is not lost for Putnam, however. Even if donors ranging from bestbet to Foley and Lardner are hedging their bets, Jacksonville could — in theory — allow him to change the narrative.
On Monday, he won the Jacksonville Young Republicans straw poll over DeSantis 75-2. While there were caveats (Putnam showed up and stumped for the vote, as part of what have been three straight days in a city that has 1/20th of the state's population), a win is a win.
Even if some people at the event were saying, quietly, that the race was already over, the reality is that DeSantis didn't even have representation at the event.
The donors may be moving. The polls may be upside down. But for Putnam supporters, Jacksonville offers a silver lining: a debate on Florida issues in front of a live crowd, one composed of insider types who invested energy into the idea of Adam Putnam as governor.
Depending on how lively that crowd is, there could be a real home-court advantage for Putnam (despite DeSantis' wife, Casey Black DeSantis, being a local television personality of long standing).
The most useful analogue to what this advantage can offer, if all plays out as it should, was the third and final Jacksonville mayoral debate between Alvin Brown and Lenny Curry in 2015, where the crowd effects were felt early and often.
Both Brown and Curry had active supporters, with dueling chants and the like ahead of the event outside the hall.
Inside the hall, moderator Kent Justice reminded the crowd, as he typically does, to abstain from demonstrations.
By and large, that happened. However, the Curry people — many of the same young Republicans who back Putnam today — were just a bit less reserved than the Brown supporters.
If you are a Putnam supporter, if you really believe in Adam Putnam as the only acceptable Republican nominee, what's going to stop you from making noise for your candidate? From disparaging DeSantis at a key moment?
It's live television. And live television allows for audience participation.
By definition, the Gen Y and millennial types who support a candidate like Putnam have buried whatever passes for their anarchic streak deep down. However, what's to stop them from a well-placed boo, catcall, or Bronx cheer at a pivotal moment?
The crowd made noise on Curry's behalf a couple of times in 2015. Brown, never a natural debater, was rattled.
While DeSantis is no Alvin Brown, the fact remains that in a race where the formerly inevitable Putnam has been divested of advantages as time has gone on, the Jacksonville crowd may be the Congressman's final stumbling block before getting the nomination.
The debate starts at 8. But there will be strong indications of how pro-Putnam the crowd is well before that.