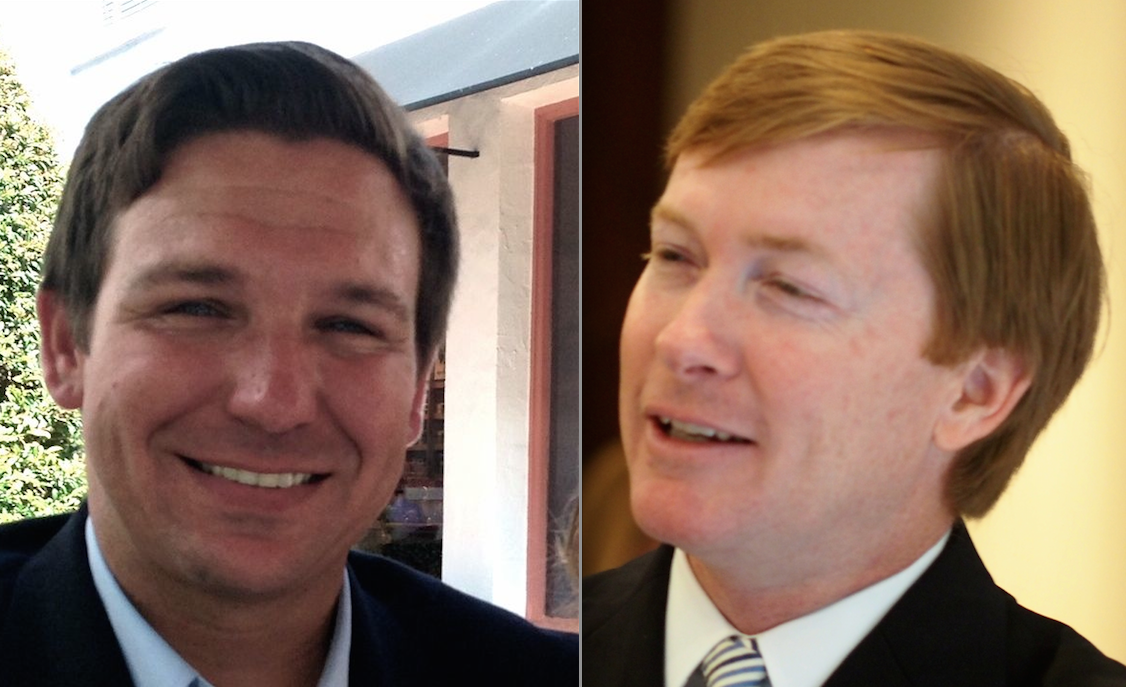 Congressman Ron DeSantis has held an edge in the polls for weeks, but now he's started eating into Agriculture Commissioner Adam Putnam's fundraising lead, too.
DeSantis, whose chances surged after an endorsement from President Donald Trump, brought in more than $1 million between July 28 and Aug. 3. Putnam, meanwhile, brought in $191,901.
DeSantis' cash mostly came in through his committee account this time around, with his campaign receiving $399,031 and Friends of Ron DeSantis adding $635,100.
By far the largest check he cashed was a $300,000 payment from Conservative Principles for Florida, the main fundraising vehicle for incoming House Speaker Jose Oliva. Showing up with $50,000 checks were Save Our Everglades PC, a newish committee chaired by Mary Barley of The Everglades Trust, and Miami-based Duty Free Group.
Included further down was a $20,000 check from The Presidential Coalition, an affiliate of Citizens United that says its mission includes "seizing upon the momentum of President Trump's historic victory to build a 'farm team' of up and coming candidates who share our vision for America as a 'shining city upon a hill.'"
On the campaign side, DeSantis received $183,005 in state matching funds alongside more than 40 checks for the maximum campaign donation of $3,000.
The state campaign matching funds program, open only to candidates for Governor and Cabinet positions, matches contributions of $250 or less from individuals who were state residents at the time of making the contribution. The first distribution of those funds is made 60 days before the primary election.
Also on the report were hundreds of small-dollar donations. Of the 1,357 campaign contributions he received, more than 1,200 were for $100 or less. Excluding the matching funds check, DeSantis' average campaign donor chipped in $159.19.
Spending for the week was a few bucks shy of $3 million, with $2.93 million paying for media buys and the remainder paying for a list of expenses including credit card processing fees, printing, catering, direct mail and fundraising consulting from Picotte & Porter, the Jacksonville-based shop run by Gretchen Picotte and Rick Porter.
In all, DeSantis has raised $16 million for his gubernatorial bid and had $2.24 million in the bank on Aug. 3.
Putnam's comparatively anemic campaign haul included an $81,170 matching funds disbursement, nine max checks and just over 300 contributions overall. His political committee, Florida Grown PC, added another $54,520, with a $15,000 check from The Florida Justice Reform Committee leading the way. Also on the report were $10,000 checks from Winter Park land development company Keewin, Vestcor Companies Chairman and former Ambassador John Rood as well as Heartland Dental Care founder Richard E. Workman.
Both the campaign and committee reports are tiny compared to the numbers Putnam has pulled down throughout most of his campaign. The last time Florida Grown raised less than $54,250 was the week before Election Day 2016, when Putnam was not on the ballot. The last time Putnam's campaign account reeled in less than $56,212 — it's total excluding the matching funds — is never.
Despite the meager week, spending totaled $2.67 million and included $2.13 million in ad buys and another $518,000 in direct mail campaigns.
As of Aug. 3, the second-term Agriculture Commissioner had raised $37 million between the two accounts and had $4.8 million in the bank.
DeSantis and Putnam are a little over two weeks away from the Aug. 28 primary election, when Republicans will decide which man will represent the party on the November ballot.