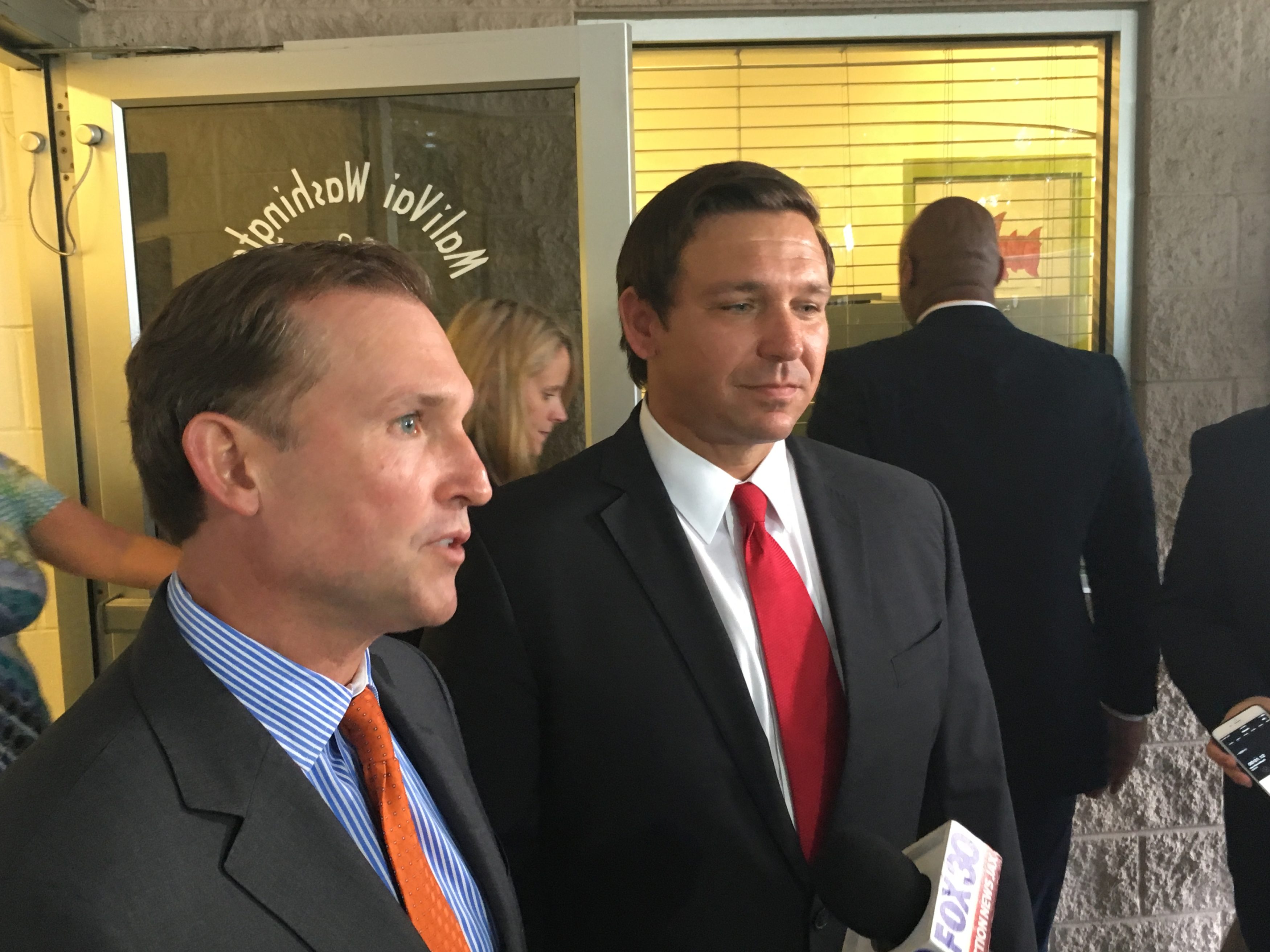 Jacksonville Mayor Lenny Curry and Republican gubernatorial candidate Ron DeSantis visited an afterschool program in Jacksonville Thursday, and even before the formal endorsement, Curry made it clear he aligned with DeSantis.
At one point during the tour, he used the phrase "brothers from a different mother."
Curry, during a subsequent media availability, removed all suspense and endorsed DeSantis over Adam Putnam.
"We agree on many things," Curry said. "Got to be tough on crime. Got to get bad guys off the street. Invest in young people."
"Ron and I have similar backgrounds," Curry related. "We come from working-class families. Worked our butts off to get a good education."
"Ron's a good conservative. I've been about disrupting the status quo locally and I think that's what's got to happen everywhere," Curry added. "Ron's going to disrupt the status quo in the state of Florida. I'm supporting him."
Curry will help with fundraising.
"I will do whatever it takes," Curry said.
While Putnam's a "friend," Curry thinks DeSantis "is the right guy right now."
Notable: Curry's chief of staff and political op, Brian Hughes and Tim Baker, ran DeSantis' first campaign for office in 2012.
Jacksonville Republicans are split in this race.
Jacksonville Sheriff Mike Williams endorsed DeSantis last week, along with Clay County Rep. Travis Cummings and Sen. Rob Bradley.
This co-appearance happens two days before Putnam campaigns in Jacksonville, with City Council President Aaron Bowman, Sen. Aaron Bean, and others supporting him.
However, with DeSantis as the seeming frontrunner in the race, it's incumbent on Curry to build the kind of bond he has, for the most part, enjoyed with Gov. Rick Scott.
It's notable, however, that Curry made no such effort with Putnam during the months he was ahead in polls.