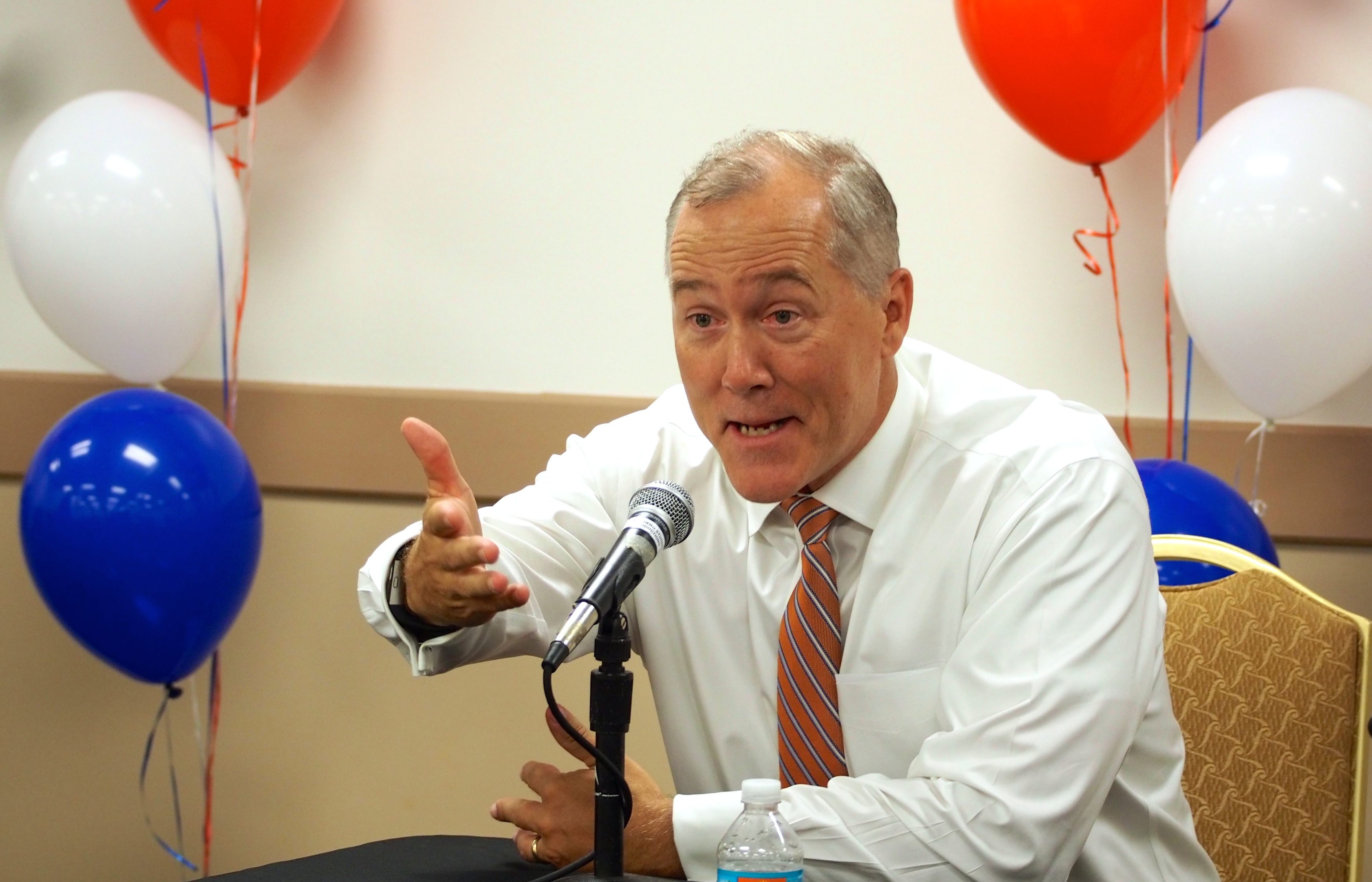 State Rep. Mike Miller has a solid lead over rival Scott Sturgill and another Republican heading into the Aug. 28 primary to run in Florida's 7th Congressional District, a new poll shows.
The St. Pete Polls survey shows Miller atop that field with 42 percent support, compared with 26 percent for Sturgill and 8 percent for Vennia Francois. Another 24 percent said they were undecided.
The survey, the first publicly released poll in the race, shows that Miller is coasting overall.
Among the 36 percent of Republicans who said they already voted, Miller's lead over Sturgill expands to 50-30 percent with 12 percent favoring Francois. Among the 64 percent of voters who said they planned to vote but haven't yet, Miller leads with 39 percent to Sturgill's 25 percent, while Francois' share is halved to 6 percent.
Three in ten Republicans who haven't voted said they were undecided.
Broken down by gender, Miller leads among men with 46 percent support and among women with 41 percent support. Sturgill placed second with 26 percent and 27 percent, respectively, while Francois remained in the high single digits among both genders.
MIller, of Winter Park, and Sturgill, a Sanford businessman, have been battling in a vicious primary campaign that has seen much of Seminole County leaning Sturgill's way and much of Orange County siding with Miller in straw polls.
Sturgill may be able to take a bite out of his deficit in the final days of the race thanks to an endorsement from Bikers for Trump that his campaign rolled out Tuesday. Bikers for Trump president George Colella the group picked Sturgill in the three-way race because he is "a strong supporter of the President, our Constitution and especially the Second Amendment."
Last month, Miller called into question Sturgill's Second Amendment bona fides with a website attacking him for backing gun control measures as well as his support for expanding Obamacare and his stance on immigration.
Whomever emerges from the Republican nominating contest is expecting to take on Democratic U.S. Rep. Stephanie Murphy in November, though she has a Democratic primary challenge first from Chardo Richardson.
CD 7 covers all of Seminole plus north and central Orange County, including downtown Orlando and the neighborhood surrounding it, then stretching down to the south suburbs of Edgewood and Belle Isle.
The automated telephone poll was taken Monday of 321 registered Republicans who did not say they were not voting in the primary. The poll reports a margin of error of 5.5 percent at a 95 percent confidence level.