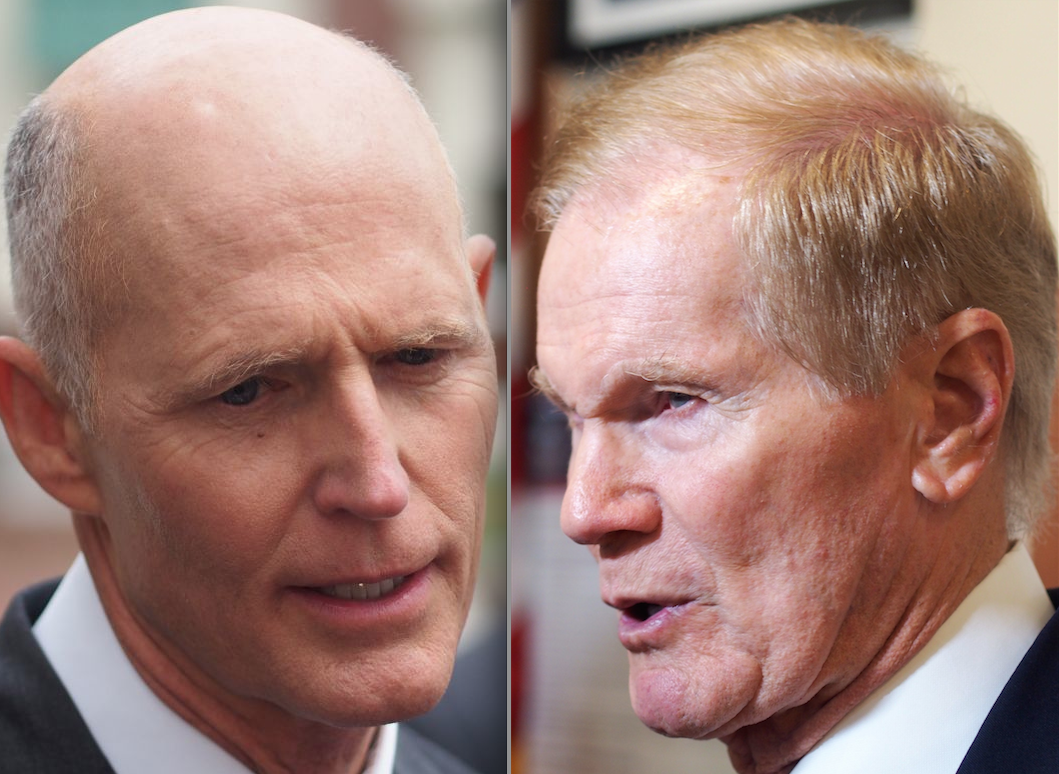 Still 11 weeks from their election showdown, Republican Gov. Rick Scott has opened up a six-point lead on Democratic U.S. Sen. Bill Nelson in Florida's U.S. Senate race, a new poll finds.
The poll from the Florida Atlantic University Business and Economic Polling Initiative gives Scott 45 percent, Nelson 39 percent, with 16 percent of voters still undecided in a head-to-head match-up in the  Nov. 6 general election.
The trend is going Scott's way. The last FAU-BEPI poll, released in July, had Scott leading Nelson 44-40 percent.
The FAU-BEPI findings propose the biggest lead yet for either candidate in any recent major polls in the race. Polls tracked in RealClearPolitics.com offer a spread of findings that have ranged from Scott being up by 5 percentage points, to Nelson up by 4, while generally showing Scott with the lead. RealClearPolitics gives the two-term governor a composite lead of just over 1 percentage point in the U.S. Senate race.
The FAU-BEPI data indicates that Scott's position is fueled of course by solid Republican support, yet also by a strong lead among independent voters, who are picking him by a 19-point margin, 44-25 percent.
The negative advertising that Scott's campaign and others have aimed at Nelson's tenure in politics appear to be working. While Scott's approval rating was just 48 percent, with a 33 percent disapproval rating, Nelson's approval rating was much worse, at 35 percent, with a 36 percent disapproval rating among voters.
The fave/unfave scores represent a drop for both candidates compared to the July measure, where Scott came in at 50-32 and Nelson was still above water, though his 37-32 spread was much tighter than Scott's.
The FAU-BEPI poll, conducted Aug. 16-20, used an online sample supplied by Survey Sampling International and used online questionnaires and an automated telephone platform with registered voter lists supplied by Aristotle, Inc. The margin of error is plus or minus 3.4 percentage points.