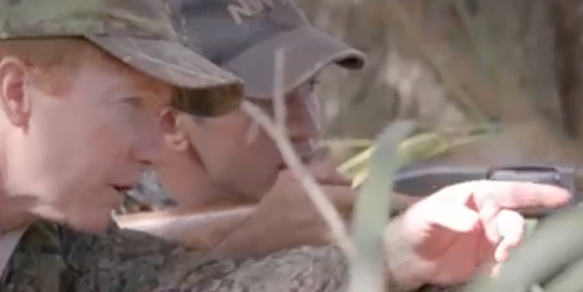 Republican gubernatorial candidate and Agriculture Commissioner Adam Putnam's latest campaign commercial is less about any issues that have defined and divided the 2018 Governor's race and instead focuses on wounded military veterans' responses to a program he helped create.
"Grateful," a 30-second spot launching statewide Tuesday, talks about vets who have participated in Florida Operation Outdoor Freedom, a program Putnam established in the Florida Division of Agriculture and Consumer Affairs to provide wounded vets with recreation and rehabilitation opportunities in state forests and other holdings at no charge.
The program has welcomed more than 3,600 participants, including retired U.S. Army Staff Sgt. Luke Murphy, who stars in the new commercial.
"I was on the initial assault into Baghdad, the vehicle I was riding on was hit with an explosive device and it blew my right leg off instantly. When I finally got home to Florida, for the first time in my life I felt alone," Murphy begins.
Then he adds, "Operation Outdoor Freedom, that's where the healing started. There's a lot of wounded veterans like myself that might not be here today if it wasn't for this organization and for Adam Putnam's leadership."
Putnam's in an apparently tightening race with frontrunner U.S. Rep. Ron DeSantis for the Aug. 28 Republican gubernatorial primary.
The new commercial also features video of Putnam joining Murphy and someone else in fatigues on a walk, hunting, and joining a number of veterans for an evening around a campfire.