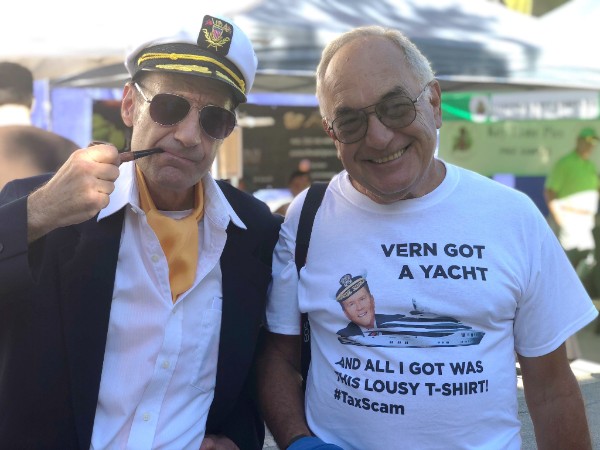 It may not be U.S. Rep. Vern Buchanan's Ocean Alexander yacht exactly, but a man dressed as a swanky captain will float a replica of the boat as an effigy on Siesta Key today.
Political committee Floridians for a Fair Shake continue to flog Buchanan, a Sarasota Republican, for purchasing the vessel the same day he voted on a tax package many view as a giveaway to the rich.
"The Captain," a mascot of sorts for the PAC, will raise the issue with consumers at the Siesta Key Farmers Market today.
"He's just asking someone if they got a yacht from the tax cut like he did and like Vern did," said Stephen Gaskill, communications director for Floridians for a Fair Shake.
Buchanan's financial disclosures show he spent between $1 million and $5 million on the yacht on Nov. 16, 2017, the same day he voted yes on a first draft of the "Tax Cuts and Jobs Act," a coincidence first reported by Florida Politics.
He also apparently financed the purchase of "The Entrepreneur" through a foreign bank. And Floridians for a Fair Shake has been razzing him ever since, offering a cash reward for pictures of Buchanan's new boat at the website VernsYacht.com.
The arrival of The Captain provides the next chapter. The character, who dresses more like Gilligan's Island's Thurston Howell than anyone planning to get on a real boat at any point, walked around the Sarasota Farmers Market on Saturday boasting about how helpful the tax package supported by Buchanan and President Donald Trump for millionaires.
Gaskill doesn't sound like his group will jump ship on the yacht messaging any time soon.
Of course, while that may irritate the Buchanan camp, it's good news for another Florida congressman, U.S. Rep. Brian Mast. While the PAC originally intended to target both Buchanan and Mast, it's now focusing its efforts almost entirely on the Sarasota congressman.
"We're more focused on Buchanan now and we've dialed back on Brian Mast a little bit," Gaskill said. "We've just been able to field a better campaign."
The real name of The Captain so far has not been disclosed, but Gaskill made clear one person who wasn't involved in any of the PAC's acts — Democrat David Shapiro, Buchanan's likely opponent in November.
"We have no connection to any campaign or any candidate," Gaskill said. "We are our own thing."