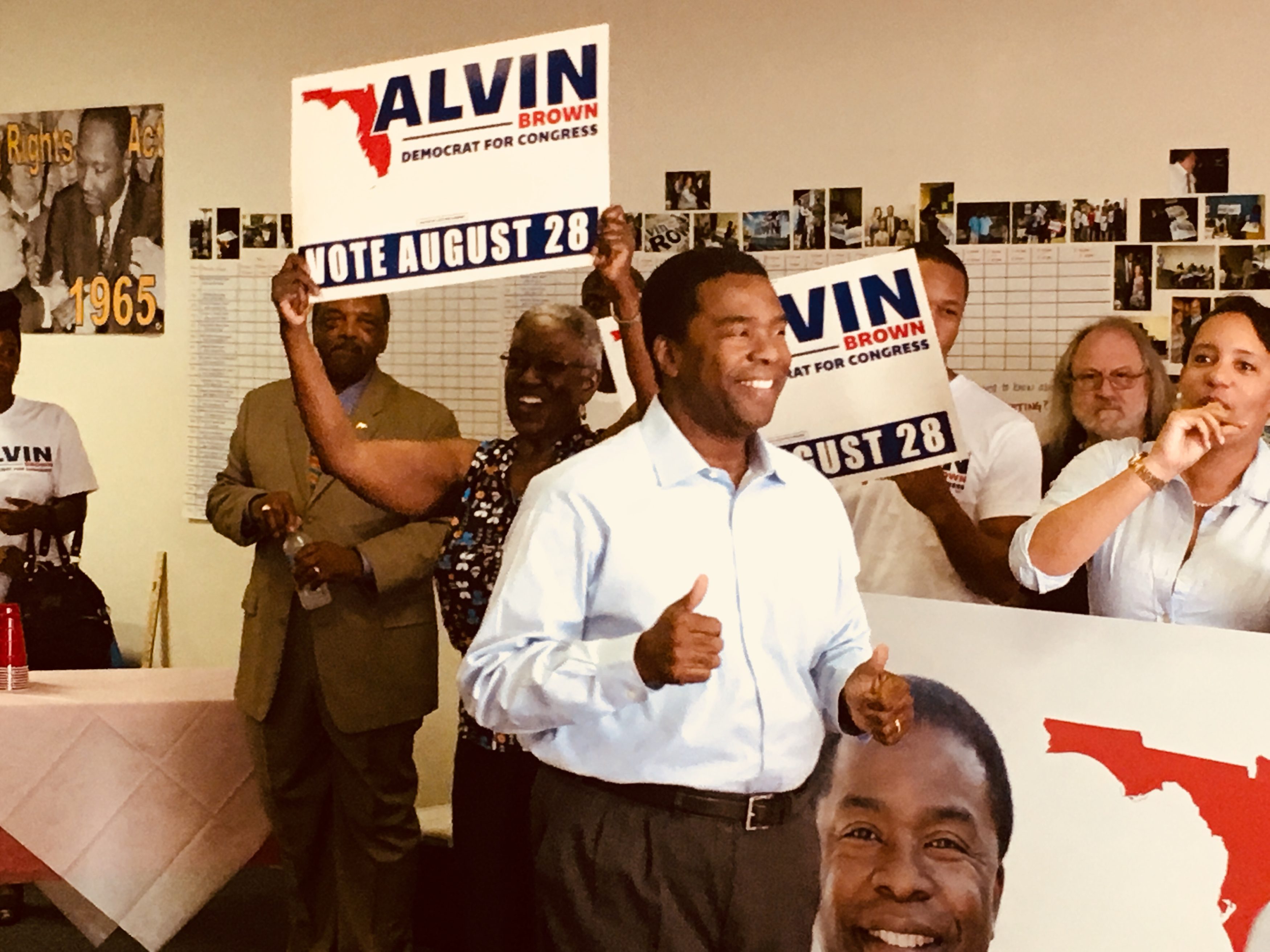 Months back, former Jacksonville Mayor Alvin Brown launched a Democratic primary challenge to U.S. Rep. Al Lawson.
The idea was to take back a "Jacksonville seat" from the Tallahassee Democrat — U.S. Rep. Corrine Brown lost to Lawson, months before an even more catastrophic loss (numerous guilty verdicts in a federal fraud trial).
The laconic Lawson was blunt about his challenger, saying Alvin Brown was "a failed mayor … just looking for a job," and that Lawson would "retire" him from politics.
The latest polls suggest that Brown couldn't make the sale. Surveys from University of North Florida and St. Pete Polls suggest this is a 20 point race, with Lawson having all the momentum west of 295, and with Brown unable to consolidate his Jacksonville base.
Indeed, Lawson enjoyed a number of important Jacksonville endorsements, critical to his race against former Mayor Alvin Brown. The local Fraternal Order of Police and Jacksonville Association of Fire Fighters endorsed him, as did state Rep. Tracie Davis and the Florida Times-Union.
By every indication, the Brown campaign is in its last few days. However, a Thursday night rally of about 50 enthusiastic "true believers" suggested that they see a path forward.
The former Mayor came out to "Ain't No Stoppin' Us Now," the 70s Philly Soul classic that is a universal anthem of affirmation and spoke characteristically, describing the campaign's "phenomenal opportunity to improve quality of life in the 5th Congressional District."
Brown worked the crowd with call and response, the cadences of the church. Likewise familiar was at least one policy position — advocacy for a VA hospital in Jacksonville, a position Lawson took with legislation.
Brown, the first black Mayor of Jacksonville, was emphatic: "We will make history one more time."
We asked Brown about the polls and the homestretch of the campaign, and he was enthusiastic, noting the campaign has knocked 15,000 doors in the last seven days.
"The bottom line is turnout. We have to get turnout up in Duval County," Brown said.
One pollster, Michael Binder of University of North Florida, saw it differently: ""Roughly half of Congressional District 5 voters are in Duval County, and even though Brown is ahead by 18 percentage points in Duval, that isn't nearly enough. Lawson is ahead by nearly 60 percentage points in the counties west of Duval."
"We have a great opportunity," Brown said. "I'm going every day. It's all about the turnout. That's the bottom line."
Brown touted support from faith leaders last week; in recent days, three of them walked back their endorsements.
Brown, when asked, did not address that.
"I'm very proud and excited about the support I have from faith leaders," Brown said.
Digital, radio, direct mail, knocking on doors and waving signs, said Brown, are the ways his campaign will engage voters.
There won't be any TV spots.
Can ground game reverse trends that seem deeply seated in polling?
Time, as ever, will tell.
Brown and Lawson continued to raise money up until the end. Lawson brought in $15,400; Brown actually brought in almost $25,000.
While that helped to make up a deficit Brown faced in cash on hand as of the final pre-primary report Aug. 8 ($131,000 to $84,000), it's clear the cavalry didn't come on time — or with enough ammo to capsize an incumbent that the Congressional Democratic establishment (everyone from Nancy Pelosi and Steny Hoyer to the Congressional Black Caucus) rallied behind.