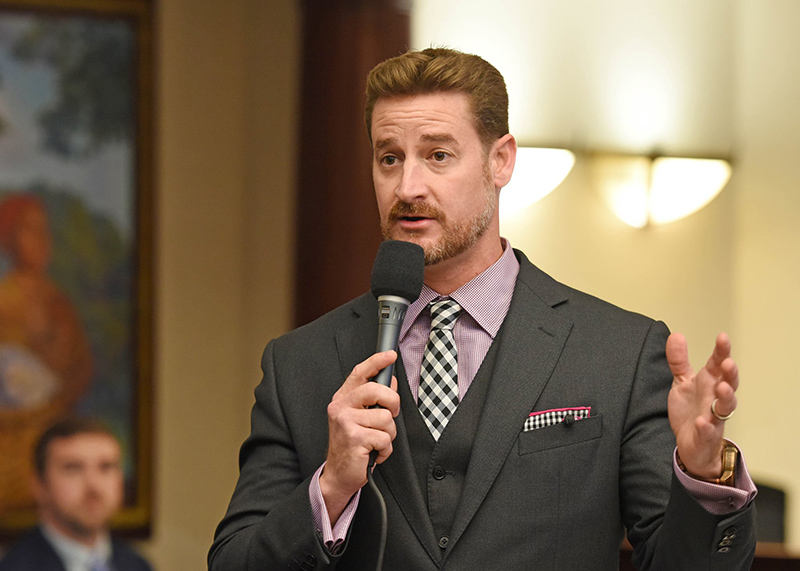 State Sen. Greg Stuebe emerged victorious from a hard-fought Republican primary in Florida's 17th Congressional District. With most precincts reporting, Steube had 62 percent of the vote compared to Charlotte County veteran Bill Akins's 19 percent and state Rep. Julio Gonzalez's 18 percent.
Steube had been backed by conservative groups like the National Rifle Association and Club for Growth, which issued a congratulatory statement. "Club for Growth's PACs were proud to play a role in Greg Steube's victory tonight," Club for Growth President David McIntosh said.
"As a state legislator, Greg was a staunch pro-growth conservative who wasn't afraid of taking on both parties, and his courage and principle will serve him well in Washington. We fully expect Greg to be a leader in Congress in the fight for economic freedom."
The Republican contest pitted against one another former allies who represented the Sarasota area in the Florida Legislature. For most of the election season, the race felt like a clash between Steube and Gonzalez, and Gonzalez raised far more money than Akins despite performing poorly in late-reporting, largely rural portions of the district.
Steube now heads for a general election battle with Democrat April Freeman, the 2016 Democratic nominee as well, who won a primary contest against opponent Bill Pollard Tuesday night with 77 percent of the vote.
But in a district where President Donald Trump beat Democrat Hillary Clinton by 27 percentage points, the Republican battle has been the high-stakes contest in the region.
The Republican contest became one of the more closely watched primaries in the state after U.S. Rep. Tom Rooney in March announced his retirement.
Steube, a Sarasota Republican elected to the state Senate in 2016, previously served six years in the Florida House. In that time, he developed a reputation as one of the strongest advocates for gun rights in Tallahassee, advocating for concealed carry permit holders to be allowed to bring weapons into gun-free businesses and even courthouses.
Akins entered the race first, intending to challenge Rooney in the primary. Through the race, he delivered especially hard critiques of Steube, questioning his combat record and raising the fact Steube still does not live in the 17th.
Gonzalez, a Venice physician by trade who also holds a law degree, has served in the state House since 2010, where he has focused on health care policy as he bolstered his social conservative credentials. He admitted feeling bruised and uncertain if he had any political future after the difficult contest.
"My character was assassinated," Gonzalez said. "It's really sad that tonight deceit and lies prevailed in the political discourse."
That's not the only mud thrown in the race. Gonzalez criticized Steube for his Congressional lobbying work with Becker and Poliakoff, which represents Sarasota County as a client.
Meanwhile, Gonzalez saw details of a malpractice lawsuit turn into newspaper headlines. Steube also highlighted a cadre of "Never Trump" comments made by Gonzalez during U.S. Sen. Marco Rubio's doomed presidential campaign in 2016.