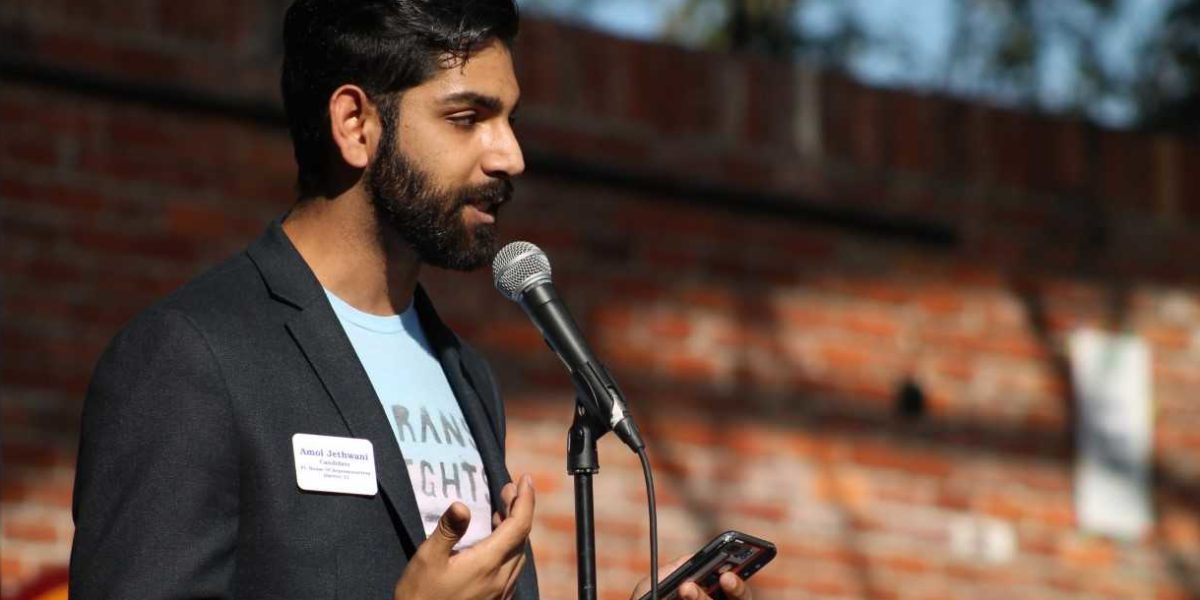 Democratic state House candidate Amol Jethwani has been successful in getting young voters energized for down ballot races in Gainesville, a quality that hasn't gone unnoticed by established Democratic politicians such as St. Pete Mayor Rick Kriseman, who has endorsed his bid for House District 21.
Though he surely has a promising future in politics, the campaign finance reports for this first-time candidate show a troubling trend: Using donor money for personal expenses.
No, Jethwani isn't paying for his car insurance or his apartment on the backs of those who support him. He has, however, dipped his hand into the kitty for things like haircuts, meals and a suit.
For those imagining the University of Florida poli sci major snagging a $1,000 suit from Brooks Brothers followed by a $400 John Edwards-style haircut and filet at Bern's, think smaller. Much smaller. Think a $344 trip to Dillards, a $30 trim at Hair Plus and $14 lunch at Chipotle.
When it comes to the suit and haircuts, Jethwani does seem to be take a Scott Maddox-like approach to justifying the spending: It was necessary for the viability of his campaign.
"The charges to Dillards and Zara were for formal clothing for campaign events — a suit and formal wear which I was not able to afford at the time as a student. In that same category, the haircuts expensed to the account were specifically for candidate appearance for campaign events and media production," Jethwani said in a statement to Florida Politics.
When it came to other questions about the campaign's ledger, including the food purchases and cash withdrawals that on more than one occasion broke the state elections code regulating petty cash expenditures, Jethwani was willing to take some responsibility.
"Where the petty cash withdrawals are concerned, I accept full responsibility and acknowledge my error in judgement in not understanding the guidelines set forth by the Florida Division of Elections for withdrawing funds for petty cash," he said. "The withdrawals were to obtain petty cash for campaign expenditures. While not reported correctly, the funds were directed for campaign use and as such I will be repaying the campaign in full for the expenses paid for with petty cash.
"The food purchases encompassed a portion of on-the-go snacks for volunteers while campaigning in addition to on-the-go meals while traveling to events," he added. "I am taking responsibility for my actions by repaying the campaign for any flagged expenditures, I will be repaying the campaign for a portion of funds expensed on meals, and additionally, I will be repaying the campaign for our petty cash expenditures. It is my continued goal to be transparent and to display accountability."
Jethwani is running against Jason Haeseler in the Democratic primary for HD 21, which encompasses Gilchrist and Dixie counties as well as a portion of Alachua County.
The winner of Tuesday's primary battle will face an tough, though not impossible general election against incumbent Republican Rep. Chuck Clemons. Clemons carried the seat with 54 percent of the vote two years ago, though President Donald Trump narrowly lost the district to Democratic nominee Hillary Clinton.
Update, 9:30 p.m. — Jethwani's apology and promise to pay back the flagged expenditures was not enough for the UF College Democrats, where Jethwani served as president. The group put out the following statement hours after Florida Politics published this post:
"In light of recent allegations, the UF College Democrats President, Amol Jethwani, has resigned from his position within College Democrats. Despite not fully knowing the severity of the situation, UFCD in no way condones the described actions, and our executive board members have taken steps to separate our organization from Amol and the claims against him," the group said in a Facebook post.
"In the meantime, UF College Democrats will continue to work towards our goal of getting Democrats elected to office under our interim President, Kristen Jackson."