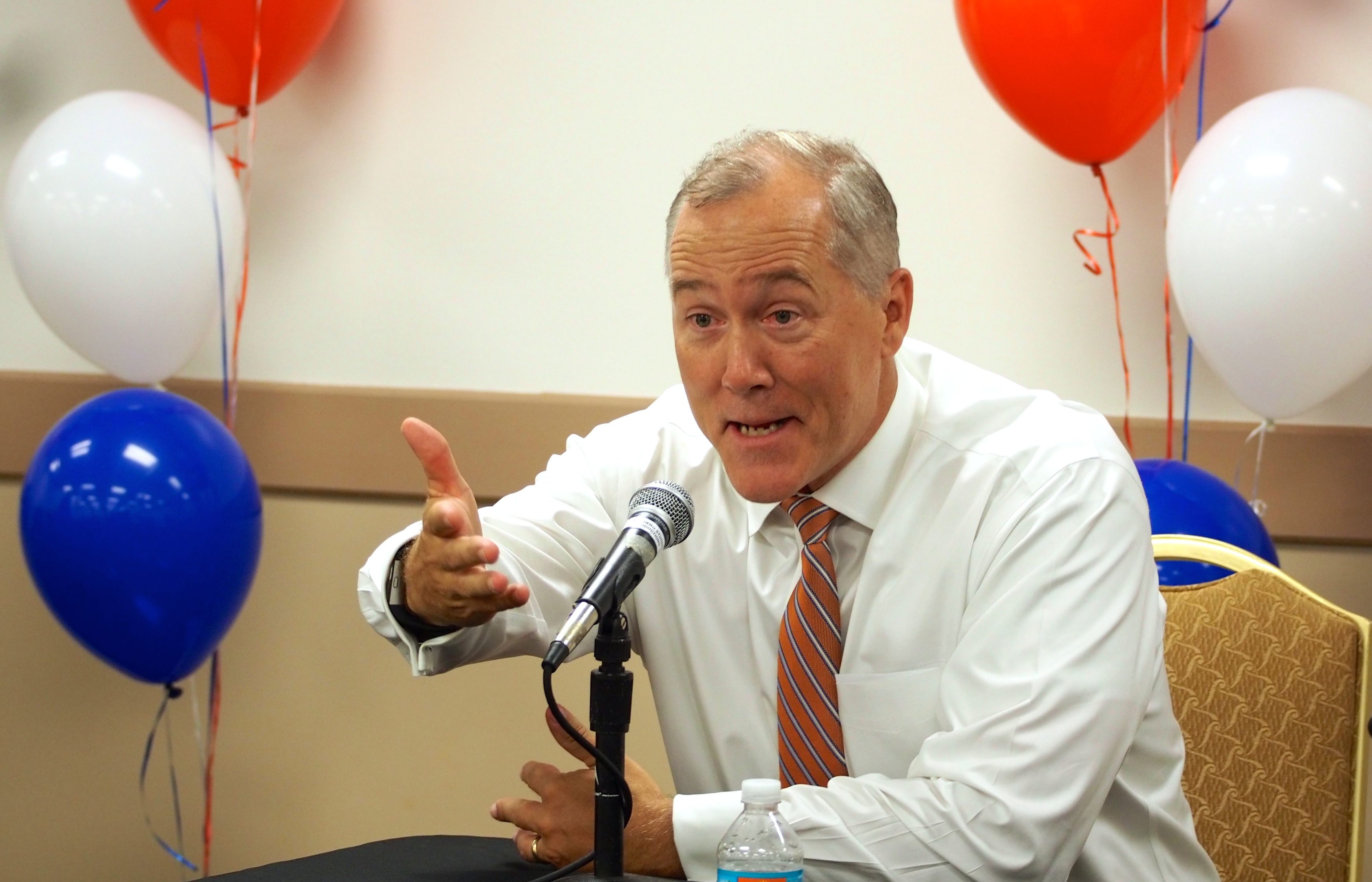 State Rep. Mike Miller won a tough, three-way Republican primary Tuesday in Florida's 7th Congressional District in convincing fashion for the right to take on Democratic U.S. Rep. Stephanie Murphy in an election battle over a region that Republicans owned for decades but is now trending blue.
Miller, a two-term state representative from Winter Park, had much less difficulty than even his optimistic supporters might have hoped for in dispatching Sanford businessman Scott Sturgill and Vennia Francois of Orlando for the Republican nomination. Meanwhile, Murphy easily brushed aside a challenge from the left brought by progressive activist Chardo Richardson in the Democratic primary.
"It's a validation of everything I've been talking about with constituents for a year and a half," Miller said Tuesday night. "I've been talking about values, and the things I learned in the Florida House and learned from people like Sen. Connie Mack, who I worked with, and they are very important for the people of Central Florida."
"I spoke from the heart and talked about the direction I see our country going in and it worked," Miller added.
The seat, representing Seminole County and north and central Orange County, is one that national and state Republicans desperately wanted to win back after Murphy shocked many by flipping it from longtime Republican incumbent U.S. Rep. John Mica in the 2016 election. The Republican organizations have kept their distances during the contested Republican primary but can be expected to step in with millions of dollars to back Miller or oppose Murphy.
With early returns and most districts already reporting, Miller has built an insurmountable lead on Sturgill with Francois far back in both counties. Miller is taking 64 percent in his home county of Orange, and 49 percent in Seminole with Sturgill taking only 33 percent of early returns in his home county, Seminole and only 20 percent in Miller's. Francois was picking up 15 percent of the Orange vote and 17 percent of the Seminole vote.
Surprising no one, Murphy easily is dispatching Richardson, who brought a nationally-focused young progressives campaign to Central Florida but no money and very little organization to take on a well-funded, well-organized incumbent congresswoman backed by all mainstream Democrats.
But state and national Democrats, too, see this race as a priority. Democratic groups already are lining up to support Murphy and oppose Miller in big and expensive ways.
While Miller touted himself as a rock-solid conservative, Sturgill actually ran to his right, seeking to be the candidate most associated with President Donald Trump in the contest. But Seminole County, and to a greater degree the CD 7 portions of Orange County, have a more moderate view than even a few years ago when Mica, himself something of a moderate, owned the district.